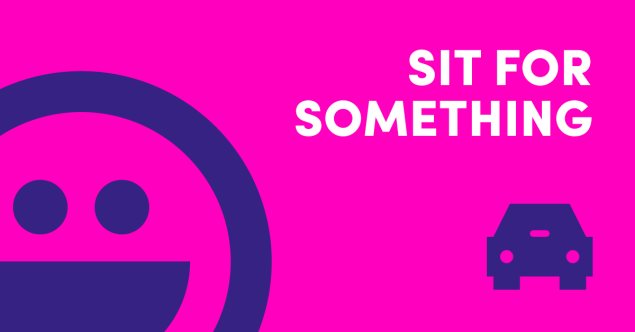 Yesterday, Lyft revealed its newest initiative in a big way. The rideshare company took out the most valuable ad space in The New York Times (the entire back page of the main section of the Sunday edition) to announce Round Up & Donate—a new program that will allow users to automatically round up their fares and donate the differences to various causes from climate change to civil rights.
But while about two sentences of the full page ad actually described the new initiative, the rest of it was focussed on pushing a feel-good agenda. And really, it all just comes off as a big "fuck you" to Uber.
"And treating people better along the way is just how we do it," reads one line.
"All you gotta do is take a seat to take a stand," reads another.
The ad—which can also be seen in full on Lyft's blog—touts diversity, community and standing up for what's right. This initiative is one of several ways that Lyft has shown it's actually committed to these causes.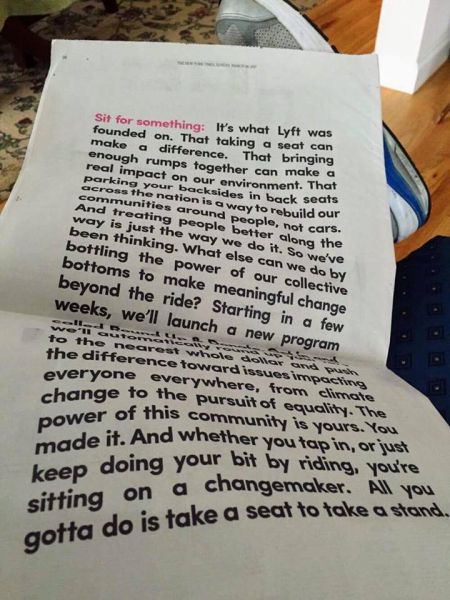 While Uber is dodging attacks for its morals and even scrambling to find a executive to fix its diversity problem, this ad is clearly acting as a not-so-subtle reminder of Uber's reputation of treating everyone, including its drivers, female engineers and competition, like shit. These two companies have been rivals for years, and while Uber has recently come under intense scrutiny for various scandals from sexual harassment and institutionalized sexism to a video showing CEO Travis Kalanick being a total jerk to a driver, Lyft has been chugging along, watching Uber head down a path of scandal-induced self-destruction and gently reminding people that it's the good guy. When the #DeleteUber boycott was picking up a few months ago because of Kalanick's ties to Trump and Uber's decision to service JFK airport during the taxi protest of Trump's Muslim ban, for example, Lyft donated $1 million to the American Civil Liberties Union (ACLU). With a little push, every loss of respect for Uber is Lyft's gain.
For any company in the rideshare business that isn't Uber, the best marketing strategy is clearly (and has been) to push the fact that it offers the same service but won't make you feel like a terrible person for using it. Why would anyone ride with Uber, which does X,Y and Z terrible things, when we don't? That's the general sentiment.
It's not just Lyft. Simply treating people better is Juno's entire platform. Even before Uber scandals became a regular occurrence, Gett had an entire ad campaign about how Uber rips off everyone.
The Uber and Lyft saga continues.