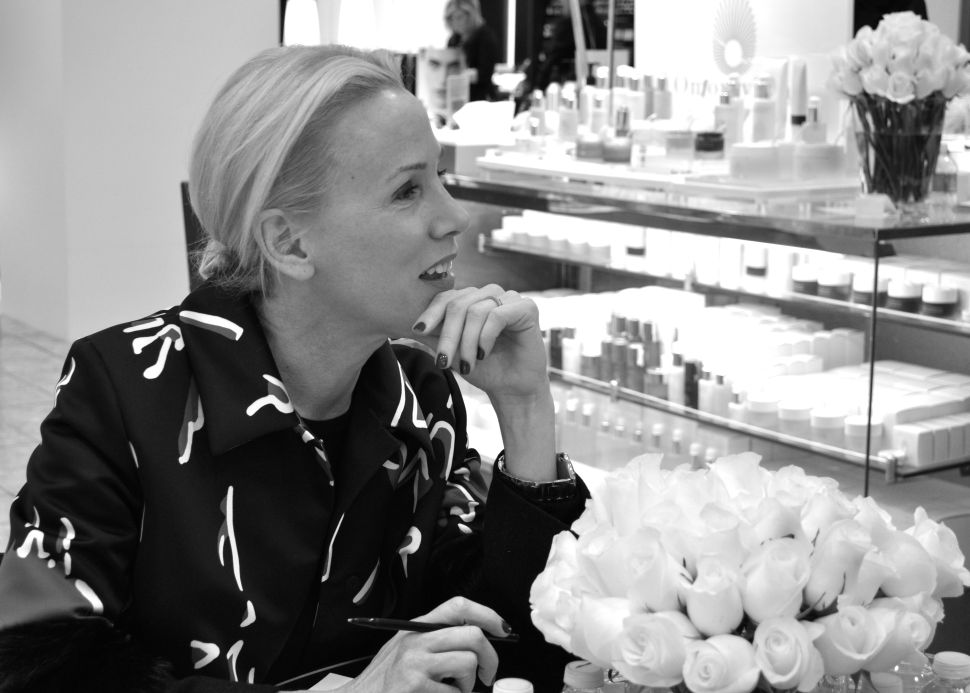 It's a long way from Jacksonville, Florida to Budapest, Hungary. On her way from one to the other, Margaret Dickerson made a stop in New York to intern for Conan O'Brien, then in London for a stint at Time magazine. Back in Manhattan, she was scouted to work for the U.S. ambassador to Hungary. Off to Budapest she went.
Soon enough, Margaret was chief of staff to the U.S. ambassador to the European Union in Brussels and in meetings with President George W. Bush and British Prime Minister Tony Blair. But a funny thing happened on the way to being a career diplomat: Margaret Dickerson married Stephen de Heinrich de Omorovicza, a half-British, half-Hungarian banker. Together, they founded one of Europe's top independent beauty brands.
"I felt quite anxious when I was younger, as my skin was so poor, and I felt powerless to fix it," Margaret de Heinrich de Omorovicza told the Observer. It got so bad that she was on Accutane—the last-resort prescription for bad skin—when she started taking spas at the family spa in Hungary. Yes, the family spa: The Omoroviczas own the Rácz, a luxurious 16th century spa in Budapest. After only a brief time of immersing herself in the mineral-rich water, she saw a major improvement in her skin.
It wasn't long before Mr. and Mrs. Omorovicza had teamed with a renowned dermatological laboratory to collaborate on their eponymous skincare range. That was in 2006, less than a year into their marriage. Nearly 11 years later, their products are used in five-star spas around the world, and Omorovicza is sold in Sephora, Nieman Marcus, Bergdorf Goodman and more.
In recent years, positive buzz on social media has boosted Omorovicza into the realm of the cult beauty brand. Usually founder-led and independent with a compelling origin story, cult brands don't just have customers: They have fanatical followings. Omorovicza is no different. "Influential bloggers, journalists and make-up artists, not to mention customers, have been among our best advocates," Omorovicza says. This has helped elevate the brand without the company spending a dime on commercials. "We are 100 percent family-owned and do not have the budget to advertise," she admits.
The brand's most raved-about product, Omorovicza Thermal Cleansing Balm ($175), is an exceedingly lush, clarifying yet pampering balm that makes a noticeable difference from first use. Skincare guru Caroline Hirons, famous for her no-nonsense reviews, says it "feels almost too good to use on a first cleanse." (To try it and other Omorovicza products at a deep discount, check out the Moor Mud Set, $125. You can also get a small pot of Thermal Cleansing Balm with another of the line's hero products in the Queen of Hungary Mist & Thermal Cleansing Balm Bundle, $95.)
Omorovicza was one of the first premium skincare brands to focus on "clean" formulas. They don't put petrochemicals, sodium laureth sulfates, synthetic colors or fragrances in their products—among other perceived problematic components. "When we started Omorovicza, we had no idea we were pioneers in bringing luxury, efficacious products to market while excluding harmful ingredients," says Omorovivza. "Now it seems that every brand coming to the market has a natural platform, which we think is wonderful." She's right: More than ever, thanks to the internet, discriminating consumers are increasingly aware of what's in their skincare—and are keeping brands on their toes. "When I speak with our customers, they often give me a run for my money in terms of knowledge about our ingredients," Omorovicza says.
Since founding the brand, Omorovicza reports that she and her husband have grown the company 50 percent year-over-year, every year. So, it's no surprise that her take on beauty has nothing to do with perfection and everything to do with achievement. "My concept of beauty is the pursuit of reaching my potential," she says. "When you seek perfection, it is most often contingent on other people's judgment of you. And if you are waiting for someone to judge you, there is a bit of fear wrapped up in that interaction," she observes. "Isn't it interesting that when you think of perfection you often think of other people…or something you want to happen, but hasn't?" In the end, Omorovicza says that she finds the pursuit of perfection "rather disempowering."
She also doesn't sugarcoat what goes into being lithe, blonde and beautiful. "It takes work," she says. "I would love to say that I simply swan out of bed and within minutes am ready to bound out the door, ready for the day. This is not the case. With four children and a very busy life, I don't have a lot of time to spend on myself."
A consistent skincare routine is a non-negotiable, of course. "I really enjoy those moments I have for myself, preparing for the day or getting ready for bed. So I take advantage of them and make sure I'm doing everything possible to look my best." The years of bad skin she suffered made a lasting impression; Omorovicza doesn't take her currently fabulous skin for granted. "It impressed upon me a need to take whatever resources I had at my disposal to look to improve my skin—to work at it. And it worked."
The Omorovicza Top 10:
Thermal Cleansing Balm ($110)
Moor Cream Cleanser ($80)
Hydra Melting Cleanser ($110)
Ultramoor Mud Mask ($125)
Queen of Hungary Mist ($90)
Radiance Renewal Serum ($160)
Oxygen Booster ($155)
Balancing Moisturizer ($135)
Rejuvenating Night Cream ($235)
Reviving Eye Cream ($145)
Jackie Danicki created one of the first and most popular beauty blogs in 2004, and has consulted some of the world's most iconic brands on digital content strategy and innovation. Jackie blogs at http://burnedoutbeauty.com, and you can find her on Twitter, Instagram, and Snapchat as @burnedoutbeauty.