The American painter Marsden Hartley embodied Maine, says the conventional wisdom. And here the conventional wisdom is mostly true.
Hartley (1877-1943) was born in Maine and died there. He also made some of his most memorable work in Maine or in memory of it. Yet he spent much of his life away, trying to get beyond the place.
About 90 works by Hartley are on view at the Met Breuer on Madison Avenue, which once housed the Whitney Museum of American Art. The show focuses on what we might call Hartley's special relationship to the state. If putting things in context is the goal, the Met gives us a lot, and a lot more than Hartley's bond with Maine.
To say that life in Maine was a struggle for Hartley and his family is like saying that the winters there are cold. He was born in Lewiston, a grim factory town even when the factories were open. His mother died when he was five. He would leave school at 15 to take a job at a shoe factory.
Raised part of the time in Cleveland, Hartley studied in New York, returning to Maine in summers, and eventually lived in Germany and France. He returned to Maine to live in the late 1930's.
Yet Maine would always be a subject for the artist, whose first subject was landscape. Hartley's landscapes in the Met's chronological progression started out somber, with lush grass growing up to the water's edge and dark, impenetrable thick forests behind them.  Soon he would paint hillsides in every kind of color. They were homages to nature in Maine, and to experiments in color that were coming from Europe. Yet nature may have been more inspiring to see than to inhabit. Maine would put Vacationland on its license plates as early as 1937, but holiday time there lasted from Memorial Day to chilly Columbus Day. The rest of the year was a struggle, to use Yankee understatement.  This may also explain why Maine would be ranked by just about anybody as one of the least erotic states in the country.
Hartley was in Germany from 1913 to 1915, where he assimilated abstract styles while World War I began. When his male lover was killed in the war, in 1914, Hartley assembled elements of military pomp in Portrait of a German Officer, which earned him a place in the fusion of cubism and other art experiments.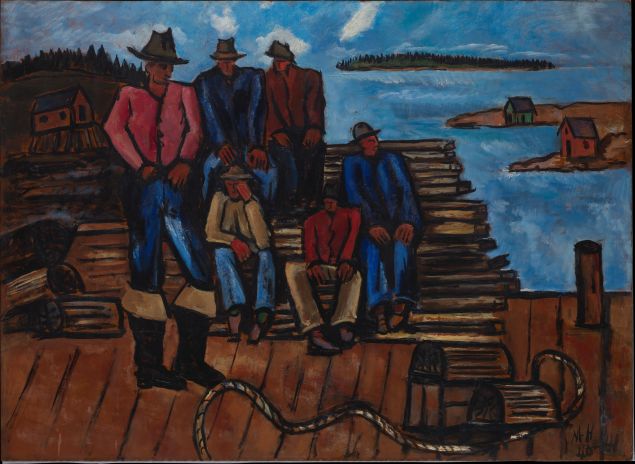 In France in the 1920's, Hartley journeyed to Provence to observe the world of Paul Cezanne. Yet Maine also found its way into his work. Exquisite paintings from that time include the elegiac Shells, from 1928, which has a dreamy feel of longing. Was it longing for Maine? Hartley kept a collection of shells in his apartment in Paris then, yet they seem to have been bought at curiosity shops and didn't have anything to do with his home state.
His later painting White Sea Horse, in the form of a coil, is equally delicate, a marine icon.  There's also a painting of a lobster against a black background from 1942, created before the over-branding of that image.
The curators of the Met show, which travels to Maine in July, take the position that Hartley in his ambitions and his painting went global, that his work was not merely American, or of New England, or modernist.  He painted views out of a window, the same framing that Henri Matisse deployed in his classic Collioure pictures. Matisse provided the template, yet the view was across Penobscot Bay toward the dark Camden hills.
Hartley's Matisse-inspired painting, Sea Window–Tinker Mackerel, was from 1942, a year before Hartley died. The last years of Hartley's life were remarkably active, in which he would reveal much about himself. Those revelations are paintings of men, most of them at the shore or the beach, many not wearing much.
Hartley revered Cezanne, and his deadpan, monumental Canuck Yankee Lumberjack at Old Orchard Beach, with his hands on his hips, can be seen as an homage to Cezanne's The Bather of 1885. Was the figure's skimpy pink suit sending a message beyond the salute to Cezanne? In Lobster Fishermen from the same time, the tallest figure in a group on a fishing dock wears a pink shirt, not usual attire among men in Maine then or now. A drawing for that painting has the tall figure in the same pink shirt, and the other men in purple.  If this was an understated provocation, it still seems like a provocation.
The showstopper here is the near-nude Madawaska–Acadian Light-Heavy (1940), a massively muscled hulk in a thong, or whatever the word was for that article of clothing in those days. In case of any misunderstanding, the picture's background is crimson. The expressionless face could be Cezanne's influence. The body in this case and others is all Hartley, or something from Tom of Finland.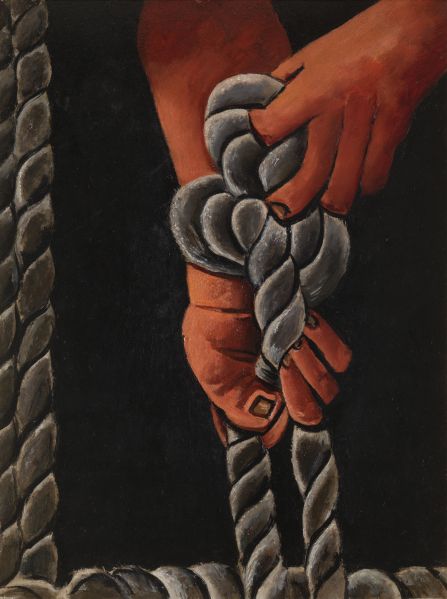 These figure paintings get a lot closer to their subjects than the landscapes that Hartley viewed from a distance, and closer than almost anything else he painted. There's a rare intimacy to the pictures, but there's also a feeling of veneration, as in paintings of saints. The ever-erotic St. Sebastian comes to mind. Unlike American painters from the era who showed heroic male figures working, Harley doesn't do that. Saints don't work.
If Hartley had a salute to work in Maine, it was Knotting Rope (1939-40), the image of two hands pulling on a thick line. His celebration of the Maine landscape would take him back to Cezanne, in painting after painting of Mount Katahdin north of the city of Bangor.
Yet his shameless and guileless male figures, clearly a pleasure for Hartley in his mid-60's, were acts of courage in their expression of forbidden sexuality.
"I only wish I were a big husky brute…It makes me terribly envious, when I see men swimming or running or boxing," he said to a relative. Yet he could look, and he could paint, even when that involved a risk.  People in New York will care more about that than about Hartley's attitude toward his state.
If the Met show has a problem, it's a failure to mention (except for a brief reference in the catalog) Hartley's racial feelings for Germany and Germans while the Nazis came to power. He likened Maine men to their German counterparts, and he painted some with seemingly Aryan blonde hair and blue eyes.
The show's about Maine, its defenders might say. Yet it's also supposed to be about everything that Hartley brought to his vision of that place.
"Marsden Hartley's Maine" is at the Met Museum through June 18.