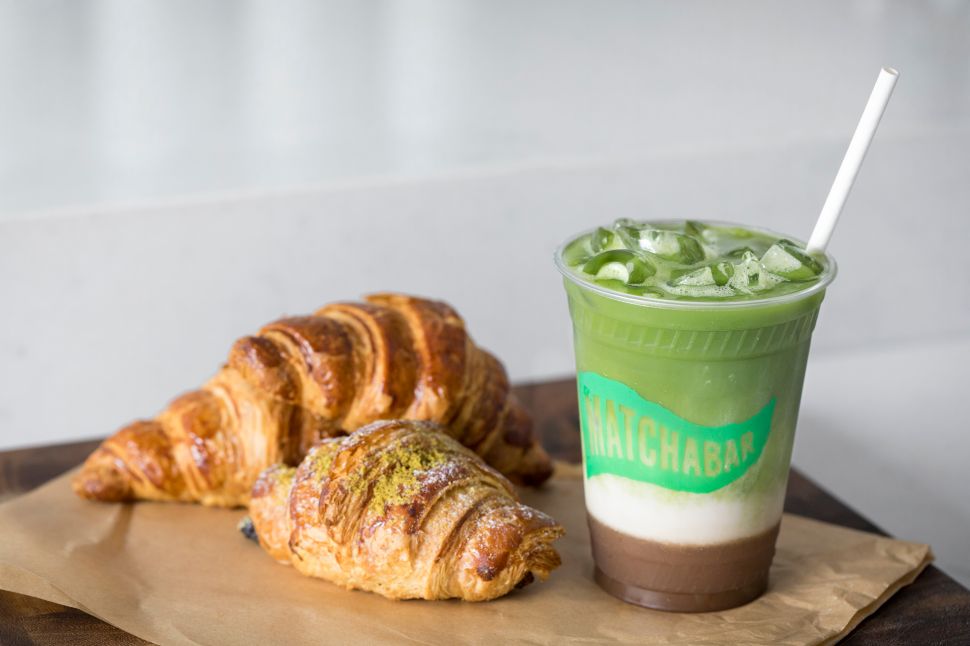 Matcha, so hot right now. And also so cold. And so creamy. And so sparkling. And so glutinous.
MatchaBar has opened in L.A.'s Silver Lake neighborhood. While this is an outpost of a business that started in Brooklyn, it's clear that this café understands Los Angeles.
Matcha Bar has matcha shots, matcha lattes and specialty drinks like The Holy Grail (double shot of matcha, housemade almond and cashew milk, maca). If you want to know where your antioxidants are coming from, the green tea here is sourced from a fifth-generation farming family in Nishio, Japan.
You can keep your health kick at MatchaBar going by eating avocado toast, black kale salads or huevos rancheros made with surprisingly satisfying soyrizo. The savory dishes here are from Amara Kitchen, an organic restaurant in Highland Park.
Or, indulge a bit and enjoy a matcha mochi cake made exclusively for MatchaBar by famed Westside bakery Gjusta. Yes, MatchaBar—which also had croissants and cookies on the lazy Friday afternoon we visited—is a way to get Gjusta pastries without actually going to Gjusta. This is a big deal. This, in fact, is the first place on the Eastside with Gjusta goodies.
Gjusta makes some delicious food, but going to the Venice bakery can have something like the opposite effect of matcha's restorative qualities. Visiting Gjusta can be—to put it in gentle terms—stressful when you deal with the confusing ordering system, the unhelpful staff, and a big crowd that has no idea where to stand.
At MatchaBar in Silver Lake, you can feel serenity now as you sit on the patio and pair your little chewy green-tea cake with signature West Coast concoctions like a turmeric-ginger-matcha latte or maybe even a sparkling cucumber-lime matcha. There was a Brussels Griffon eating eggs on the patio the afternoon we dropped by, which made us want to linger longer. We went back inside to get more mochi.
It's also easy being green at the new Matcha Matcha dessert stand at the Westfield Santa Anita mall in Arcadia. This is a cool place to take a break from shopping and enjoy sparkling iced matcha, a matcha latte or a matcha horchata—all of which are made with green tea imported from Japan. Matcha Matcha also has donuts and refreshing soft-serve with an array of toppings that, of course, include matcha mochi along with regular white mochi and kinako mochi.
Matcha Matcha, appropriately, is a venture from the Sticky Rice Group, which also operates Hainan-chicken spot Side Chick and gastropub Monkey Bar at the Westfield Santa Anita. These hip new venues are part of an impressive culinary makeover at a mall that also includes outposts of soup-dumpling king Din Tai Fung, Szechuan slinger DongPo and spongy Japanese cheesecake purveyor Uncle Tetsu. Go on a weekend and you'll see lines of people waiting to eat all over this mall. (Don't even get us started on the Cheesecake Factory here.) So, at least you know where you can find some mellowing matcha now.