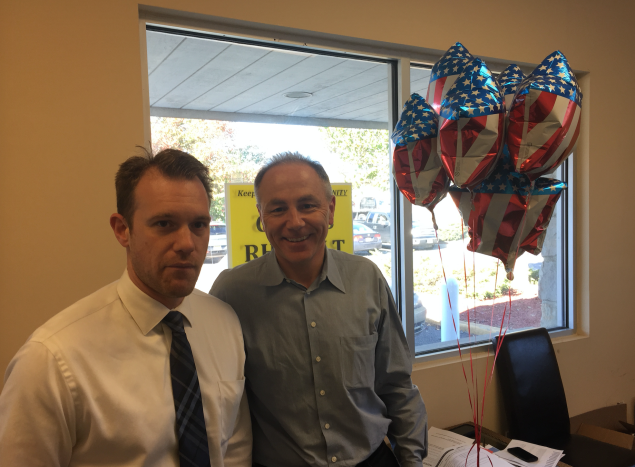 One of the Democratic candidates in New Jersey's few competitive legislative races announced he will be dropping his bid for a State Senate seat Wednesday. Citing his father's passing at the beginning of this month, Assemblyman Vince Mazzeo said that his one-time Assembly running mate Colin Bell will be replacing him in the matchup with Mazzeo's Republican counterpart Chris Brown to fill the vacancy created by State Senator Jim Whelan's retirement.
Mazzeo also said he believes he will be better able to serve the second legislative district, which encompasses Atlantic City, from the General Assembly.
"With my father's passing last week and the realization that now more than ever my duty to my family our business is growing, I need to be able to balance my responsibilities to my store and my job as Assemblyman," Mazzeo said. "I know the job and the tremendous time and effort it requires, and I'm ready to continue to serve and run for re-election to the Assembly to fight for all of Atlantic County.
"With Senator Whelan's pending retirement and his big shoes to fill in the Statehouse, Atlantic County will be left without a representative in legislative leadership or a committee chairmanship. With my seniority in the Assembly, I feel strongly that next term I will be primed to serve as a committee chairman — putting me in an even greater position to be an effective advocate for Atlantic County's hard-working middle-class families, seniors and small businesses."
Bell, a former Atlantic County freeholder and Mazzeo's 2015 ticket-mate, said he intends to pursue Mazzeo's policy agenda if his bid is successful. Though Brown had a significant lead in fundraising against Mazzeo, Bell will likely enjoy the same influx of support from labor and left-leaning PACs that he and Mazzeo did during their previous Assembly campaign.
"Serving Atlantic County on the Freeholder Board was one of the greatest honors of my life. As your Senator, I'll bring the same no-nonsense attitude to Trenton to shake up the business as usual politics that's leaving our state in a deepening economic hole," Bell said.
"We need jobs, industries and businesses and we need to protect New Jersey's women and students. Restoring funding for essential women's health services and reforming predatory student loan lending practices, issues already being tackled head on by my running mate Vince Mazzeo, will be some of my top priorities."