Is Ronald McDonald part of the resistance?
The internet was abuzz Thursday morning when the Twitter account for McDonald's corporate office tweeted out a message to President Donald Trump: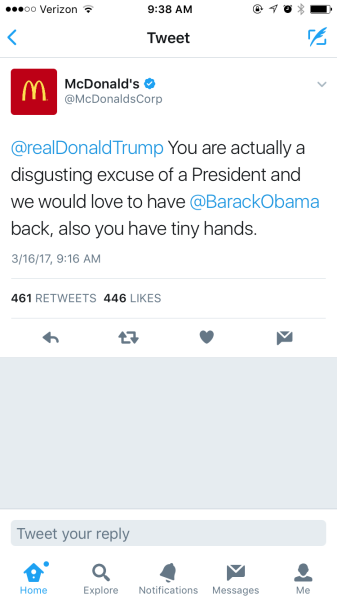 The verified account, which usually just tweets out fun holiday greetings or messages about staying cool with a McCafe, pinned a presidential insult to the top of its Twitter feed for a good five minutes.
An admin finally deleted it—but not before the internet had screenshot it for posterity:
One of the McDonald's corporation's main jobs is getting people to invest or franchise with the Golden Arches. Looks like that job just got more difficult.
McDonald's did not respond to an Observer request for comment, but sent a follow-up tweet explaining their account was "compromised."
"We deleted the tweet, secured our account and are now investigating this," the fast food giant said.