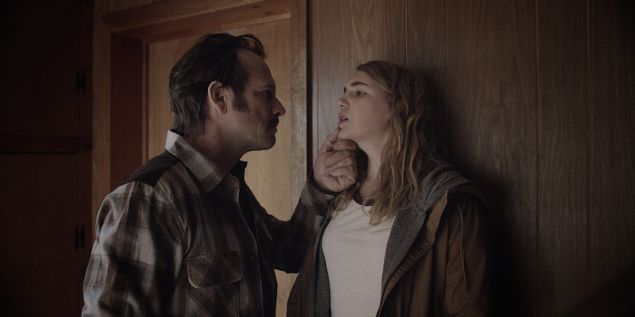 One of two final movies completed by the warm, likeable actor Bill Paxton before his untimely passing a few weeks ago, Mean Dreams is a pastoral thriller about two teenagers on the run from a deranged parent, filmed on the farms and rural back roads of Canada in autumn that holds attention, rattles nerves, and moves briskly with realism and suspense. Not a great film in the same vein as Badlands and Pretty Poison, but a very good one that is well worth seeing.
---

MEAN DREAMS ★★★

 (3/4 stars)

Directed by: Nathan Morlando

Written by: Ryan Grassby, Kevin Coughlin

Starring: Bill Paxton, Sophie Nélisse, Josh Wiggins

Running time: 108 minutes

---
When 15-year-old high school dropout and reluctant farmer's assistant Jonas Ford (Josh Wiggins) first notices Casey Caraway (Sophie Nelisse), the new neighbor who has just moved into the farm down the road with her policeman father Wayne (a rugged, mustachioed Bill Paxton), it's fascination at first sight. Soon the two lonely, restless teenagers become friends and lovers, despite the immediate anger and hostility of the girl's father. At first, this single parent and temporary sheriff just seems like an overly protective parent, like any cop. "Stay away from her," he warns Josh, fingering one of his guns and promising to make life a living hell for the boy and his entire family if he doesn't. But when Josh starts spying on him, he discovers a great deal more. Mr. Caraway is also an alcoholic who brutally beats and abuses his daughter, calling her "Baby Girl", and a murdering thief who has killed his wife and two drug dealers. Determined to save her from domestic doom that also hints at sexual abuse, Josh runs away with Casey and a bag containing one million dollars in stolen drug money, and they flee with her father in hot, raging pursuit. They can't go to the police because Mr. Caraway is the police, and so is his venomous partner in crime, played with steely-eyed menace by veteran actor Colm Feore. The rest of the movie, confidently directed by Nathan Morlando from a tight, economic screenplay by Kevin Coughlin and Ryan Grassby, follows the kids from one harrowing escape to another in a landscape of golden wheat fields and seedy motels. Not a minute is wasted, and the sense of geographical balance is so well captured by the understated cinematography of talented cameraman Steve Cosens that you always have a sense of where you are and why.
The film is aided by the enormous charisma of its two young leads and the obvious influence of Bill Paxton, a terrific actor and accomplished director in his own right. He made a career out of playing genial, likable, salt of the earth guys you always felt you could lean on in a crisis. He will be missed as a sturdy and memorable screen presence. Playing against type as a vicious, violent fiend in Mean Dreams, he shows a lot of hidden versatility and I guarantee you'll have a lot of fun watching him do it.