In fourth grade, Edward Bess pulled his teacher aside and told her, "Your lipstick makes you look sick."
Certainly not a line out of Dale Carnegie's How to Win Friends and Influence People. But there's something about Bess's charming conviction. "She was so embarrassed, she took it off," said Bess. "It was too blue-based."
His mother and three sisters got the same treatment.
Beauty trends come and go, and Bess has always gravitated to a palette that brings out a person's natural beauty. This mission to bring out the best was the aim when he launched his eponymous lip wardrobe collection in 2006. Just what made Bess—who never attended beauty school or worked behind a makeup counter or never even met an Avon representative in his hometown in Charleston, S.C.—think he could create a beauty line and sell it at Bergdorf Goodman, Manhattan's luxury specialty store? What made him think he could ask one of the world's most famous noses, Carlos Benaim, master perfumer at IFF, to create his fragrances?
"I think it was just the naivety of boldly wanting to follow that same instinct that had compelled me to dish out beauty advice all my life," Bess told the Observer over coffee. "You know, why not? And people imagine, because I have long hair and the whole fairyness of it all, that I would be able to."
"He's our little darling of the department," said Patricia Saxby, the VP DMM of Bergdorf's The Beauty level. "I think he was 19 when we met with him. I really questioned him hard, I said 'You're adorable, but who are you?' He had some lipstick and glosses, and I said, 'Why do I need this? We've got a lot of this already on the floor.' And he looked at me and said, 'I made this line for you.' And that was it. That young man worked so hard here. He proved himself.
"I knew the Edward Bess fans were waiting for the next big thing. His fans are going to buy anything he makes."
Bess is bold and knows how to make a splash. And big is the operative word.
Dita Von Teese is a fan of Bess' Big Kiss, a jumbo tube of red lipstick that doubles as cheek stain. And Oprah called it out in her "favorite things" list last year, saying, "Edward Bess' creamy, long-wearing lipstick and cheek stain has been supersized just for me—and all of you! Because who doesn't want to pull something the size of Texas out of her makeup bag?"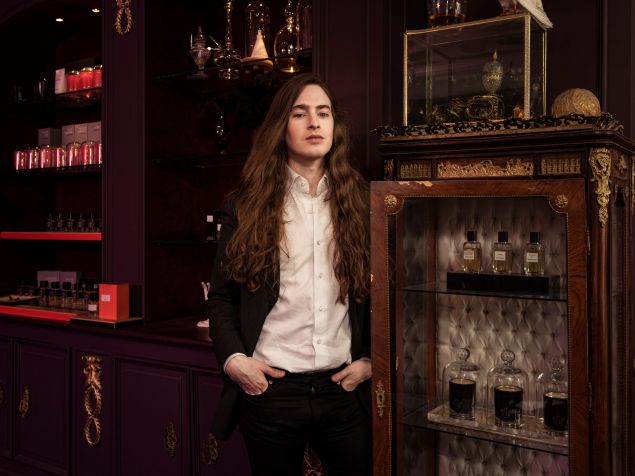 Bess can't make a bad move. He's got boyish Southern charm. He's theatrical. And well, he's pretty! Bess modeled in New York and London from 15 to 18 (while a student at Professional Performing Arts School) where he got a firsthand look of makeup in action. But he's also a muse. Siamese cat blue eyes, translucent skin and wavy hair, he has a sort of impish Adonis appeal. At 17 he caught the attention of photographer Ruven Afanador, who cast him as a faun-like creature for his poetically erotic book Sombra. Afanador had an artist rub Bess' naked body with pigment—"all of my models in that book wore body makeup that made them look as if they had been in the desert sun for days," he said—and gave Bess' hair the savage tangled look of a Victorian child chimney sweep raised in the woods by wolves.
He and Afanador became partners 12 years ago, and their lives intersect artfully, eventually leading Bess to dip his imagination into perfume. At a presentation for IFF for which Afanador created a film, Bess met the celebrated nose, Carlos Benaim. "He came to see me with a booklet [for three perfumes]," Benaim said. "The photos were great and very well researched, and the writing very descriptive. It was my inspiration in a way."
Benaim—who has created and contributed to over 50 fragrances including Polo, Viktor & Rolf's Flowerbomb and scents for Prada, Halston, Givenchy and Chloé, to name a few—found working with Bess to be a breath of unusual air.
"It's more interesting to be one on one with the decision maker of the brand, about their likes and dislikes, instead of with marketing. I had free reign to use the ingredients of extremely high quality of my choice," he said.
With words worthy a romantic poet, Bess explains that his inspiration for Spanish Veil was "a black web of wonderment with rays of white light from the Spanish sun trickling in." He wanted it to conjure the "scents trapped behind a starched veil of a culture that is near and dear" to him.
"Spanish Veil tells a story in a very rich and direct way with some very important naturals like tonka and sandalwood," Benaim said.
A nude in a wisp of gauze in a wheat field inspired La Femme Bohème, a honeyed elixir redolent with jasmine. It's Saxby's favorite and is meant to evoke a free spirit who "wakes on a bed of hay, a resting place not unfamiliar after a night drenched in the hazy pleasures of wine."
Bess' lush long hair that catches highlights on its soft waves was one of the influences for Genre, his third perfume, a biographical scent that Benaim calls a portrait.
"That fragrance came out of conversations with Edward where he told me he liked incense notes and spices," said Benaim, who used pink pepper and olibanum. "And there's the way he looks. His hair is like the mane of a wild horse, so for the fun of it I used a fragrance we developed called 'Living Stallion' from our headspace technology—our scientists recreate all kinds of things on this earth. It doesn't smell like Central Park West," he added. It's much softer and warmer.
Benaim and Bess celebrated their collaboration at Aedes de Venustas, last month. The owners of the plush, purple-walled parfumerie, Karl Bradl and Robert Gerstner, were smitten with Bess at first sight, and with his scents at first sniff.
Bess mingled and mesmerized, fanning his fans with perfumed plumes who encircled him and took selfies. Now and then he'd toss his head and his hair would fly out. Kind of like a wild stallion.