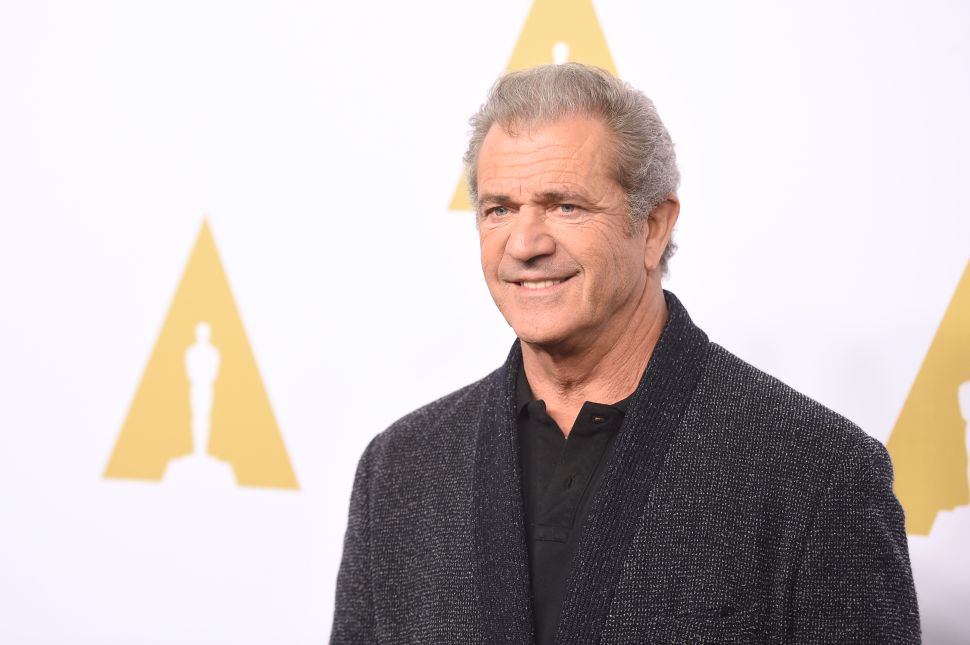 It's been a good year for Mel Gibson.
His latest blockbuster Hacksaw Ridge earned a slew of nominations from a range of arts academies. This past December, he got seven nomination nods from the Critics' Choice Awards. He won two, including Best Action Movie. The very next day, the Golden Globes pegged him with three more nominations: Best Picture, Best Director, and Best Actor for his lead, Andrew Garfield. The Academy Awards nominated him for the same three—plus three more, two of which he won.
When I first heard this, I instinctively resigned to my habitual disappointment in popular culture. Once again, Hollywood completely overlooks the sins of its heroes and bestows them with accolades. One needn't look far for other examples.
Roger Waters compared Israel and its Rabbinate to the Nazis. He then dressed up as a Nazi at one of his concerts, complete with a red arm-band and a machine gun. At another concert, he fielded a massive pig-shaped balloon stamped with a Star of David. All of this, and what does he get? He added 11 venues to his sold-out 2017 tour "due to overwhelming demand." R&B star Chris Brown went even further. He beat his girlfriend in 2009, threatened the life of his new one last month, and got a tattoo of a beaten woman on his neck. His sentence is 10 Grammy nominations since 2009. Pop culture has been similarly careless for the domestic violations of John Lennon, Miles Davis, James Brown and more.
So, I was inclined to add Mel Gibson to the list of Hollywood's easily-forgiven.
Except, I didn't—because this past Monday I read something remarkable. According to People Magazine, Mel Gibson has been quietly working for the past few years to help Holocaust survivors in Eastern Europe through his support of the Survivor Mitzvah Project. In the words of founder Zane Buzby, the goal of the organization is "to make sure that no Holocaust survivor who has endured the darkest days of human history will ever be hungry again or suffer or be forgotten or neglected." This work is indescribably critical, especially in light of recent data showing that tens of thousands of Holocaust survivors in Eastern Europe—and even Israel—lack basic necessities. According to Buzby, Gibson "doesn't just write a check" but "has been an avid supporter of this organization for a few years."
Of course, People Magazine is not a source of bedrock reliability but, if it's true, the world—including the Jewish people—ought to forgive the penitent filmmaker.
Not because his past actions were not exceedingly serious. They absolutely were. In fact, I was the first to take on the deeply problematic themes in his 2004 film The Passion of the Christ. I took to news shows and media outlets, calling out the anti-Jewish and historically inaccurate narrative, which at one point has the Jewish masses screaming, "His blood is upon us! His blood is upon us!" (This line, said in Aramaic, was not subtitled. But when you study Talmud, you pick up Aramaic, so I was able to detect it.) The lie that the Jews killed Jesus led to centuries of pogroms and massacres against the Jewish people, and I railed against its new debut in a 21st century film.
I also wrote a full length book rebutting the claim, Kosher Jesus.
Many believed it was best to just ignore the film, and others accused me of connecting too many dots. Gibson, they said, had simply made a movie based on his understanding of the Gospel. There was no proof that he harbored resentment toward Jews.
They said this until the comments he made two years later while being arrested for a DUI. I needn't recall those comments, not only because I'm sure you can, but because I genuinely believe G-d gives every human the chance to repent and be forgiven. In Judaism, when people have repented, we are forbidden from recalling their past deeds. Our sages taught that those deeds were committed by a stranger, someone other than the person they have become today.
Maimonides teaches that there are three stages of repentance. The first is to abandon one's wayward deeds, which it seems Gibson has done since we have not seen any enmity on his part toward the Jewish people in a decade. The second stage is to apologize and verbally renounce one's past ways, in other words to confess, which Gibson did shortly after the incident. The third and final stage is to change one's ways completely. After hearing of Mel Gibson's work to help Jews who even our own community has tarried in assisting, I can only assume that his actions have changed dramatically. In line with those teachings from the great Maimonides, we must abide by the others, namely that "when the person who wronged him asks for forgiveness, one should forgive him with a complete heart and a willing spirit."
In a world that has become so morally confused, we have no greater guiding light than the values of the Jewish faith. Further, the process of Teshuva, "repentance" in Hebrew, is what lays the groundwork of Jewish faith.
I want to end this article by inviting Mel Gibson to our Champions of Jewish Values Awards Gala, which will include a tribute to the moral giant and the world's most famous Holocaust survivor, Elie Wiesel, on May 21 at Cipriani in New York City. The dinner is hosted by world renowned Jewish philanthropists Miriam and Sheldon Adelson and Judy and Michael Steinhardt and will feature President Paul Kagame of Rwanda, Martin Luther King III, Ambassador Ron Dermer of Israel and Israel Agriculture Minister Uri Ariel. The keynote speaker is Elie Wiesel's son Elisha. Assuming Gibson's repentance and his work to help the Jews who survived Hitler's ovens, it would be a most fitting venue.
Far more so than the Academy Awards.
Rabbi Shmuley Boteach, "America's Rabbi," whom The Washington Post calls "the most famous Rabbi in America," is the international bestselling author of 30 books including his most recent "The Israel Warrior," which he will discuss at the AIPAC National Policy Conference on Sunday, 26 March at 12pm. Follow him on Twitter @RabbiShmuley.