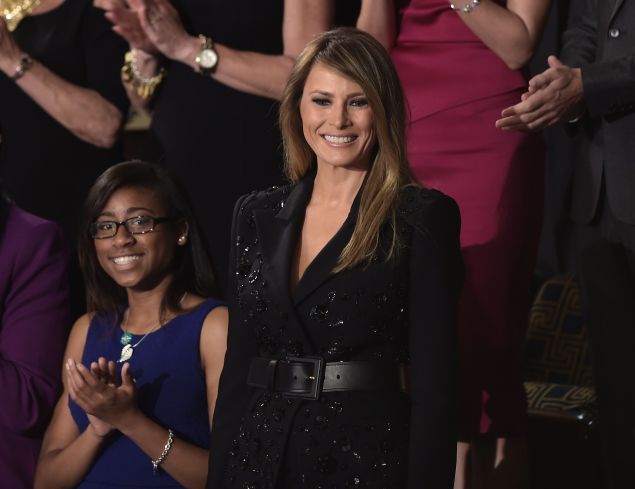 There were mixed emotions about the sparkling Michael Kors Collection suit that Melania Trump wore to attend Donald Trump's address to the joint session of Congress. Some thought the sequin embellished jacket and skirt, plus a wide leather belt, was a bold and powerful look for a first lady. Others compared her getup to Joan Collins, circa Dynasty. However, there's one thing both sides can agree upon: this suit was downright pricey.
Although it's almost entirely sold out on the Michael Kors website, the Floral-Embroidered Stretch Pebble-Crepe Dinner Jacket will cost you $4,995, while the coordinating Floral-Embroidered Stretch Pebble-Crepe Slit Skirt comes with a $4,595 price tag. That brings Melania's total outfit cost to $9,590, not including her shoes or other accessories.
In comparison, Ivanka Trump's magenta satin dress seemed like a bargain, priced at a paltry $2,995. (FarFetch is carrying the exact same dress in black and white.) The Roland Mouret frock, was figure skimming with a ruffle at the hip, featuring a lingerie-esque black strap and an asymmetrical neckline. It was certainly a flattering look, but it seemed a bit risqué for an appearance in the hallowed halls of Congress.
While we have to say that Melania's outfit was outrageously expensive, at least she dressed locally, choosing to wear an American designer. Mouret, on the other hand, is a French-born designer whose company's headquarters are based in London.