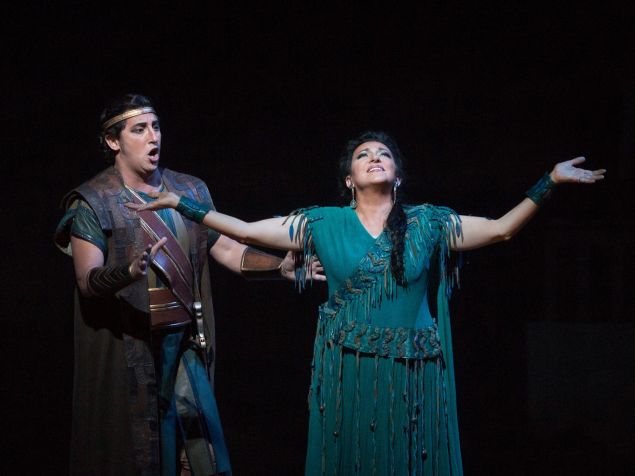 The operas of Giuseppe Verdi are not only—for the most part—masterpieces, they are immensely popular as well. No opera house can keep its box office buzzing without programming at least a few of the composer's works each season.
In fact, Verdi is such a backbone of the Met's repertory that two of the top five operas most performed in the company's history are by Verdi: Aïda in the #2 spot with 1,157 performances and La Traviata in fourth place with 1,006.
You'd think that racking up more than 1,000 performances with a single company would mean that an opera was absolutely bulletproof: you can throw on stage any old singers, in any old production, and the show will play itself. But a pair of late-spring Verdi revivals at the Met with mostly B-level casts suggests otherwise.
The latest iteration of Aïda staggered in on March 23 with a great vacuum where the title role should have been. As the proud Ethiopian princess forced into servitude by her Egyptian foes, Krassimira Stoyanova underwhelmed with a medium-sized lyric soprano with little variety of color. Moreover, she is a demure, even passive stage personality, which made all her Sunset Blvd. style arm waving look downright silly.
Surrounding her were Met veterans having off nights. Violeta Urmana (Amneris) was in wiry, unsteady voice, and James Morris's wobble and snarl made the high priest Ramfis seems even more unpleasant than Verdi intended. As Aïda's wily father Amonasro, baritone George Gagnidze pumped out the sound, but it was hard to take him seriously in that Susan Sontag wig.
Less dreary was debuting tenor Jorge de León, flaunting a big muscular voice, though he lost a few gravitas points for wandering around the stage in a daze, as if he'd never seen the sets or costumes before.
To be sure, his state of innocence was to be envied: the Met's drab, listless production of this opera has been around for almost three decades without ever generating more excitement than a provincial diorama. And at the moment, it looks even more lackluster alternating with the company's razor-sharp production of La Traviata by Willy Decker.
I've written about this marvelous staging numerous times, but on March 29 it was fascinating to see how Decker's abstract visuals and challenging stage movement elevated what on paper seemed an undistinguished group of singers.
Of the many sopranos who have sung the role of the courtesan Violetta in this production, Carmen Giannattasio is in a way the most successful, because her onstage sweetness and softness contrasts so violently with the steely mood of the staging. Resembling a young Gina Lollobrigida in Violetta's single costume, a wasp-waisted scarlet cocktail dress, she offered a ravishing mezza voce and big exciting top notes. Like many lyric sopranos, Giannattasio struggled with the role's coloratura demands, but even that slight clumsiness was endearing.
Another debuting tenor, Atalla Ayan, found a new angle on the character of Violetta's callow lover Alfredo, playing him as a sort of Josh Groban nebbish who finally explodes in anger when provoked in the gambling scene. His cool, veiled sound paired well with Giannattasio's similarly elusive instrument.
Unfortunately, George Petean was little more than a cipher as the moralistic father Germont, probably because his light baritone seemed incapable of any dynamic variety. But even this relative weakness (and the eccentric tempos set by conductor Nicola Luisotti) dinged this Traviata only slightly. It remains the most gripping show in the Met's repertoire, every moment worthy of the genius of Giuseppe Verdi.