It's only been a few months since Miansai, the casual cool jewelry brand, first launched a range of fine baubles. The small collection of gold and diamond pavé hoop earrings, angular rings and sleek cuffs, which hit stores shelves in November 2016, was a major upgrade from the leather wrap bracelet the brand was once synonymous with.
Following that launch, the brand's founder Michael Saiger faced the toughest fine jewelry challenge of his life. He was proposing to his then-girlfriend, Rachael Russell and he obviously needed to create something special. After all, the Miami-based jeweler had no excuses and all the best jewelry resources at his fingertips. He wasn't nervous to make the ring ("It was natural, there was no pressure," he reassured the Observer), but was excited to try his hand at such a refined design.
"I am very subtle and timeless, but I wanted to use different methods when making this ring," Saiger explained. "I wanted to use different design elements than typical rings, which are usually casted." He also noted that he didn't want to hand Russell, who works as Miansai's fashion director, a heavily-embellished band. In other terms, he wanted something minimalist, clean and striking, quite like the pieces he creates in his professional life.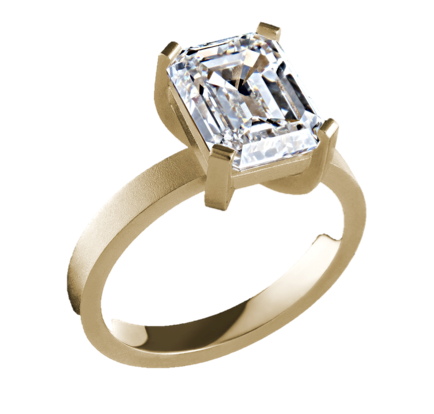 In order to really capture that aesthetic, Saiger started with a whole block of gold and used a fume machine to mill it down into a few parts, which were them assembled "like a puzzle" into a simple unpolished metal band with flat edges. He specifically developed the setting so the diamond would sit on a firm forged and milled mounting, as close to the band as possible, since no casting was used; clearly the diamond was going to be the starring role in this bauble. The luminous emerald cut stone, which clocks in at three carats, is top grade, clarity and quality.
"I was looking for stones for quite some time and I waited for a while until one came up. It was a really beautiful stone. When I saw it, it was such a nice cut, I knew it was the one," Saiger explained. Having seen this stone in person, we can confirm that this is, in fact, a rather special one.
"I get compliments on it daily," admitted Russell. She really let Saiger take the lead on the design, trusting that he would understand her preference for designs that are classic and understated, which needed to be delivered in unpolished gold. "I think he took all the things I was really interested in and he found a way to put it together with a beautiful diamond."
While Miansai has no official plans to launch a line of engagement rings in the near future, Saiger said he would be willing to custom design similar fine pieces, per customer request. And, as Russell pointed out, customers have already been purchasing their unpolished gold bands as wedding rings, sometimes even opting to have them engraved for their SO.
Once Saiger finally finished designing the perfect ring, how did he ask Russell to spend the rest of her life with him? The duo were on a trip to Morocco this past New Year's Eve and decided to take a 10-hour drive to the Sahara Desert. Once they arrived, they climbed a sand dune to take some Miansai product shots in front of the sunset (hell0, #content). When Russell went to snap a photo of a simple black cuff, Saiger pushed the ring in front of the camera lens and popped the question.
"If you can spend ten hours in a car with someone and you still love them by the end of it, then you're definitely meant to be. So of course, I said yes," laughed Russell. The duo will tie the knot this coming fall and they're planning a small, low-key ceremony on their dock, by the water in Miami with a dinner to follow, at The Standard Spa & Hotel. It's bound to be a picture perfect affair.