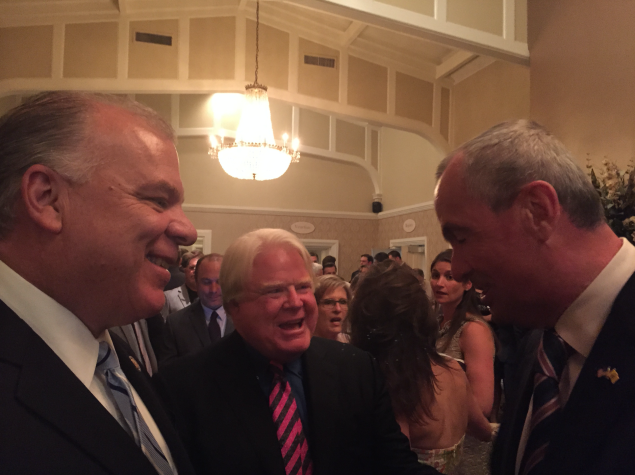 County Democratic leadership in one of the most politically volatile regions of New Jersey released its full list of primary endorsements Tuesday, with gubernatorial frontrunner Phil Murphy topping the list. The Monmouth County Democratic organization is hoping to pick up a State Senate seat vacated after longtime Republican incumbent Joe Kyrillos's retirement in the 13th legislative district, and hold on to its hard-won Assembly seats in the 11th.
Former Monmouth County Democratic Chairman Vin Gopal will also be going head to head with Republican incumbent Jennifer Beck for her Senate Seat in the 11th district.
See the full list, with the organization's rationale, below.
Governor:

Phillip Murphy


Phil Murphy won 87% of the convention vote to gain the official Monmouth County Democrats endorsement. Mr. Murphy served as United States Ambassador to Germany from 2009 to 2013. He is a Monmouth County resident. Ambassador Murphy will fight to lower property taxes and end the cycle of wasted spending under the Administration of Governor Chris Christie.

County Freeholder:

Mayor Brian Wilton and Dr. Margie Donlon


Brian Wilton is a skilled prosecutor, currently serving as Municipal Prosecutor for the Borough of Red Bank and Freehold Borough. Mr. Wilton was elected Mayor of Lake Como in 2014, prior to that serving on the Lake Como Borough Council. Dr. Margie Donlon is a physician who resides in Ocean Township. As a physician, Dr. Donlon has dedicated her career to taking care of her patients and improving their lives. Mr. Wilton and Dr. Donlon are looking forward to fighting for Monmouth County residents.



Senator 11th District:

Vin Gopal


Vin Gopal is a successful small-business owner and entrepreneur. A life-long Monmouth County resident, Mr. Gopal previously served on the Board of Directors for the Monmouth County Chamber of Commerce and for Big Brothers, Big Sisters of Monmouth County. He served many years as a volunteer EMT here in Monmouth County and he will fight for the taxpayers of the 11th District. Mr. Gopal is a resident of Long Branch.



Senator 12th District:

David Lande

David Lande is an attorney, currently a partner at Gill Chamas in Woodbridge. David earned his Bachelor's degree from Rowan and his J.D. from Widener School of Law in 1990. David is a certified workers compensation attorney. He will do an excellent job of representing the citizens of the 12th district in Trenton.



Senator 13th District:

Sean Byrnes

Sean is the last Democrat to be elected in Middletown, and was a member of the Township Committee from 2008 to 2011. Middletown makes up almost half of the 13th legislative district, which ensures a competitive election for the Senate Seat. Sean is a partner at his law firm, Byrnes, O'Hern, and Heugle located in Red Bank.

Senator 30th District:

Amy Sara Cores

Amy Cores graduated from Florida State University with her B.S. in History and later graduated law school from Rutgers Camden. Amy owns her own law practice, located in Howell. Prior to obtaining her law degree she was an adjunct professor at Camden County College and Monmouth University. Ms. Cores resides in Howell with her husband and children. On nice days, you can catch her riding on her Harley Davidson to the office or court.

Assembly 11th District:

Assemblymembers Eric Houghtaling and Joann Downey

Assemblymembers Eric Houghtaling and Joann Downey have represented the 11th district since 2015. Their victory in 2015 has been considered the biggest upset in the state of NJ. A historically Republican area, they are the first Democrats to represent the Assembly in the 11th District since 1991. Eric is a retired Electrician and Joann is a practicing attorney for Dimian and Masterpalo, located in Ocean Township.

Assembly 12th District:

Dr. Nirav Patel and Gene Davis

Dr. Nirav Patel resides in Old Bridge and is a community pharmacist. He graduated from Rutgers with his B.S. in Chemical Engineering and obtained his Doctor of Pharmacy from Massachusetts College of Pharmacy. Davis resides in Jackson and served as a Councilman in Linden before retiring and moving to Jackson.

Assembly 13th District:

Thomas Giaimo and Mariel Didato

Thomas Giaimo is an attorney specializing in Condo Associations. Mr. Giaimo graduated from St. John's University School of Law. Tom resides in Middletown with his wife Christine. Mariel Didato is a Sexual Violence Outreach Coordinator at 180 Turning Lives Around, a private non-profit organization dedicated to ending domestic and sexual violence in our community. She graduated from Rutgers with her B.S. in Nutritional Sciences.

Assembly 30th District:

Eliot Colon and Kevin Scott

Eliot Arlon Colon is the co-founder of Microconsulting, a software audit defense firm located in Woodbridge. Microconsulting was recently named one of NJ's Best Places to work and named one of NJ's 50 fastest growing companies by NJBIZ. Kevin Scott is the Manager of Chipotle Mexican Grill in Freehold. He has his B.S. in Mathematics from Montclair University.