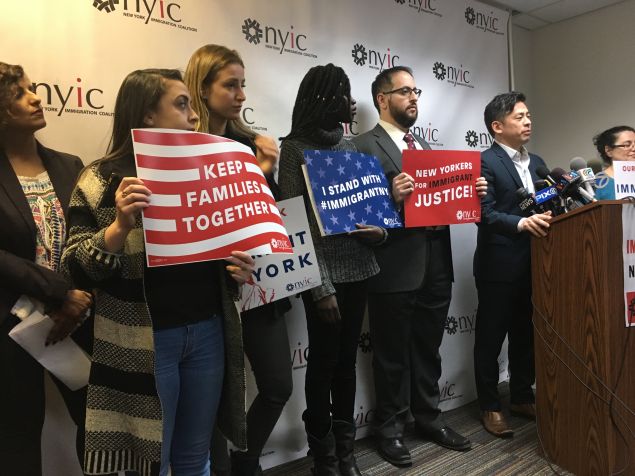 Refugee advocates joined the New York Immigration Coalition to assail President Donald Trump's second executive order barring entry to people from a smattering of Middle Eastern and East African countries, insisting that it is a "backdoor Muslim ban 2.0″—a reference to the commander-in-chief's primary campaign promise of a "total and complete shutdown" on Islamic immigration to the United States.
Trump signed a new executive order targeting travelers and immigrants from six Muslim-majority nations—Iran, Libya, Somalia, Sudan, Syria and Yemen. The order put in place a 90-day moratorium on new visa applications from five of the troubled countries, and a 120-day ban on those coming from war-bloodied Syria.
The initial iteration of the White House edict included Iraq and applied to people cleared to enter the U.S under former President Barack Obama—the latter resulting in multiple judicial injunctions against the order.
"Earlier this afternoon, President Donald Trump signed into law an executive order, what we like to call the backdoor Muslim ban 2.0. and I think the thing that I would say is that this backdoor Muslim ban, this revised executive order, that prevents, bans travel from six Muslim-majority countries is not anything new," Steven Choi, NYIC's executive director, said at a press conference at the group's Manhattan headquarters this afternoon. "It is the same, old backdoor Muslim ban. It is the same old fear, hatred and intolerance that we've seen from this administration since day one."
Choi said his organization has deployed lawyers to John F. Kennedy International Airport—the site of both detentions and protests after the first executive order—to see how travelers are being treated. He also noted that refugees already endure an extensive vetting process.
"The idea that refugees are simply coming into this country without any vetting is just that—false," Choi said.
The order is set to take effect on March 16. Its ostensible intent is to give the governments of the affected countries time to demonstrate the accuracy and efficiency of their background check procedures to the United States, and to provide changes and assurances as the Trump administration requests.
Albert Cahn, legal director for the New York chapter of the Council on American-Islamic Relations, said that the organization has launched the "Register Me First" website as a way to give people an opportunity to express solidarity with their Muslim neighbors when they are under attack. The name of the initiative references Trump's campaign proposal to institute a federal registry of all adherents of the Islamic faith.
Cahn, who is Jewish, said that the new executive order will tear families apart and argued that the removal of one country does not make the executive action any less of a Muslim ban.
"I want to make it clear that no matter what improvements were made in this bill, a watered-down Muslim ban deserves our undiluted dissent," he said. "We cannot be any quieter today because one country was removed from the list."
The order does not cover the majority of world's Muslim nations—and notably excludes terror-exporting nations like Saudi Arabia and Qatar. No immigrant from the six impacted nations has committed an act of terror on American soil.
The new fiat retains the original's four-month hiatus on further refugee resettlement in the U.S. Elizabeth Arjok, a Sudanese immigrant whose family arrived as refugees in 1995, urged Trump to "reconsider this refugee ban," claiming it would result in the killing of innocents in violent lands.
"I am so proud and happy, you know, that I'm a citizen of the United States and I can speak and have the freedom of speech," Arjok said, fighting back tears. "I have shelter, I have food, I can go to school and that's what I would want for any child, doesn't matter what their religion is, doesn't matter where they're from."
Senate Minority Leader Charles Schumer let loose on Twitter earlier today against the new ban, calling it "mean-spirited & un-American" and saying that it "has absolutely nothing to do with national security." Mayor Bill de Blasio said the latest ban "is as discriminatory as his first one" and that Trump has "misguided ideas about immigrants, refugees and homeland security."