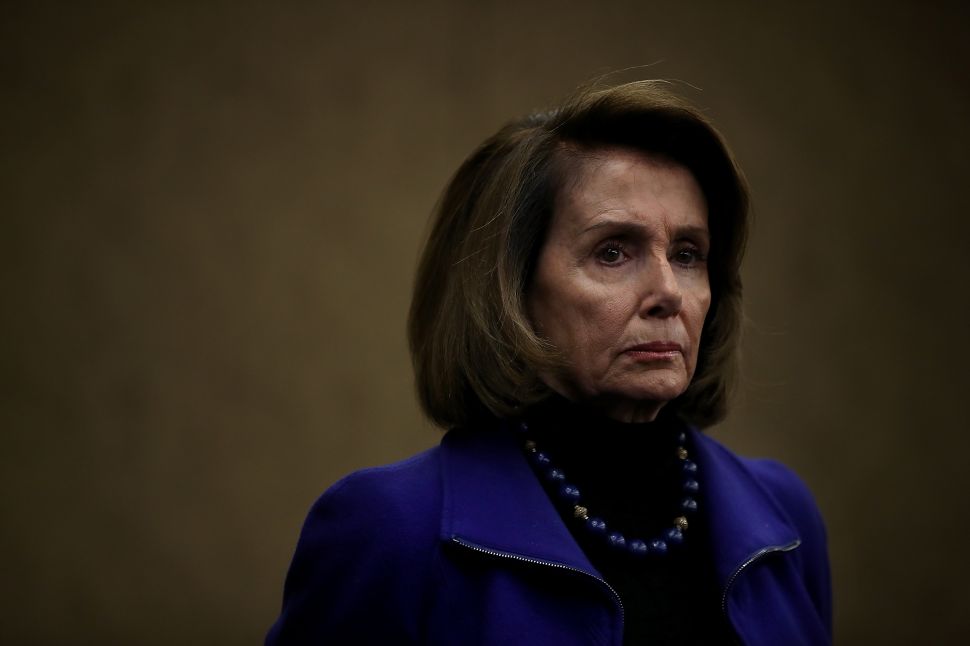 On March 21, 2017, House Minority Leader Nancy Pelosi sat down for an interview with fellow multimillionaire Anderson Cooper on CNN. Though the discussion mostly consisted of softball questions about the Trump administration, Pelosi managed to provide the kind of tone-deaf responses that have made her widely disliked by the public.
Cooper asked Pelosi who she thought was leading the Democratic Party. Pelosi, not surprisingly, didn't have an answer. "Well, President Obama was the president of the United States until just a matter of weeks ago," she said. "I don't think that he can be dismissed as the leader of the Democratic Party. Hillary Clinton did not win the election, but she is a respected leader. But we have leaders for all different aspects of it."
Pelosi's suggestion that former President Barack Obama is the leader of the party is inconceivable, especially since he does not currently hold office and has been on vacation since Donald Trump's inauguration. Pelosi likely cited Obama due to his popularity among voters; he has the highest ratings among Democrats aside from Sen. Bernie Sanders. Pelosi failed to mention Sanders as a leading figure because of the Democratic leadership's prevailing consensus that Sanders isn't a "real Democrat." Her suggestion that Hillary Clinton is the leader of the party is strange given that she does not hold elected office, repels millions of voters and has run two failed presidential campaigns—despite being the presumed front runner in both.
As an excuse for why she couldn't name any leaders for the Democratic Party, Pelosi added, "We're not in a presidential time." Pelosi likely didn't cite herself or Senate Minority Leader Chuck Schumer because she is aware of her and Schumer's unpopularity. Nor did Pelosi mention anyone else currently in office because she knows there aren't any popular Democrats in office. As much as Democrats are willing to ingratiate themselves with Sanders to exploit his popularity for political gain, they don't want to admit that they have no popular leaders in the party. Their strategy, as Pelosi previously noted, is to wait out Trump's presidency and hope that voters will abandon the Republican Party and turn their support to Democrats.
Pelosi has been a liability for the Democratic Party since she assumed her leadership role. She is one of the most widely known, yet least popular politicians in the country. Republicans are comfortable in a fight against Pelosi—and even hope for it—because having Pelosi in leadership helped Republicans swing over 60 seats in the House during the Obama administration. Even recently, in Montana's special election for Ryan Zinke's congressional seat, the Republican Party is using Nancy Pelosi to portray Democratic opponent Rob Quist in a negative light. The Democratic Party's insistence to stick with Pelosi as its House Minority Leader is one of the main reasons why Democrats are out of touch with voters.
Democrats in office are old; the average age of Democrats' senior leadership, according to Vox, is 72, compared to 49 for Republicans. Vox's Jeff Stein cited this age problem is due in part to congressional redistricting creating safe districts that have allowed Democrats like Nancy Pelosi to win re-election without formidable challengers. Pelosi has also raised millions of dollars for Democrats in the House, whipping support in her favor and continuing the Democratic Party's trend of favoring its donors over its voters. While many voters would like to see new leadership take the party in a different direction, Pelosi has insisted that the party doesn't need a new direction, and other Democratic Party leaders have shown that they agree with that assessment by suppressing reform.