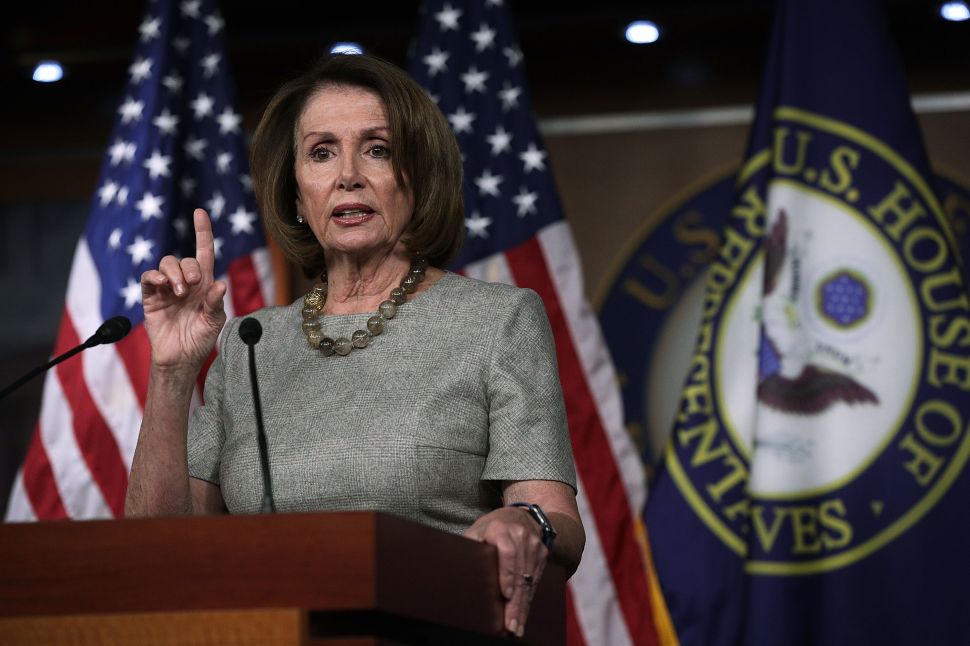 The time has come for the scandal ridden and partisan hack House Minority Leader Nancy Pelosi to resign.
Pelosi has called for Attorney General Jeff Sessions to resign in the wake of allegations that he did not disclose contacts with Russian diplomats as part of his confirmation process. However, Pelosi and her Democratic allies are not alleging that Sessions conspired with a foreign power to rig the presidential election, because that would be a crime—and it would be false.
The Democrats are alleging that Sessions did not disclose two meetings with the Russian Ambassador to the U.S.—one of which appears to be a quick hello at the Republican National Committee Convention last summer—and that Sessions' lack of disclosure equals perjury. As usual, the Democrats are screaming for a Trump official's head with little to back up their serious allegations.
The first reason why Pelosi should resign is because she is leading a handful of Democrats to tarnish the reputation of the Attorney General of the United States based on rumor and innuendo. Pelosi tweeted the following:
In a press release, Pelosi stated, "Jeff Sessions lied under oath during his confirmation hearing before the Senate." Pelosi went on to argue that "there must be an independent, bipartisan, outside commission to investigate the Trump political, personal and financial connections to the Russians." The Democrats continue to call for an investigation, yet they have not produced any evidence of a crime. You can't have an investigation without a crime.
Sessions responded to the allegations by arguing, "I never met with any Russian officials to discuss issues of the campaign. I have no idea what this allegation is about. It is false."
When you delve into the specifics of the allegations, they seem flimsy at best, and the context of them is important. During Sessions' confirmation hearing, Sen. Al Franken asked Sessions about a CNN report that intelligence officials had briefed President Obama, who was in office at the time, that Russian officials had compromising intelligence on Trump. Franken referenced surrogates for Trump and then asked Sessions what he would do as attorney general if the intelligence was proven true. Sessions answered, "I have been called a surrogate at a time or two in that campaign, and I didn't have—did not have—communications with the Russians, and I'm unable to comment on it." In the context of this answer, Sessions seems to have been truthful. If Sessions had limited meetings with Russian officials in his capacity as a senator representing the state of Alabama and not representing the Trump campaign, then this statement seems truthful in context. Context matters, and Pelosi and Franken are taking this testimony out of context to spin it as something it is not.
One communication appeared to have happened (according to The New York Times' report) at the convention after he gave a speech sponsored by The Heritage Foundation. A small group of diplomats approached Sessions as he left the stage to thank him. This seemed to be a rather innocuous and very brief interaction that does not rise to the level of a formal meeting, so it is reasonable for Sessions to not even mention this brief meeting that appears to have happened in the presence of other foreign diplomats and a large crew of the event's attendees.
According to the Times, another meeting in Sessions' Senate office focused on relations between the United States and Russia.
To spin these two meetings as the basis to insist that Sessions resign is offensive. For Pelosi to embolden a number of House Democrats to use these incidents to call for Attorney General Sessions to leave office is politically scandalous and immoral. At the next press conference Pelosi has, she should announce of her resignation from Congress.
Pelosi is not one who has been clean of scandal. Her political incompetence includes past comments that we have to pass legislation to find out what is in legislation and false claims that there were absolutely no cuts that could be made to federal spending. There is also Pelosi's financial scandal, as reported by the Washington Free Beacon, that her husband invested in a solar firm weeks before a lucrative expansion.
Pelosi's husband was reported to have purchased up to $250,000 of the stock in question just weeks before the stock prices soared. The Washington Free Beacon reported, "Pelosi has previously been accused of trading stock based on information gleaned through her official duties. She participated in Visa's initial public offering as the company fought a House bill to subject credit card companies to increased regulation. The measure failed to pass." Maybe Congress needs to open an investigation into Pelosi herself?
Attorney General Sessions is a good man who is being attacked by Democrats in the House and Senate who are jumping to conclusions to prove their conspiracy theory that the Trump campaign conspired with the Russians to fix the election.
Unless there is evidence that Russians infiltrated the Clinton campaign to convince Hillary to stop campaigning in Pennsylvania and Wisconsin—in addition to coaching her on setting up a personal email server to send classified information—then these Democrats need to shut up and get back to work.
Brian Darling is a former counsel for Sens. Bob Smith, Mel Martinez and Rand Paul. He is the author of a Heritage Foundation policy paper titled "The Filibuster Protects the Rights of All Senators and the American People." Follow him on Twitter @BrianHDarling.