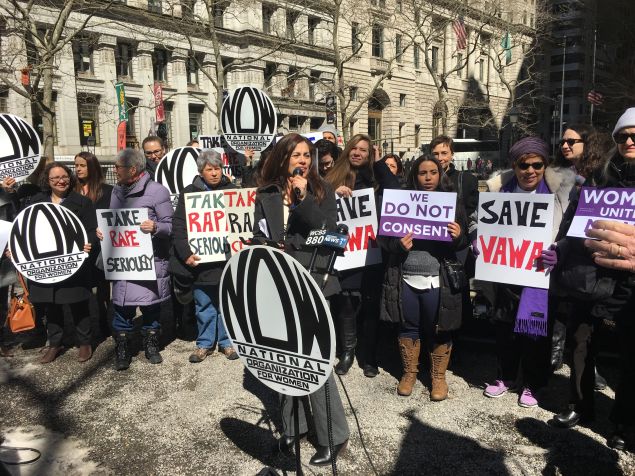 Feminists battered President Donald Trump and U.S. Attorney General Jeff Sessions in Lower Manhattan today over their plans to cut grant programs created under the Violence Against Women Act.
The New York chapter of the National Organization for Women launched the "Take Rape Seriously NOW" campaign steps away from the new "Fearless Girl" statue posed in front of the Wall Street "Charging Bull." The new political push demands the New York congressional delegation reject the administration's efforts to sap cash from VAWA or any other effort to impinge upon women's rights.
Sonia Ossorio, president of NOW-NYC, recalled the multiple claims of sexual molestation leveled against Trump in the last weeks of the presidential campaign and the 2005 tape that captured him describing his affinity for grabbing women "by the pussy."
"We cannot and must not forget Trump's unapologetic comments about grabbing women or the dozens of sexual assault allegations against him and what that means for all of us," said Ossorio, noting that Trump's team had erased information on assaults against women from the White House website." What that means for how he will govern on the critical matters of violence against women."
Ossorio asserted that the administration "frankly hasn't shown us" that they care about advancing women's rights and maintaining the ones they currently have, arguing that it has been "openly hostile" to women. The grants under the axe fund local organizations that work to prevent physical and sexual violence against females and assist the victims.
In 2016, New York State received $7.7 million in federal funding, an increase of $662,000 to help domestic violence and sexual assault survivors through programs run by nonprofit organizations, hospitals and law enforcement agencies throughout the state. The Office on Violence Against Women currently manages 25 grant programs authorized by VAWA and subsequent legislation.
NOW-NYC will the "Women's Town Hall: Speak Up, Speak Out Against Violence" tonight at 6:30 p.m. at its 150 West 28th Street office, where service providers and survivors will describe their experiences.
Ossorio recalled that Sessions voted against reauthorizing VAWA, and pointed out Trump has embraced a conservative political think tank Heritage Foundation plan that calls for cuts to VAWA. She called out Republican lawmakers who she said have been "hiding from the women in their districts," naming Long Island Congressmen Lee Zeldin and Peter King, upstate Congressman John Faso and Western New York Congressman Chris Collins.
"We will hold our members of Congress accountable, each and every one of them to ensure that it remains funded and enforced," Ossorio said.
Antonia Clemente, executive director and co-founder of the Healing Center NY, said that it is alarming that the Trump administration would refer to funding VAWA as "government waste" given that one in three women are sexual assault or domestic violence victims as well as one in four men.
She also noted that "millions of children" are affected by violence in the home and that three adult women are killed daily, and that even elderly females fall prey to abusers.
"We're not a government waste. The children are not government waste, women are not government waste, children are not government waste," Clemente said. "We matter. We matter and what happens in our community matters."