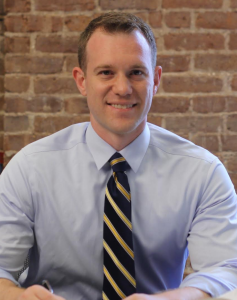 Days after announcing that he will be running in Democratic sssemblyman Vince Mazzeo's place for the New Jersey State Senate seat in the state's second legislative district, former Atlantic County freeholder and one-time running mate to Mazzeo Colin Bell is taking a hard anti-takeover line. Atlantic City, the district's economic engine, is currently under state control in a plan Governor Chris Christie fought hard for throughout 2016.
Where Mazzeo walked a fine line of sponsoring the takeover bill while voicing his support for the city's ultimately rejected alternative plan to balance its budget, Bell is taking a more aggressive approach in his bid against Republican assemblyman Chris Brown. Despite massive PAC support for his ticket, Bell failed to unseat Brown back in 2015.
Responding to recent proposed layoffs for the city's police and fire departments, Bell criticized Christie for his appointment of longtime friend and former U.S. Sen. Jeff Chiesa to oversee the takeover for hundreds of dollars an hour. The city has been on the verge of bankruptcy after out-of-state competition reduced its tax base by half over the last decade.
"No one can argue about the need to right size Atlantic City's government to fix the fiscal mismanagement that's been happening for years. But what we can't do is jeopardize the safety of our residents, visitors and businesses with massive layoffs to the police and fire departments.
"If Atlantic City's $400 an hour dictator wants to do right by our hard-working public safety employees, the state should do what they said they were going to do to implement an Early Retirement Incentive program that would save the city millions of dollars a year, right size government effectively and respect those who put their lives on the line for our residents."
Bell called for Christie—who was the takeover's strongest proponent after Democratic state senate president Steve Sweeney, soon-to-retire Democratic state senator Jim Whelan, Republican county executive Dennis Levinson, Republican assemblyman Chris Brown, and Mazzeo drew initial outlines of the plan at the governor's mansion—to make an in-person appearance in the city, where he is perennially unpopular.
"It's time for Governor Christie to show his face in Atlantic City for something other than a photo op instead of hiding behind the veil of a state takeover that's targeting hard-working people instead of fiscal mismanagement and wasteful government spending. If he does he'll see what I saw as a former Atlantic County Prosecutor — the real story of the hard-working men and women of our police and fire departments who give their all day in and out."