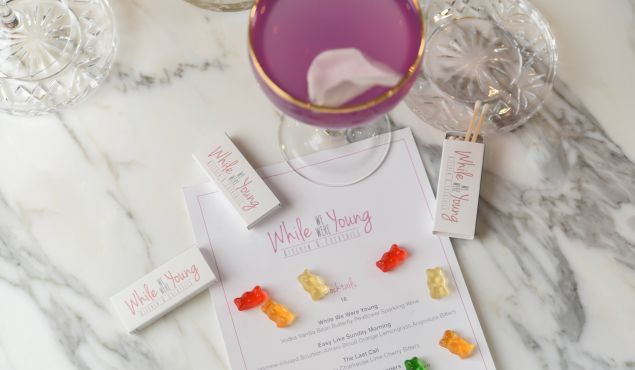 While We Were Young, a brand new bar in the West Village, comes across as exactly the same as its upscale neighboring waterholes. Like the others on West 10th Street, it's a tiny space that is beautifully decorated (albeit a bit girlier than the rest) and full of delicious looking cocktail concoctions.
With flower petals and candles strewn about, anyone from The Bachelor franchise would feel very comfortable here. However, when you dig deeper and chat with While We Were Young's owner, Bradford Dunigan, what you will discover is a young founder who has poured his heart, soul and sweat into what has the potential to become a West Village staple.
Born and raised in Fort Lauderdale Beach, Florida, Dunigan grew up in a house that was all about details. His mother, a former model, covered the house in flowers. That goes to explain why his bar is covered in petals.
"I've always had a strong attachment to them," he confirmed.
Dunigan, who has been working in fashion for the past few years, is all about beautiful design. His love of surfing can be seen in the surfboard-shaped cutouts behind the bar and though it's very subtle, the bar is actually shaped like a wave (though it might take you a few drinks to notice that one.) From the chevron marble floor in the bathroom to the blush pink banquet to the bags of Gummy Bears given to patrons with their bill, Dunigan doesn't just want this to be a casual pit stop.
"I don't people coming in here to order a vodka soda. You can be bored at home. I want people to have an experience," he told the Observer.
That experience is embraced with open arms by the female variety, so expect to sip a pink cocktail alongside a bachelorette party, many blogger photo shoots, a wedding shower and boozy girly brunches. Yes, the bar appeals to the female sensibility with its Instagrammable poetic neon signs and colorful drinks, but Dunigan also views it as a great place for powerful, modern New York women, those who work hard and are more independent than ever before, to come for a good time.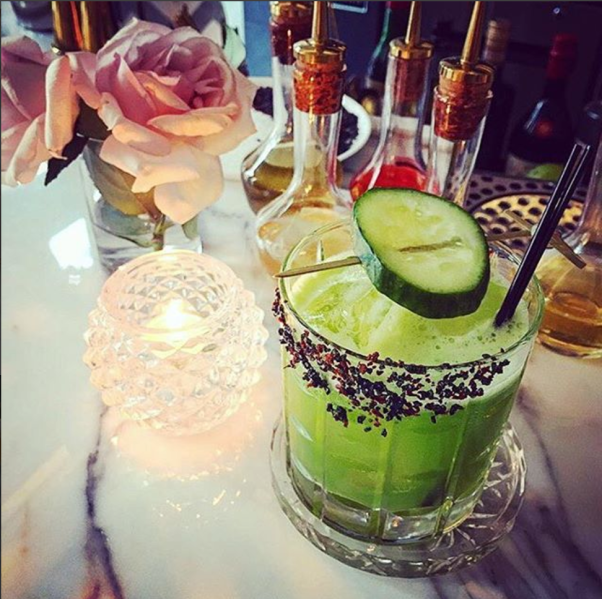 And a good time they will have, as these drinks look like something out of an Old Hollywood movie. The most Instagrammable option on the menu is While We Were Young. Made with vodka, vanilla bean, butterfly peaflower, and sparkling wine, it takes on a beautiful purple hue. If you are looking for a healthier drink, Too Good For You is delicious and made from kale, tequila, lime and agave. Texts from Last Night and Sleeping With Strangers are also great and let's just face it, really fun to say.
But something else that sets While We Were Young apart from other tiny bars is that it actually serves food, and a robust menu at that. I tried everything from the Tuna Tartare and the Kobe Burger, plus the Butternut Pappardelle Vegan Pasta. My favorite though was the Chicken and Kale Waffles. Seriously, they were served in a goblet. They also have fries, which is the real way to any woman's heart after a long day.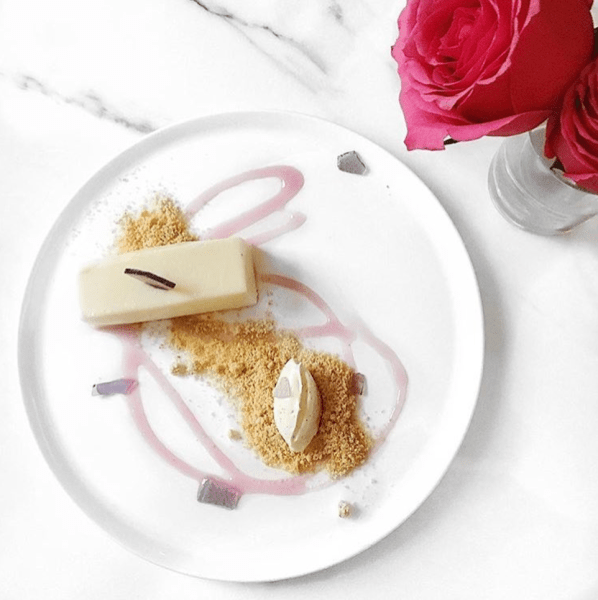 Don't even get me started on dessert. You have not had a piece of Key Lime Pie until you have had While We Were Young's Key Lime pie with graham cracker sprinklings and a sweet purple sauce. Dunigan's Florida roots really shine through here. And though the bar and kitchen is quite small—the restaurant seats less than 40 people—everything is made in-house.
But if you think Dunigan, who is barely 30, is the kind of founder that just checks in once a day to see how things are going, you would be quite wrong. The journey to opening this bar was a long and tough one and sounds like a far cry from the peaceful, serene atmosphere you get when you walk into this bar. It took 18 months to open and Dunigan is aware of the shelf life of New York City bars, particularly West Village ones. That's why he basically lives at the restaurant, when he isn't boxing or taking care of his dog.
Most nights he can be found serving food and drinks, revising the menu, greeting everyone who comes in, scrubbing the bathroom floors, running the Instagram, hand selecting a staff that is excited about the restaurant industry, and doing the PR, as well as a million other things. That dedication to making his bar an experience and retreat is what sets him apart.
As for the name, there was no particularly meaning behind the choice, Dunigan said. And yes, he does know realize it's grammatically incorrect. It was just something he was playing around with and noticed that it makes people smile. And if that doesn't work, there is always the Gummy Bears.