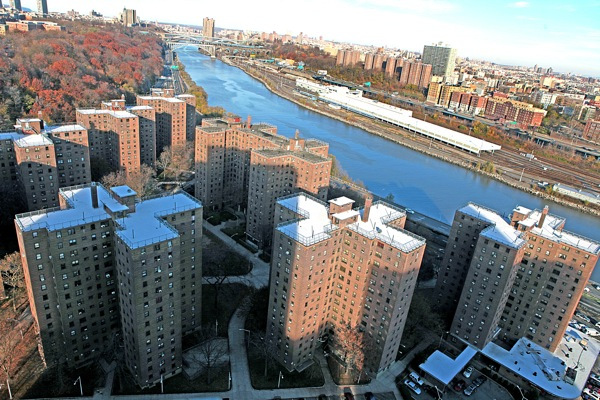 A new piece of legislation introduced in the City Council would obligate Mayor Bill de Blasio's office to notify tenants of the troubled New York City Housing Authority of their right to avoid a rent increase.
The bill, put up yesterday by Bronx Councilman Ritchie Torres, would encourage public housing residents who have gotten a new job or a raise to take advantage of the federal Earned Income Disallowance program. Rents at NYCHA, like all public housing authorities, are capped at 30 percent of a household's monthly income—and EID allows participating tenants to keep their rents at the old, lower level for one year after they receive a pay bump.
"EID might be the most important rent freeze you never heard of," Torres, who chairs the Committee on Public Housing, told the Observer in a phone interview. "The problem has been a persistent lack of public awareness, resulting from a persistent failure of the city to educate residents."
For decades, the rent formula for public housing has effectively penalized tenants for earning more money, as it meant they would have to pay out more for their apartment. The federal government established EID in 1999 to eliminate this disincentive, with HUD making up the difference for the revenue lost to public housing authorities.
Housing Opportunity Through Modernization Act of 2016 officially abolished EID. But since the federal Department of Housing and Urban Development has not issued guidelines for how to implement the new policy, the program remains in effect in the interim.
Torres said just a tiny fraction of NYCHA's nearly half-million residents had signed up for the program. He noted the city had launched phone banking and ad campaigns to promote the Senior Citizen Rent Increase Exemption and the Disability Rent Increase Exemption, two New York State programs that allow tenants of stabilized apartments to freeze their rent.
His bill calls for the de Blasio administration to replicate those efforts for EID.
"It builds on a long standing tradition of outreach to New Yorkers in need of rent freezes," he said. "I'm confident that the bill will pas because it's common sense legislation."
Bronx Councilman Rafael Salamanca and Manhattan Councilman Daniel Garodnick have co-sponsored the measure. NYCHA told the Observer it would review the bill before rendering a position.
"NYCHA is committed to expanding economic opportunities for its residents and connecting them to services and programs to help them achieve their financial goals," a spokesperson said.