When Nidhi Kapur went furniture shopping after moving into her first adult home with her husband, she was frustrated. She wasn't sure why the big chain stores didn't have anything she wanted in her price range. All the couches and chairs were lacking elegant designs, looked cheap, or felt too mid-century modern. So, she did what any person with a background in e-commerce would do; she created her own company, Maiden Home.
The name came from the idea of a maiden voyage, because most people who are shopping for this type of furniture have gone through some kind of life change, whether it be moving to the suburbs, getting married, or buying their first home.
And the former Google and Birchbox employee, with no formal training in furniture design, knew she wanted her products made in North Carolina.
"My parents bought their furniture from North Carolina, and they've had it for over 30 years," Kapur explained. "I always felt like it was more intricate and detailed. That kind of story has really been lost, and I wanted to be the one to tell it."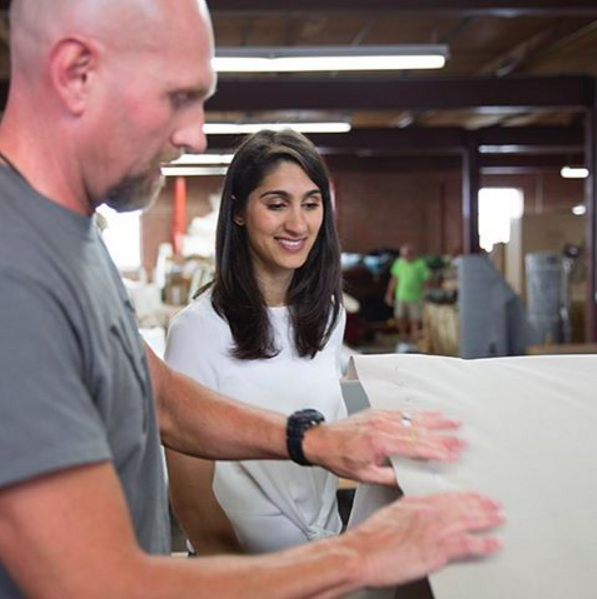 So Kapur traveled across North Carolina, meeting with family-owned businesses who specialized in custom upholstery, with the goal to find a crew that could produce the products she wanted. Her requirements? She was looking for someone who could deliver handcrafted couches and chairs that were also affordable. Once she had decided upon the right crew, she had the crux of Maiden Home, an online furniture destination that will deliver a $2,000 custom-made couch, directly from the workshop to your living room, in under six weeks.
The secret to Maiden Home's success is that the American-made company cuts out the middle man, taking the trusty direct-to-consumer path that has already proven successful for countless startups. Instead of selling couches and chairs to fancy furniture stores, or outsourcing product from a Chinese factory, Maiden Home cuts out all the "unnecessary" steps, without sacrificing quality, comfort or elegance.
"When you buy a couch through a boutique, you may pay $6,000 for it," Kapur said, "but because we eliminated all those middle men, you can get it for $2,000 through Maiden Home."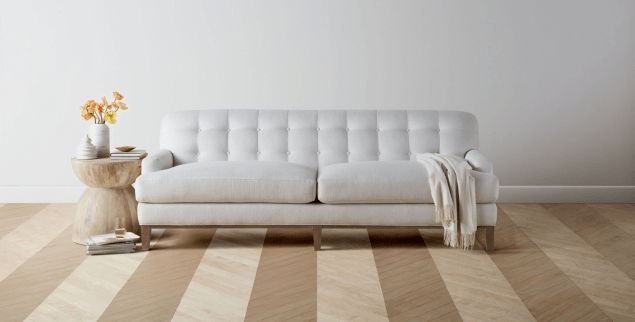 Since the idea first popped into her head, it's taken Kapur two years to get Maiden Home off the ground. There's a lot to think through when you're dealing with American factories delivering custom furniture directly to consumers across the country. But Kapur has considered every last detail.
"It's about keeping promises," Kapur said. "I think the industry has kind of limped along for a really long time by mistreating their customers in a lot of ways. As we create our customer service philosophy, we draw from other industries. We don't even look at furniture, because the industry is so stuck in the past and conceptually, no one has rethought it. It's amazing to me that people spend thousands of dollars on furniture and then get mistreated."
The base products, four sofas and four chairs, are simple, but the customization comes at a number of different levels, including size, fabric and color. Kapur wanted to make the process as "seamless and fun" for the customer as possible. It begins on the Maiden Home website, where customers can search through swatches of different fabrics and colors.
They can then order a complimentary swatch kit of up to five fabrics, including leather and velvet, so you can decide which suits your aesthetic. Each customer is also provided with a design advisor, who is available for basically any furniture-related questions through the entire process. These design gurus will help you make the right purchase and will ensure that your new couch won't clash with the rug in your living room.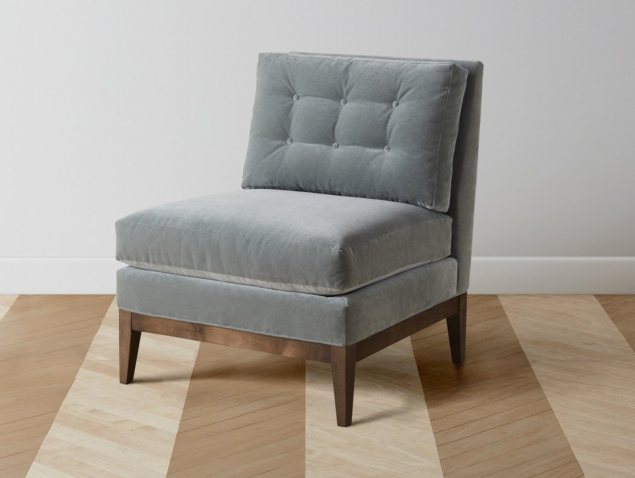 Once the order has been placed, Maiden Home sends weekly updates to their customers, including when the cushions are being made, which inspections are taking place, and all of the finishing touches. Maiden Home also guarantees a six-week white glove delivery service through a network that reaches every state, excluding Hawaii and Alaska. As if that's not enough, once the final piece been delivered, you have 30 days to return it for a full refund. This is practically unheard of in custom furniture.
Although Maiden Home is an e-commerce site, the brand does maintain an appointment-only furniture showroom in Kapur's Tribeca ground-floor apartment, should you want to view the products in-person before making a purchase.
Kapur's revolutionary concept launches to the public on Tuesday, March 7, but in the beta phase, people are already fawning over these designs, mainly because they know exactly where they come from, and they're comfortable and elegant. The top-selling Minetta Chair ($950), which is available in 40 fabrics and four leathers, features 16 rows of stitch detailing on the back. All four couches come in 40 fabrics and six sizes, are built for comfort; they have been specially designed so they don't flatten over time and so the cushions won't slip out.
"These are the staples of your living room," Kapur said. "They're your core, timeless pieces that will transition with you throughout the years."
As for what's next, Kapur has many ideas, and she says the possibilities are limitless. But she intends on keeping the customer in mind, first and foremost. After this launch, she hopes to expand into other types of furniture, and plans to listen to customers and provide them with the products that have the highest demand. "If a lot of people say they want a rug, then we'll try and make a rug," Kapur said.