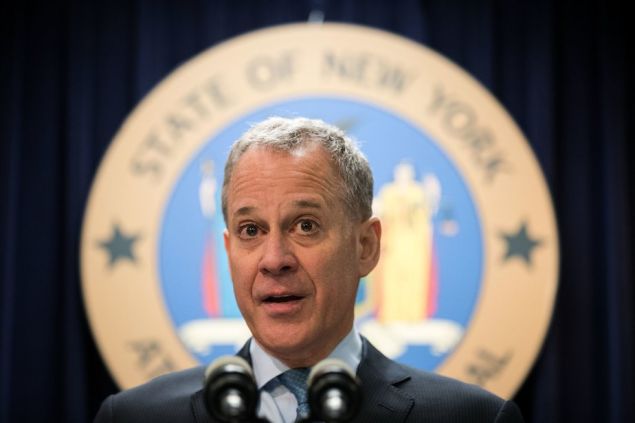 Hours after President Donald Trump issued an executive order peeling back an array of his predecessor's emission regulations, state Attorney General Eric Schneiderman promised legal action—asserting that the federal government is legally obligated to introduce a replacement plan to curb greenhouse gas emanations.
In 2015, the liberal Democratic prosecutor joined the federal government's side in defending former President Barack 's Clean Power Plan from a suit by West Virginia, where the economy has relied upon coal production for generations. Trump's edict today called on the Environmental Protection Agency to withdraw the restrictions on fossil fuel pollution rather than continue to litigate the case—but Schneiderman asserted that, as an intervening party, New York can and will carry on the fight in D.C. Circuit Court.
"We regret the fact that the president is trying to dial back history, but it's not going to happen," Schneiderman told reporters on a conference call this evening. "Pollution flows across borders, and there are some aspects of this that require national, if not global solutions."
Further, the attorney general alluded to the Supreme Court's decision in the 2007 Massachusetts v. Environmental Protection Agency case, which determined that the Clean Air Act requires the EPA to establish and enforce limits on the output of carbon dioxide and other greenhouse gases. Schneiderman mockingly recalled the president's promise to put up and pass an alternative to the Affordable Care Act before scrapping the Obama-era legislation—an effort that failed on Friday when House Speaker Paul Ryan had to pull their substitute plan, the American Healthcare Act.
"They probably don't want to hear this again, but if they want to repeal, they have to replace," the attorney general said. "We are very confident that the EPA cannot simply dismantle the Clean Power Plan and leave nothing in its place."
Schneiderman, who backed Hillary Clinton for president, has been a Trump opponent since well before the Queens-born mogul announced his candidacy. He joined a class action lawsuit against the developer's Trump University real estate seminar in 2013.
The Republican settled out of court shortly after winning the election last November.