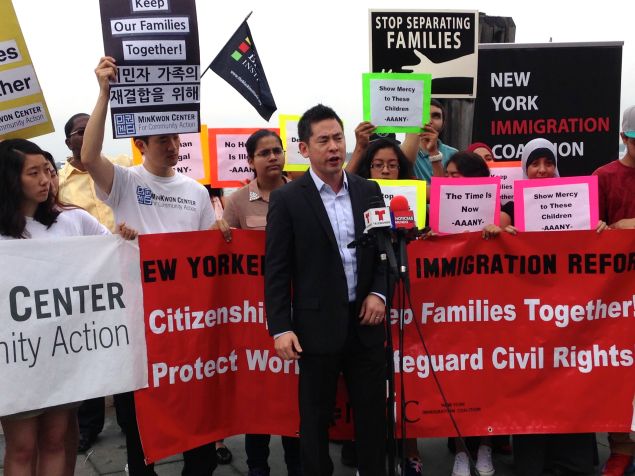 The New York Immigration Coalition is calling on Mayor Bill de Blasio and the City Council to invest $37.6 million more in immigrant services and to put an end to policing methods that may lead to deportation of undocumented immigrants.
The activist group outlines these proposals in a document provided to the Observer, and which it will share with some of the city's top elected officials at a closed door gathering this morning. The NYIC describes "extreme uncertainty" under President Donald Trump—who has enacted an aggressive immigration enforcement agenda that makes any foreign national accused of any crime susceptible to deportation—and asserts the city needs to take further actions to defend and protect its at-risk residents "now more than ever before."
The group calls on the city to include $13.3 million in the final budget for the Immigrant Opportunity Initiatives, which would pay for 75 attorneys or paralegals to provide unlimited services to at least 4,000 arrivals residing in the five boroughs. It also urged the municipal government to help establish low-cost legal service incubators to assist at least 500 immigrants.
It is also asking the mayor and the Council to invest $500,000 in a Rapid Response System to mobilize a range of resources for New Yorkers "who are victim of the new, harsher immigration enforcement regime."
The NYIC also urges the NYPD to stop using the controversial "broken windows" policing method, which targets quality-of-life offenses to as a prophylactic against more serious crimes. The spending proposal dismisses the practice, popularized by former Police Commissioner Bill Bratton, as "ineffective"and unfair to people of color and immigrants—and argue it creates a "direct pipeline" between the criminal justice and immigration enforcement systems.
"Given the federal government's promise of increased enforcement, the cost of broken windows is now higher than ever: the simple act of jumping a turnstile because one cannot pay the fare can lead to that individual's detention and deportation or disqualification from possible immigration relief," the document states.
The group endorses Council Speaker Melissa Mark-Viverito's call to bar U.S. Immigration and Customs Enforcement from public schools and to keep student information private. It goes even further than the liberal leader, though, in encouraging the education system to increase the number of emergency contacts on schools' blue cards to make sure children can be picked up by a trusted individual if ICE enforcement actions prevent parents and others from getting them.
It also calls on the city Department of Education to support trainings by community-based organizations to give people accurate information about federal policy and to further strengthen the Translation & Interpretation Unit.
Other recommendations include legislation ensuring protections from immigrant services scams similar to state law, new tools for the Consumer Affairs Department to deal with immigrant services scams complaints, baselining the New York Immigrant Family Unity Project at $12 million and requiring law enforcement agencies to enact systems exclusively to assist immigrant victims of fraud.
The group would also like to see an additional $5 million granted to the New York City Commission on Human Rights budget—bringing the budget to a total of $17 million—and for the city to invest $2 million in the Department of Consumer Affairs "to broaden and bolster their education and enforcement efforts of those who seek to defraud immigrants."
The group also offered a slew of recommendations that they said would make health care equitable and accessible for immigrant communities as well as improve adult literacy and city contracting with community-based organizations.
Those recommendations include NYC Health + Hospitals convening a Community Advisory Panel to ensure its 2020 transformation plan incorporates the needs and concerns of its communities, increasing funding for Access Health NYC outreach initiative from $1 million to $5 million and $800,000 for forensic evaluations and mental health/social support for asylum seekers and other vulnerable groups seeking humanitarian relief.