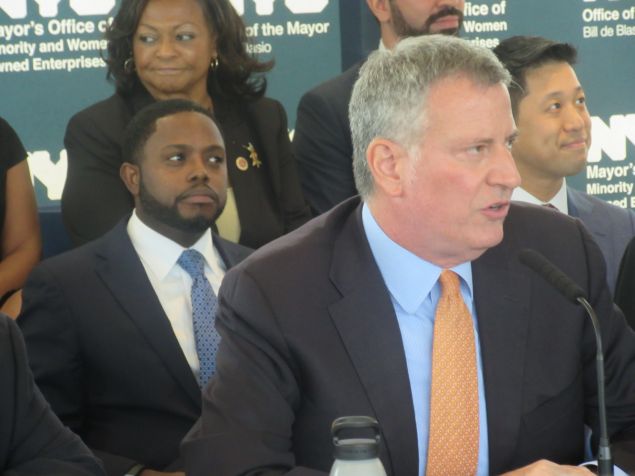 As Albany hurtles toward the Friday state budget deadline, Mayor Bill de Blasio's administration has launched a last-minute push to get language into the spending plan that would furnish the city with new tools and resources to hire firms belonging to women and nonwhites, the Observer has learned.
The city is urging the State Legislature to grant it several new powers—something it is often loath to do—which the administration asserts will enable it to get more public contracts to so-called minority- and women-owned business enterprises. In September, de Blasio unveiled a new goal of allocating 30 percent of city contract dollars to MWBEs by 2021.
To that end, he named Deputy Mayor of Strategic Initiatives Richard Buery as the city's new MWBE director, and hired Rev. Jonnel Doris to lead the newly formed Mayor's Office of Minority and Women-Owned Business Enterprises.
"Our push right now is the budget, to ask for us to get these provisions put in there because we feel that this is probably the best opportunity for us to do so and as we have this window," Jonnel Doris, the city's senior MWBE adviser, told the Observer in a phone interview. "So we're trying to get the word out, get everyone on board."
One reform would double the city's small purchase discretionary for MWBEs to $200,000, on par with the state. Another proposal would increase the capacity of city agencies to provide mentoring programs to MWBEs and help them learn specific skills to enhance their ability to do business with the city.
Current law does not clearly offer clear authority for the city to establish mentorship programs and arrange opportunities for participants in those programs.
The city also wants to change state law to enable the city to recognize MWBEs registered with the state, as well as those it has certified itself, when awarding contracts.
Dorris noted that the Metropolitan Transportation Authority and the Port Authority of New Jersey and New York both possess these abilities—and asserted there is no reason the city should not have the same rights.
However, the city made the same set of requests in 2015, to no avail. De Blasio is also currently battling to get Gov. Andrew Cuomo and the Republican-run State Senate to back his proposal for a "mansion tax," a new levy on home sales over $2 million, which he hopes would provide new revenues for senior housing.
The Daily News reported that, given outstanding conflicts and controversy over a number of issues, the governor's office expects to pass only a "bare bones" budget this week.
Brooklyn Assemblywoman Rodneyse Bichotte, chairwoman of the Oversight of Minority- and Women-Owned Business Enterprises Subcommittee, has introduced legislation pushing for all those reforms.
Doris said the city is looking to prevail upon both those "generally supportive of these legislative items" and those known for "strong support for small businesses."
"When we launched the program, we did say we need some state law changes, right," Doris said. "I think this is a reality, this is an opportunity for us to get that in order to help us reach our goal of 30 percent and also to open the door for other MWBEs to participate in the program…We need those changes so that we can deliver for the MWBE community, give them what they truly deserve."
The governor's office did not immediately respond to a request for comment. When de Blasio unveiled his new participation goal, the governor's office had said it was glad the city "has now decided to also make this a priority" and that they were "happy" to look over any proposal or legislation.
In 2014, Cuomo set a 30-percent goal for the percentage of contracts going to MWBEs, after the state reported it surpassed the 20 percent goal he proposed in his 2011 State of the State address. During his 2016 State of the State address, Cuomo pledged to increase MWBE certification by an additional 2,000 businesses. The governor said the state is on track to meet that goal by 2018.
Last week, the city officially launched the Contract Financing Loan Fund, which allows MWBEs to apply for low-interest contract financing loans of up to $500,000 as part of the city's new $10 million revolving fund for MWBEs.