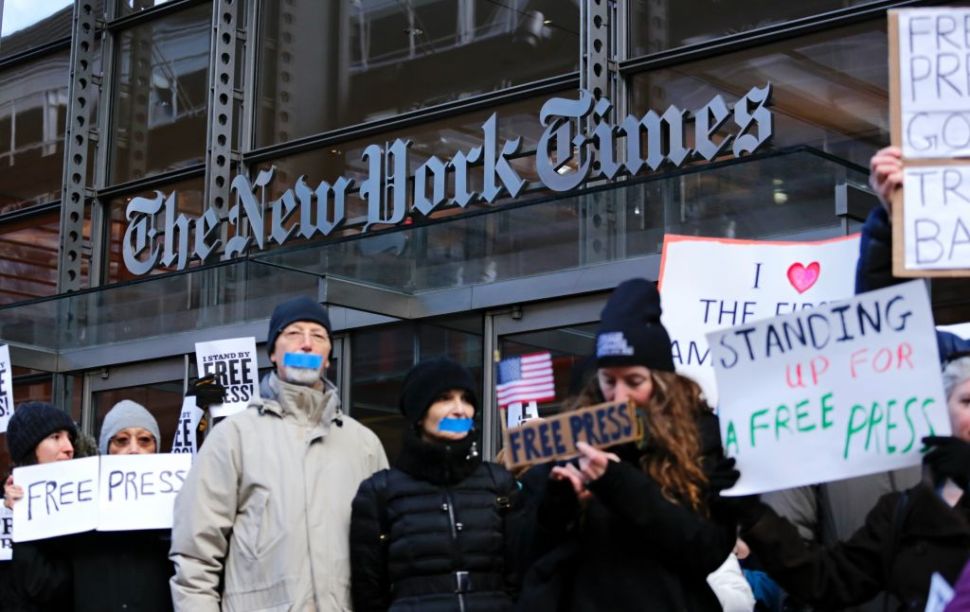 It seemed as though everywhere I went at SXSW in Austin last week, The New York Times was there. Everyone putting together panels or programming wanted to bask in the cultural glow around the paper following the most recent presidential election.
Recently, an anonymous donor thought it was so important for young people to read the paper that they subsidized $1 million worth of subscriptions. And it's started to have an impact for journalists. Investigative reporters are in demand again, though times aren't rosy yet. NYT staff are bracing for a round of layoffs.
It wasn't just the halo around the paper that seemed to interest festival attendees, though. The underlying theme of almost every conversation was money. The NYT seems to be making it now, which is incredibly novel in the post-internet news business. What's more important, though, is how its sources of revenue have shifted.
We were surprised to find a massive line when we showed up for a 9:30 AM Sunday morning conversation between Dean Baquet, the executive editor, and the paper's media columnist, Jim Rutenberg. The largest of festival's theaters filled for the day's first signature talk to hear Baquet reflect on covering a White House that keeps calling his paper failing.   
"The harsh reality of the newspaper business is the advertising that allowed everybody to build these big powerful newsrooms is disappearing," Baquet added.
Discussing the Trump White House built a natural bridge to talking revenue.
"Every time the president says, 'You guys suck,' it's like: ding-ding-ding, and the subscriptions go up," Rutenberg said.
Yet with a presidency that has absolutely gripped the national imagination, advertising has taken a backseat at the Times to revenue that comes directly from its readers.
'This is not a business … it's a mission'
Baquet said that the economics have changed since election night. "The picture has gotten just dramatically brighter," he said.
The importance of the fact that subscriptions now lead its revenue mix can't be understated. As more and more news organizations post all of their content online for free, it has shifted the incentive model for journalism. In the print era, both readers and advertisers were customers of newsrooms. In a free, digital model, readers aren't customers. Readers are the product that news organizations sell to advertisers.
Readers are starting to act out, though, massively resorting to ad blockers and tracking foilers, a fact that Meredith Kopit-Levin, the paper's chief revenue officer, addressed on another panel.
"In general, we are against ad blocking," Kopit-Levin said. "We are for better ads."
She said that the goal at the paper is for the ads to be as good as the journalism. It's a theme that the podcasting company Gimlet Media hit on during the festival as well. If the ads add value, then they won't drive subscribers away and the paper can continue to owe more allegiance to readers than sponsors.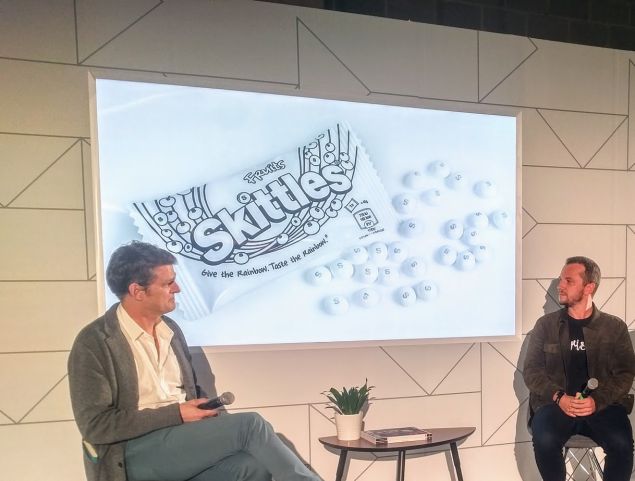 "All the areas that advertisers love are the places people read least," Sebastian Tomich, a vice president at the paper, said at YouTube Corner, a pop-up venue at SXSW. He spoke during a panel on the "New Age of Storytelling," a conversation about making various kinds of sponsored content.
Tomich was enthusiastic about the resources reporters can take advantage of when making branded content. Working on a story on that side of the shop, he said, comes with a much larger budget than one on the editorial side. If the reporter is mostly excited by telling stories in big way, he argued that news organizations that collaborate with advertisers can open opportunities for in house talent.
But advertising and editorial can never be completely independent. On certain hot button topics, the NYT can see ebbs and flows depending on how it covers a topic. For example, he pointed to coverage of Israel's West Bank. Depending on the positions the paper takes, "you'll see fluctuations in the ad spend," he said.
The NYT is running its own ad campaign now to help a public that has lost touch with the language of newspapers understand what it means to read content at a place like the NYT or the Washington Post as opposed to a place like Breitbart, which Baquet called a propaganda site rather than an institution in "an honorable pursuit of the truth."
Some readers today don't understand some of the little signals that a news organization gives to let readers know that an account is based on real on the ground observation, the sort of witness that very few other places are doing today.
For example, he pointed to the dateline, saying that they've realized that many readers don't understand that if a story says "ALEPPO—" at the beginning, then it means that a reporter has risked their life in a city under war to get that story.
Those stories will never get the clicks that the latest Trump scandal gets, but Baquet said that won't change the paper's commitment to cover those places. "We are the only institution regularly in Afghanistan," he said. As long as what's happening there is globally important, their reporters will keep showing up.
In a way, reader trust comes back to money too. The better readers understand how much news organizations invest in stories, the more they will trust them.
Its relationship with readers seems the better way to understand the paper's revived prospects, though it's much harder to imitate. Discussions of its revenue seems to center more often on the mechanics, such as the partial pay wall that allows ten free reads a month, instant articles on Facebook and its emphasis on digital only subscriptions. All of this is important, but it also misses a larger point.
Most websites today just pursue visitors, people lured for the occasional click by a witty social post or good luck with search engines. The NYT appears to have turned digital visitors into an actual audience, such that folks trust it enough that they go beyond just wanting to read the stories that grab them. Those readers want to see what the NYT writes about, because it trusts the paper to write the right things. They trust it enough to pay.
"This is not a business," Baquet said. "It's a business in the sense that it's got to be profitable, but it's a mission."