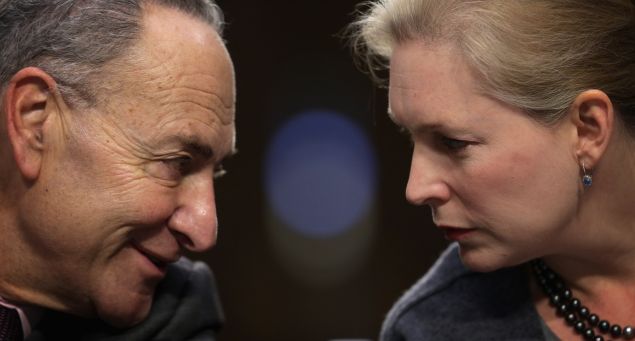 Senate Minority Leader Charles Schumer, Sen. Kirsten Gillibrand and Queens Congressman Joseph Crowley—New York's three most influential Democrats in Washington—tore into the pledges to slash taxes and immigration President Donald Trump made in his first address to a joint session of the House and Senate.
Trump's address revisited the central themes that animated his campaign and his first weeks in the White House: cutting levies and regulations on business, reinvigorating American manufacturing, the renegotiation of trade deals, pouring trillions of dollars into infrastructure, a new "merit-based" immigration system, a crackdown on undocumented foreign nationals and a promise to "repeal and replace" the Affordable Care Act. Missing from much of it, Schumer noted, were concrete details on how to convert many of these proposals into policy.
The senior senator from New York suggested Trump was forsaking the broadly appealing elements of his campaign platform for traditional small government Republican ideology.
"President Trump's speech had an air of unreality because what he said tonight was so different than how he has governed in the first 40 days. He's proposed nothing on trade or infrastructure, which might help working families; and his budget seems to cut education and medical research," Schumer said in a statement released to the press. "The president is simply using populist rhetoric to cloak his hard right, anti-middle class agenda."
Gillibrand contrasted Trump's lack of a definite program for refurbishing the nation's transportation system and public works, or for penalizing countries that make it difficult for American companies to sell their wares with his zeal for peeling back Obamacare and various environmental regulations and for limiting immigration.. This, she suggested, showed Trump is "severely out of touch" with the values of his native state.
"I wanted to hear him outline a real plan to keep good-paying jobs in New York, but instead we heard more of the same talk about lowering taxes for rich corporations, building an expensive border wall, and gutting the Affordable Care Act that millions of Americans now rely on," she said in a statement sent to reporters. "These policies will not raise wages or create good-paying jobs for workers in New York."
Yet the junior New York senator seemed to take heart from Trump's vow to establish paid family leave. But the president's campaign proposals, which consist largely of tax writeoffs for working parents, differ substantially from Gillibrand's FAMILY Act, which would establish an insurance fund for families financed through a new payroll tax.
The senator urged the president, who has yet to present Congress with a paid family leave bill, to get behind her legislation.
Crowley, the fourth-ranked Democrat in the House, praised the president for finally explicitly condemning the wave of racist and anti-Semitic incidents that have swept the nation in the months since his election—which have culminated in bomb threats against Jewish community centers and the shooting of two Indian-Americans in Kansas last week. Trump had previously largely refused to acknowledge this problem, and lashed out at a reporter who asked about it.
But the Queens lawmaker argued that this rhetoric amounted to little more than "lip service to tolerance" so long as the administration plows ahead with plans to evict millions of foreign nationals from American soil, and to reinstate its ban on travel from seven majority Muslim nations. The first iteration of the latter executive action met with fierce legal resistance, and West Coast federal courts suspended its implementation.
This prompted the administration to announce its intention to release a new, revised version of the presidential decree, which is expected as soon as tomorrow.
"The president cannot just speak against horrible acts and threats of violence; his actions must follow," Crowley said in his statement to the press. "It became clear after listening to President Trump that his actions do not match his words."
"Democrats want to find smart solutions that will make our country better for all, but until the White House's actions match the many empty promises President Trump has made, there will be few opportunities for us to find common ground with President Trump," the congressman continued.
But one New York lawmaker was enthusiastic about the president's address: Staten Island Congressman Daniel Donovan, the lone Republican representing the five boroughs.
"President Trump offered a bold, ambitious vision, and he extended a hand to all willing to work toward solutions to our problems," Donovan said in a statement put out shortly after the speech ended, calling for bipartisan cooperation. "We all agree that families should have access to affordable health insurance, jobs that pay a respectable wage, and quality education. Let's get to work bridging the divides to achieve those goals together."