Click through to see the DMs that this trainer receives.
Courtesy Nick Sandell
It goes down in the DM.
Courtesy Nick Sandell
It goes down in the DM.
Courtesy Nick Sandell
It goes down in the DM.
Courtesy Nick Sandell
It goes down in the DM.
Courtesy Nick Sandell
It goes down in the DM.
Courtesy Nick Sandell
It goes down in the DM.
Courtesy Nick Sandell
It goes down in the DM.
Courtesy Nick Sandell
It goes down in the DM.
Courtesy Nick Sandell
It goes down in the DM.
Courtesy Nick Sandell
It goes down in the DM.
Courtesy Nick Sandell
It goes down in the DM.
Courtesy Nick Sandell
It goes down in the DM.
Courtesy Nick Sandell
It goes down in the DM.
Courtesy Nick Sandell
It goes down in the DM.
Courtesy Nick Sandell
It goes down in the DM.
Courtesy Nick Sandell
We are all guilty of it: scrolling through Instagram, seeing how deep the rabbit hole can go and then following a person we don't know, based on the sheer fact that they are physically attractive. Part of the social media dream is the illusion that these people become our friends and that by trading likes and leaving comments, we are somehow lifted from obscurity and enter the lives of these seemingly flawless people. More followers means more popularity, and more likes means more validation, right?
This phenomenon is especially prominent in a segment of the social media space that is populated by insta-trainers. These lean, buff and bronzed beauties capitalize on their perfect physiques by putting them on display via selfies, professional photoshoots and of course, workout videos. They often peddle their personal training services, they sometimes model on the side, and they appear to have an infinite amount of time (and stamina) to hit to the gym. With followings that easily reach beyond 100K followers, insta-trainers' visual brands are appealing on several levels: they provide an example of the perfect body that so many of us are trying to achieve; they seem like our friends, only better looking; and, on a certain level, they exude the type of raw sex appeal that men and women find irresistible. It's voyeurism at its finest.
But what's it like to be on the receiving end of all this attention? To learn more, we tracked down Nick Sandell, a 23-year-old trainer/model/actor and rising star in the fitness space. At just under six feet tall, he has an insanely jacked body, a chiseled jawline and bright blue eyes. He embodies that iconic all-American look that just oozes charm. Bruce Weber would have a field day with this guy.
With over 125k fans on Instagram, his following is immense, but by no means the largest out there. But his social media star appears to be on the rise, considering his follower count was about half that size just a year ago, back when he was still living at home in southern New Hampshire.
"I don't really know what happened," he says when asked about his rapid follower growth. "I just started posting more underwear pics, I guess, and more pics from the photoshoots I've been doing since I moved to the New York area last April."
Sandell uses Instagram to spread his personal brand—"I've got that all-American look that most people are attracted to"—and today receives many business requests through Instagram, either for modeling opportunities or new personal training clients. But he also shared that there's a darker side to insta-fame. While most of his following consists of friendly, benign fans, his direct-message inbox has become littered with requests of all sorts, ranging from the innocent and friendly to the tragic and downright bizarre. "I always got requests, but once I hit around twenty thousand followers, the strange ones really started to come in," says Sandell.
Requests for exclusive pictures and videos— often nude—are common, including this one that was pretty specific: "Can you do a ten minute video where you're a trainer meeting a potential client and end up showing off for them to get them to hire you?……You walk on camera wearing a tight tank top and short shorts and talk to the camera briefly about how good a trainer you are then end with 'But let me show you who you're gonna work with' then you do a front and back double bicep pose. After that, you strip down to your underwear. (Can you do posing trunks or a jock?) Then you oil yourself up and tell the camera 'Gotta make these muscles shine for the show.' For a couple of minutes, you move up to the camera to close up on your biceps, chest, abs, forearms, and quads as you oil up each of them so your client can really see the progress….You end the scene by walking up to the camera so it's showing your upper body, cross your arms, smiling, and say, 'Let me know when I need to come tomorrow.'"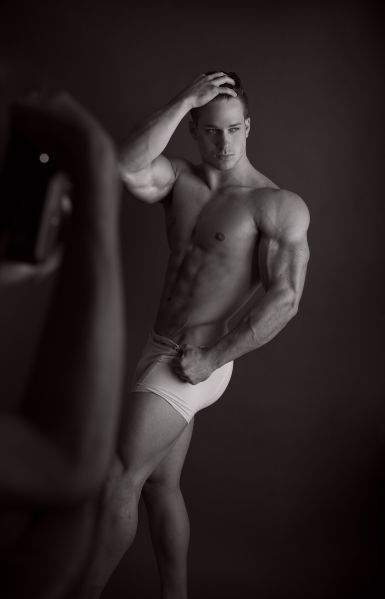 Another increasingly common request is to receive pairs of his underwear (sometimes after it's been worn) or socks. Sandell remembers the first time it happened. "This young guy in Asia reached out to me and was kind of begging me to send him a pair of my socks after wearing them for a few days. The weird part is that he was so specific, that I put them in a Ziploc bag, with a paper towel so they don't mold. It was like he had done this before."
The familiarity and precision of that request really irked Sandell, and he never sent the socks. A few months into his insta-fame, however, his viewpoint shifted. People began to PayPal him money in advance for a pair of socks or underwear. And what once seemed like an odd thing to Nick became an easy way to make money, which came in handy during his early months in New York trying to setup his own training business.
"When someone sends you $300 and says, 'I want to buy more soon,' you look at your PayPal, see that cash, realize it's for underwear which is like, nothing. It's a little sketchy, but I could be doing worse things and it's harmless. It's money [for] doing nothing."
Nick still has boundaries, however. "Somebody asked me to send him some [socks] but he wanted me to blow my load in them and send them," he says with a chuckle, his boyish charisma apparent. "I did not do that. I have to have morals somewhere."
Requests for in-person meetings are common, and usually go ignored. Nick has been asked to hang out in New York, but some followers have offered to fly him out to California for a weekend just to "hang out," while others request him as their date to a family wedding, and so on. While he seldom acts on these requests, there was one early example a few months ago where Nick took a risk and met up with a fan in Manhattan.
"I met with one person once because he wanted to have a few drinks at his place and talk. I went to his apartment for drinks and he told me if I took my shirt off and talked to him for an hour he would give me $2,000 an hour. Honestly, I had one drink, took my shirt off, and I just talked to the guy, and he ended up giving me $4,000 for two hours. He didn't touch me, there was nothing weird, in fact he ended up giving me some great advice for starting my own business. After he handed me the money, I was like, 'Is that it? Is this real?' I was kind of blown away to have $4,000 in my hands."
The money is certainly alluring, but every now and again, Nick receives requests that are not worth any price tag, like the one follower who asked if he could strangle him. "I honestly don't even respond to the ones like that," says Sandell. "At this point in my career I've been getting those for years. I'm way past that." (Another follower also asked Nick if he was ticklish—a question that might seem harmless, but will send shivers down the spine of anyone who has seen the recent documentary Tickled, about the dark underworld of competitive endurance tickling.)
Certain messages also hint at something deeper, such as certain followers' sense of longing and loneliness: "…your [sic] an extremely good looking man. I wish I could get man like you[sic]! You will never like a Khmer guy like me!"
Peel away the gloss of an insta-celebrity's web presence, and you will find an inbox that is dense with messages from obsessed fans. Each request, no matter who it's from—regardless of location, age or sexual orientation—signifies that the DMer wants something. Whether it's a person just asking for a selfie of Nick, the chance to meet for drinks IRL, or more sinister questions, they are all tinged with a sense of loneliness, a sense that having Nick in their lives makes them somehow more complete. Once you look at those muscles and husky-blue eyes, it's easy to understand the allure.
"If you have a certain look, people are attracted to you," Sandell admitted. "[They] have this perception of what they think you're like, and what you can do for them, and they reach out for that reason."