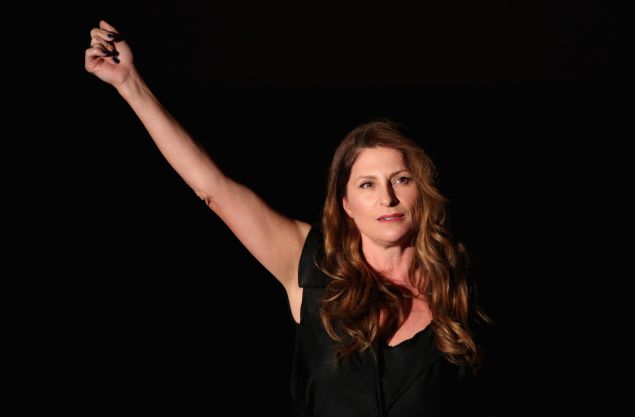 Niki Caro, director of The Zookeeper's Wife, burst onto the international stage with her second feature, Whale Rider. The 2003 indigenous family drama made debut actress Keisha Castle-Hughes the then-youngest female to be nominated for a Best Actress Oscar. (Although the 13-year-old lost to Monster's Charlize Theron, Caro's discovery went on to play the Queen Naboo in Star Wars: Episode III – Revenge of the Sith and most recently starred as Obara Sand in TV's Game of Thrones.)
A rarity among female filmmakers, the prolific New Zealander has worked steadily ever since, directing Theron to another Oscar nomination in North Country, followed by A Heavenly Vintage with Vera Farmiga and McFarland, USA with Kevin Costner. Caro's sixth feature, The Zookeeper's Wife, opens nationwide today. Adapted by Angela Workman from Diane Ackerman's novel, the fact-based, female-driven period drama highlights the struggle of Warsaw housewife Antonina Zabinski (Jessica Chastain) who sheltered dozens of Jews in the family zoo during the Nazi occupation of Poland.
Following this ambitious female-driven feature, Caro enters the elite $100M budget club with Disney's upcoming live-action Mulan, joining a tiny circle of women that includes Ava DuVernay (A Wrinkle in Time), Patty Jenkins (Wonder Woman) and groundbreaker Kathryn Bigelow (K9: The Widowmaker).
Caro hopped on the phone with the Observer to discuss the high profile film career that spans two decades – and has not yet made her a household name.
Observer: Can you describe your career arc beginning with Whale Rider?
Niki Caro: Whale Rider was a very authentic and specific movie about the indigenous culture from where I come. Amazingly, by the fact it was so authentic and so specific, it became really powerfully universal. It worked pretty much all over the world. That changed my life and, certainly, my career. It taught me a really important lesson about how I work the best, which is to work in service of the story, to have the confidence and the courage to be very authentic, to be very specific.
Would you agree that also describes your method with your American breakout, North Country, a movie that didn't reflect your national experience?
I've had my best experience as a filmmaker with true stories about real people and real cultures. Even though North Country with Charlize felt one hundred times bigger than Whale Rider, I made it the same way with the same principles. And I have been working in that vein with McFarland, USA and now with The Zookeeper's Wife.
How did you manage to balance epic sweep with an intimate story in what appears to me to be your most ambitious work yet – a WWII period movie?
It was exhilarating. It wasn't budgeted to be a massive epic movie but a small, interior focused drama. As you intuitively figured out I have a pretty big vision. The budget didn't change but when I got to central Europe when we were shooting I could see making a much bigger movie, finding a way of expressing the war in a very exotic way via the animals, via the zoo. Even though we didn't have the budget to do those great big war scenes in the main unit, I would go shoot those on the weekend in the second unit. During the week, I focused on the beautiful human drama while on the weekends I was out there blowing shit up.
Does blowing shit up intimidate you?
No. It was actually very fun. To be able to flex my filmmaking muscles on those set pieces was great for me. I loved it.
 Did you have previous experience with explosives?
I blew up the mine in North Country. It was about a kilometer long. I was so nervous that I'd do it wrong that I closed my eyes when I did it and I missed the shot completely. Everyone turned to me and asked, 'Ok, how was it?' I didn't know. We had to wait until the film was processed….It turns out I've got a knack for it.
What if you'd opened your eyes and discovered you'd screwed the pooch? Isn't increased scrutiny a challenge for women directors?
Here's the problem: women directors are not allowed to fail. With Charlize we were doing press in Italy and a journalist said to me 'admit it: women directors are not as good as male directors.' I asked, 'why do you say that?" He said: 'Well, if they were any better there would be more of them.' The thing is we have to be better because we don't get a chance to fail.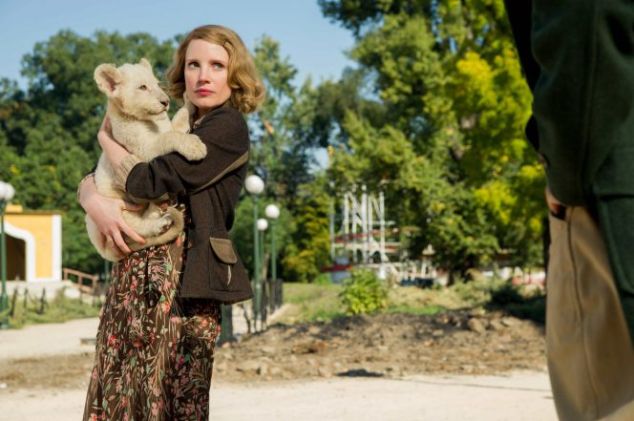 And the Catch 22 is that the only way for women to improve is to make more movies.
It's interesting because you don't get the opportunity to practice being a movie director. If you're doing it, it's costing a hell of a lot of money. It's not the place to be trying out too much stuff. You do have a very big responsibility to the story, the audience, to the performers, the financials. When you're female it's even more important that you succeed.
You had a lot to juggle in The Zookeeper's Wife: a period setting, a holocaust plot, an A-list star, a beloved novel with high readers' expectations – and a zoo full of animals. Not to be gushy, but there was something so moving about that baby camel that kept circling the compound with such a sense of freedom and joy – was that in the script?
In the script, he was originally going to be a young elk but we needed to be flexible with the available animals. That little camel was just completely enchanting to me. My philosophy was never to require the animals to do specific tricks for camera, I love animals and I love them in their natural state. We had an environment on set where the animals were very safe and the set was very calm so the animals just did their thing.
How was it for Chastain interacting with everything from lion cubs to simulating the delivery of an elephant baby?
Jessica was a great animal whisper. She has a very rare gift and she shares that with the character she was playing. I was able to just observe. I hope the work on screen feels very effortless. Where you see animals appearing to be distressed they are most certainly not. This is old school movie making – observing animals in a calm way, using ear twitches from the animals and sound design so the animals appear to be sensing the coming bombing but are never actually endangered. It was all very organic and very humane.
Chastain has made a commitment to work with at least one female director a year – how was it working with her?
Our connection was immediate. Jessica was my first choice and, in turn, I was an easy 'yes' for her. We had very similar, if not identical, feelings about the movie and character. We were both very committed to Antonina's femininity. Her level of preparation is incomparable. We did a lot of work with her just being with the animals. She learned to play the piano, extremely difficult pieces. She did a tremendous amount of work on a highly specific accent. And then she'd come onto set and I worried that maybe after all the prep it would feel labored, but every take was absolutely fresh. She's a master class and a wonderful collaborative partner.
You've already directed two actresses, Castle-Hughes and Theron, to Oscar nominations. What elevates Chastain, and what's her process?
She inhabits the souls of the characters she creates. She gives herself over entirely, which she manages to do so safely because of the extent of her preparation. What distinguishes her from many other actresses is her ability to profoundly shape shift. She went from Antonina to the title character in Miss Sloane – you could be forgiven to think they were played by different actresses. And then there's Miss Julie, Zero Dark Thirty, such complete characterizations of such different women. She's peerless and fearless
 Speaking of fearless, here's the $100M question: you're slated to direct Disney's live-action Mulan, and join the elite group of women who've had that big-budget opportunity – feel pressured much?
From my perspective, I'm thrilled to have this opportunity, honored.  I love Mulan, she's such a kickass princess. I'm taking my inspiration from her spirit. I imagine, with Ava DuVernay and Patty Jenkins, we're all feeling similarly.  I want to kick the door down so legions of other female directors can come rushing through. I only achieve that if I make a really successful movie.