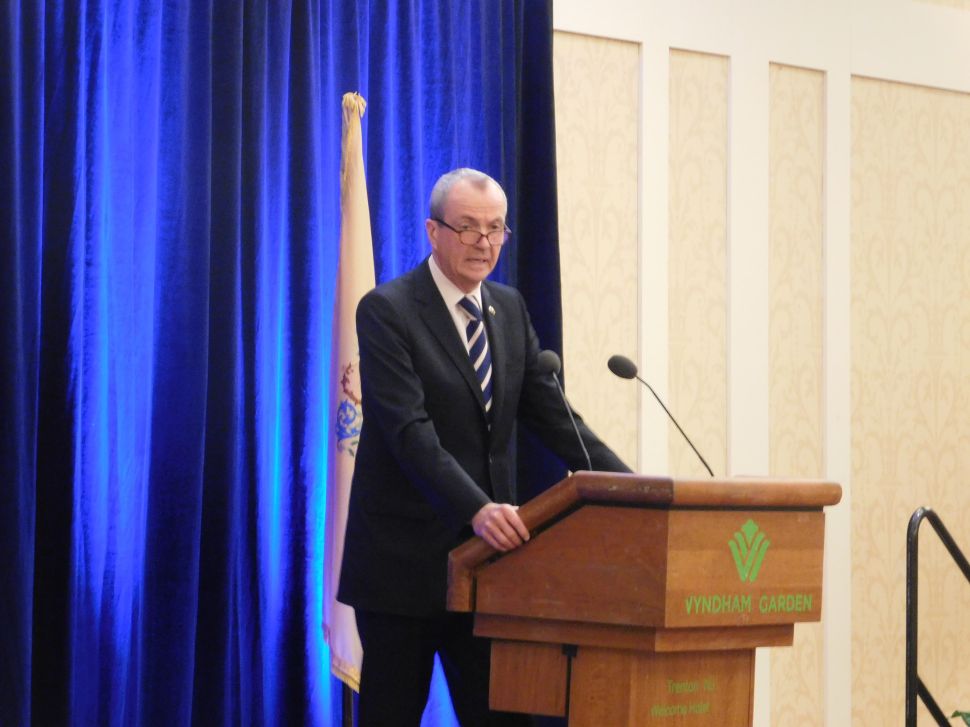 A new Quinnipiac University poll released this week shows former U.S. Ambassador to Germany Phil Murphy with a 17-point lead in his bid for the Democratic gubernatorial nomination, and a 22-point lead in a general election matchup with the Republican front-runner, Lt. Gov. Kim Guadagno.
Murphy leads Assemblyman John Wisniewski by a 23%-6% margin, with former U.S. Undersecretary of the Treasury Jim Johnson and State Sen. Ray Lesniak each at 4%. Retired firefighter-turned-anti-Christie activist Bill Brennan is polling at 2%.
Guadagno had a 28%-18% lead over former Saturday Night Live cast member Joe Piscopo, who has since said that he will not run in the GOP primary, but instead is at least considering plans to mount an independent bid. Assemblyman Jack Ciattarelli was at 3%, followed by 2% for Nutley Commissioner Steve Rogers and 1% for businessman Joey Rullo.
Piscopo started too late to compete for the critical county organization lines, a published report said. If he follows through on an independent candidacy, there will be much speculation on who the Democrat-turned-Trump supporter pulls votes from.
Piscopo's decision not to run as a Republican leaves Rogers as the only major GOP candidate who publicly supported Donald Trump for President last year.
A retired police lieutenant, Rogers avoided a conflict of interest by abstaining on a Nutley Board of Commissioners vote to give local police officers a 3% pay increase for the next three years.
Ciattarelli had a very good week, winning the organization line in Mercer and receiving a recommendation of support for the line in Burlington. He also won a vote of the Middlesex County GOP screening committee, an important exhibition game in advance of the open county convention.
Guadagno won the organization line in her home county, Monmouth, and in Cumberland. She also won her own valuable exhibition game, the endorsement of the Bergen County Republican Organization policy committee.
After just two weeks, Bernie Sanders supporter Dana Wefer dropped out of the race for the Republican nomination for Governor. She says she realized fundraising was (in our words, not hers) "really, really hard."
Murphy picked up the important endorsement from the New Jersey Working Families Alliance. Any time Murphy, a former Goldman Sachs executive and the clear choice of the Democratic Party establishment (he was endorsed by party organizations in Sussex, Ocean and Hunterdon this week) snags an endorsement from a group allied with the progressive wing of the party, it's bad news for Wisniewski, Lesniak and Johnson. The three challengers are tying their hopes to some version of the Wall Street vs. Main Street thing. Murphy has also picked up endorsements from the NJEA, the CWA, the SEIU, and the Laborer's International Union.
Legislation sponsored by Lesniak to ban puppy mills was approved by the Assembly. The bill now goes to Gov. Chris Christie. The veteran Union County Senator has been a long-time animal rights activist. Lesniak also appeared before the Delaware River Basin Commission to testify in opposition to the PennEast Pipeline.
Wisniewski held a Town Hall meeting focused on disability. He called for a moratorium on charter schools – "Gov. Christie's fixation…has drained resources from our schools" – advocated the elimination of the PARCC test, and single-payer health care.
Johnson got some free media time on Joy Reid's MSNBC show – part of a segment on progressive 2017 Democratic gubernatorial candidates. The former Clinton administration official has the support of a genuine civil rights hero: 93-year-old Edith Savage-Jennings, who at age 13 courageously refused to sit in a Blacks Only section of a Trenton movie theater. Savage-Jennings is the Honorary Co-Chairman of the Johnson for Governor campaign.
Lesniak and Johnson did not attend the Sussex Democratic convention.  Tenafly Councilman Mark Zinna did attend and got one vote – tying Lesniak and beating Johnson by … one vote.
 Brennan attacked a plan approved by the Christie administration to give an $86 million tax break to a South Jersey insurance company that is building a new office building on the Camden waterfront.
Progressive activist Lisa McCormick spent her week concentrating on climate change and her opposition to Sen. John McCain's call to increase defense spending.