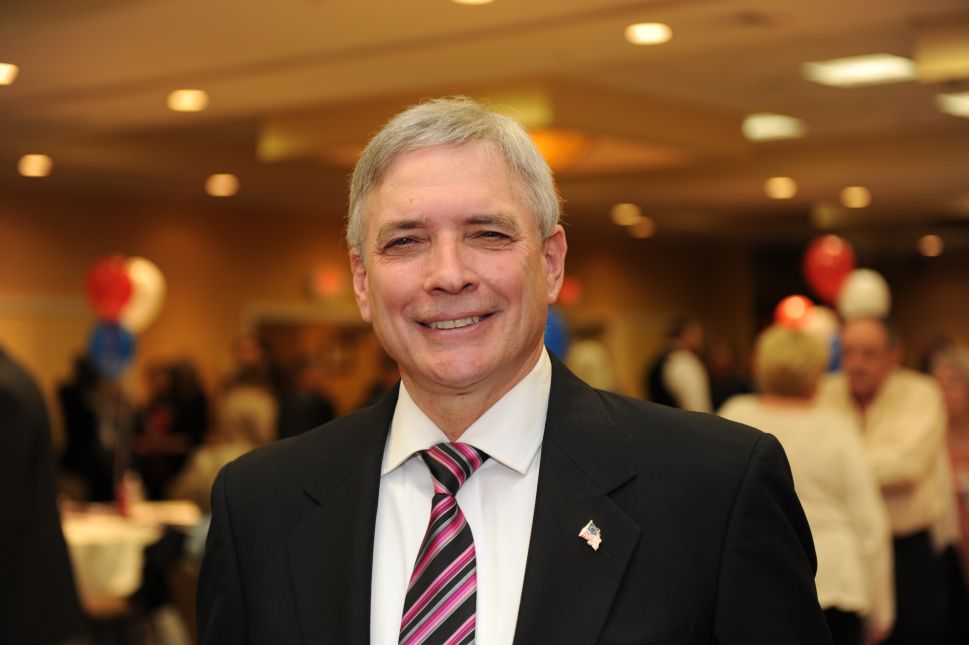 Republicans have a bunch of County Conventions this week to award organizational lines: Cape May on Monday, and Mercer and Cumberland on Thursday. Two other big votes this week: the Middlesex County Screening Committee on Wednesday and the Bergen County Policy Committee on Thursday.
The first Jim Johnson for Governor TV ad — a 30-second biopic – aired on Saturday Night Live. Johnson also hired a new campaign manager: Jossie Steinberg, a veteran Democratic operative who ran Pennsylvania State Treasurer Joe Torsella's campaign in 2016. Torsella won by six points in a year when Pennsylvania went Republican in the presidential and U.S. Senate races. So far, Johnson is the only Democratic gubernatorial candidate to qualify for matching funds.
Lisa McCormick became the first candidate to go negative on Johnson. The Union County progressive activist accused billionaire Paul Fireman, who wants to build a casino in North Jersey, of installing one of his associates as a Johnson campaign advisor in order to enhance his casino opportunities. McCormick is the publisher of njtoday.net, which publishes weekly newspapers in Union and Middlesex – the only news outlet to pick up the attack on Johnson.
Phil Murphy aired his fourth TV ad last week—this one is titled "Off" and was filmed at the Tops Diner in East Newark. Murphy says that the "special interest politicians who broke New Jersey can't fix it" and pledges to "curb Wall Street's influence with a public bank." Two young Democratic leaders are backing Murphy: Marshall Spevak, the President of the New Jersey Young Democrats, and Demetrius Terry, the New Jersey College Democrats executive veep.
Retired firefighter Bill Brennan put out his plan to solve the state's pension crisis: immediate restoration of COLA and reduction of pension contributions from 7.5% to 5.5%.
It's possible that two veteran legislators – both former Democratic State Chairmen – might not qualify for the gubernatorial debates. Ray Lesniak is saying he does not expect to raise the additional $200,000 he needs to qualify for public financing before the April 3 deadline, and suggested that he will self-finance that amount in order to qualify for the gubernatorial debates. A Politico story suggests that John Wisniewski is also struggling to raise money and that he has loaned his own campaign $30,000.
Legislation sponsored by Wisniewski that would prohibit the Port Authority of New York and New Jersey from expending resources to enforce President Trump's travel ban, was approved by the Assembly Transportation Committee, which The Wiz chairs. The only citizen to testify on the bill was Nutley Commissioner Steve Rogers, one of the few Republican candidates for Governor to endorse Trump in 2016. Rogers spent Saturday morning campaigning in Old Bridge.
Kim Guadagno had a great week, winning organizational lines in Ocean, Camden, Passaic Warren and Salem counties. Ocean is the big fish. With 127,089 Republicans, Ocean turns out more Republicans in primaries than anyplace else in New Jersey. And with an exceptionally strong county organization, the line usually brings with it a massive plurality.
Guadagno's only loss so far has come in Somerset County, where hometown Assemblyman Jack Ciattarelli received the organization line with 88% of the vote. Ciattarelli defeated Guadagno 170 to 16, with Atlantic County businessman Hirsh Singh finishing third with seven votes. Ciattarelli served as the Mayor of Raritan and as a Somerset County Freeholder before he was elected to the legislature.
Former Saturday Night Live cast member Joe Piscopo is continuing to mull a run for Governor. PolitickerNJ first reported that Piscopo had a closed-door meeting to discuss the NJ political landscape with Tony Perry, the chief of staff to Sen. Joe Kyrillos.
Dana Wefer, the Bernie Sanders supporter who is running as a Republican, announced a reform platform that includes: initiative & referendum, ranked choice voting, open primaries, an end to organization candidates getting preferred ballot position, and redistricting to end safe districts.
Nothing much happened this week for gubernatorial candidates Mark Zinna and Joe Rullo.
Check out PolitickerNJ's previous Gov Race Wrap-Ups:
The Week That Was (Feb 27 – March 5)
The Week That Was (Feb 20 – Feb 26)
The Week That Was (Feb 13 – Feb 19)
The Week That Was (Feb 6 – Feb 12)