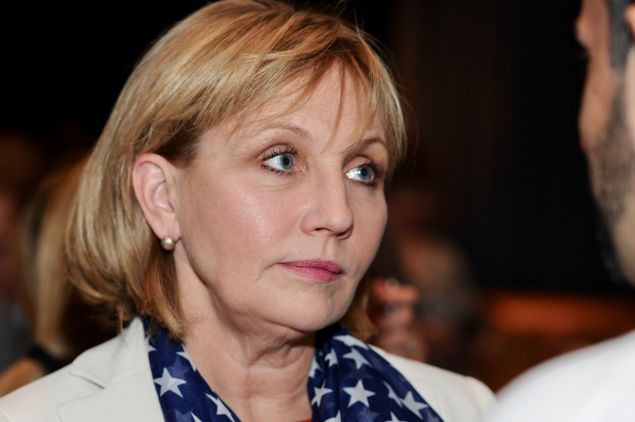 The two leading Republican candidates to replace Gov. Chris Christie each gained considerable ground this week.  Lt. Gov. Kim Guadagno is the clear front-runner after winning organization lines in Bergen, Atlantic and Gloucester counties, but Assemblyman Jack Ciattarelli held his own by winning lines in Burlington, Essex, Union and Middlesex. The LG already has the line in Camden, Cape May, Cumberland, Hudson, Monmouth, Ocean, Passaic, Salem and Warren counties.  Ciattarelli has secured the line in Mercer and Somerset.
Guadagno also leads in the fundraising.  She's raised over $500,000 – with public financing, she's about to get another $830,000 in matching funds.  Ciattarelli has not yet raised the $430,000 needed to qualify.

 Besides the conventions, the big news last week was that former Saturday Night Live cast member Joe Piscopo will not enter the Republican gubernatorial primary  He continues to mull an independent bid; the filing deadline for that is primary day.
Nutley Commissioner Steve Rogers continues to traverse the state, but doesn't seem to be getting much traction. He's been regularly shut out in votes for public support, and last week was particularly devastating. He got just 36 votes in Middlesex, where any registered Republican can sign up in advance to be a convention delegate (Ciattarelli beat Guadagno, 331-170.)  His home county, Essex, where he ran for Freeholder unsuccessfully in 2011 against Brendan Gill, Phil Murphy's campaign manager, went for Ciattarelli. Rogers' message is that unlike Guadagno and Ciattarelli, he endorsed Donald Trump for President in 2016. But without Trump's name ID or money, it's hard for Rogers to win support based on that.

 This could be a trivia question decades from now: Hirsh Singh, a politically unknown software engineer from Linwood, finished second at his home county convention. Guadagno beat him decisively, 917-157, with Ciattarelli finishing third with just 49 votes.
Joe Rullo got ten votes in Middlesex, but he told Politico's Matt Friedman that all his supporters went to Edison, where the vote was supposed to be held before it was rescheduled back to Old Bridge.
Hoboken Housing Authority Chairman Dana Wefer remains out of the race for Governor.  Repeat: Dana Wefer is not running, as of now.
Democratic front-runner Phil Murphy is undefeated in the intramural county convention process. The former U.S. Ambassador to Germany, a first-time candidate, has won thirteen straight contests. That's not a surprising statistic, considering the party hierarchy lined up behind his candidacy last fall, but it's interesting since two of the other candidates, State Sen. Ray Lesniak and Assemblyman John Wisniewski, are both former New Jersey Democratic State Chairmen. During the past week, Murphy prevailed in votes in Mercer, Morris, Somerset and Burlington counties.
Murphy also won the endorsement of the New Jersey Sierra Club.  For those who keep track, Sierra backed independent Chris Daggett against Jon Corzine in 2009, and Barbara Buono in 2013.  A rival group, the New Jersey Environmental Federation, backed Christie against Corzine, and then Buono four years ago. They still haven't endorsed in 2017, which means Jeff Tittel is the first to board the Murphy Express.
Wisniewski has raised enough money—$450,000—to qualify for public financing. That allows the Wiz to receive $2 from the state for every $1 he raises—with a $6.4 million total spending cap on the primary. He has also earned a place in the two official Democratic gubernatorial debates.
Former U.S. Undersecretary of the Treasury Jim Johnson was the first Democrat to qualify (the self-financing Murphy is not seeking matching funds).  Still no word from Lesniak, who has hinted that he won't raise enough and might have to write a personal check just to get a seat at the debate table.
Lesniak gets the chutzpah award for this week, with a tweet that says "Last time I heard a proposal like Murphy's was from another Goldman Sachs Executive Jon Corzine."  Lesniak was an early supporter of Corzine's bid for the U.S. Senate in 2000, and backed him for Governor in 2005 and 2009. 

Johnson has skipped the convention process—"due to their predetermined, exclusive, and undemocratic nature"—and had mostly avoided political process issues—until last week.  That's when his campaign lawyers sent out OPRA requests to all 21 county election boards regarding the ballot design process.  If he's afraid of getting lost on the ballot, there's good reason.  New Jersey County Clerks are masters at designing ballots. So the obvious question is this: why is Johnson OPRA'ing (that's a verb in New Jersey) the Board of Elections when it's the County Clerk who draws the ballots?
By the Numbers: Twitter Followers
Steve Rogers, @LtStevenLRogers – 49,637
John Wisniewski, @JohnWisniewski – 15,573
Phil Murphy, @PhilMurphyNJ – 13,265
Ray Lesniak, @SenatorLesniak – 8,444
Kim Guadagno, @KimGuadagnoNJ – 6,474
Joseph Rullo, @joeyrullo – 1,874
Jim Johnson, @jimjohnsonnj – 1,827
Jack Ciattarelli, @JackCiattarelli – 1,449
Lisa McCormuck, @LisaMcCormickNJ – 1,184
Bill Brennan, @BillBrennansyas – 301
Hirsh Singh, @HirshSingh – 282
Mark Zinna, @MarkZinna – 191