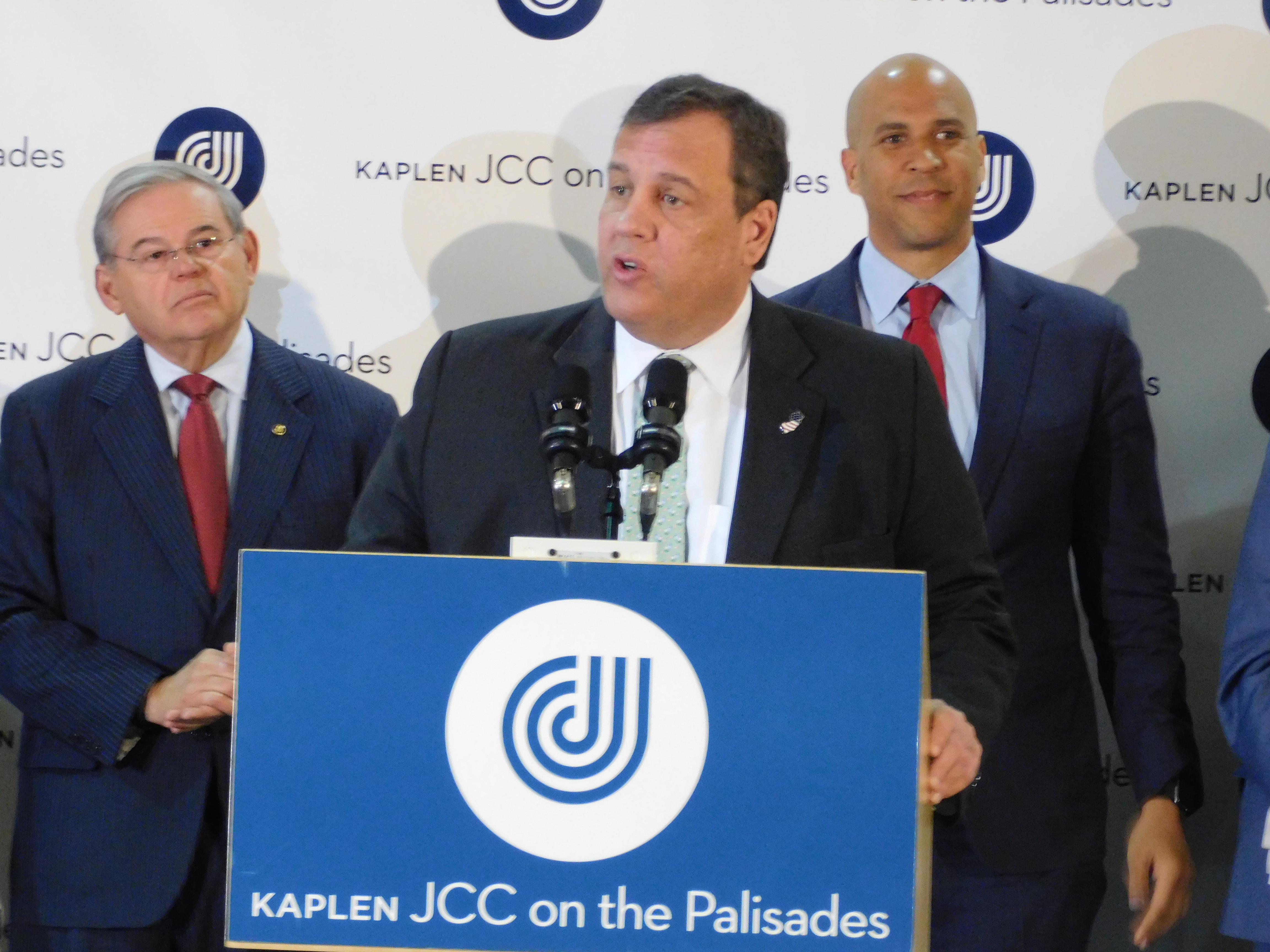 It's Thursday, and Gov. Chris Christie has managed to weigh in on the GOP proposal to repeal and replace Obamacare without really saying much.
In another no-surprise move, the Port Authority has rejected Fort Lee's request to be reimbursed for costs associated with traffic jams created by two Christie appointees at the scandal-plagued bi-state agency.
Christie, meanwhile also spent Wednesday pushing for criminal justice reforms to help recovering addicts and urged employers to give ex-cons a chance to get their lives back on track.
Quote of the Day: "This is just the beginning of the negotiations," – Gov Chris Christie, on the GOP plan to replace Obamacare.
Here's what Christie thinks of Republicans' Obamacare replacement plan
Gov. Chris Christie is taking a wait and see approach now that House Republicans have introduced a proposal to replace the Affordable Care Act.
NJ.com Read more
Port Authority rejects Fort Lee's bid for Bridgegate compensation
The Port Authority of New York and New Jersey has refused to reimburse Fort Lee for $334,000 in legal expenses it incurred as a result of the George Washington Bridge lane closure scandal.
Svetlana Shkolnikova, The Record Read more
Another indictment, another day in Paterson
Sarasota, Florida, has the circus. Paterson, New Jersey, just has the clowns.
Alfred P. Doblin, The Record Read more
Christie Calls for More Criminal Justice Reforms
Gov. Chris Christie on Wednesday called for more criminal justice reform as part of his broad effort to fight drug addiction and help recovering addicts, while his office confirmed that the administration is preparing a multimillion-dollar opioid advertising campaign – both to be done in the next four months.
Dustin Racioppi, The Record Read more
NJ is asked to give war veterans help they need instead of prison
New Jersey is one of 10 states without a program that diverts veterans accused of crimes from the criminal-justice system into mental-health treatment, but it could be on the cusp of changing that under a bill up for final legislative approval.
Michael Symons, NJ101.5 Read more
Judge made staffer do son's homework, complaint says
The state's judicial ethics board has filed a complaint against a Superior Court judge who served in Bergen, Passaic and Essex counties for misusing judicial resources — including making an employee do her son's homework — and other integrity violations.
Allison Pries, The Record Read more
'A Day Without a Woman' march comes to Jersey
Jamilah McMillan is what she calls a triple minority — she's an African American Muslim woman.
Liz Dennerlein, Asbury Park Press Read more
A residential community college? Gloucester County school eyes ambitious development plan
Rowan College at Gloucester County, entering its fifth decade, is rethinking itself. A plan unveiled by its president Tuesday would expand the community college's campus with seven new buildings, including student apartments to make the school a residential college.
Jonathan Lai, Inquirer Read more
Paterson paid $272K in OT to 3 men indicted with mayor
The three Paterson city public works employees indicted this week on corruption charges along with Mayor Jose "Joey" Torres received more than $272,000 in overtime during the past two fiscal years, according to public records.
Joe Malinconico, Paterson Press Read more
N.J. lawmakers want to block this airline from flying out of Newark Airport
Emirates Airline, owned by the United Arab Emirates, is about to launch flights between Newark Liberty International Airport and Athens.
Jonathan D. Salant, NJ.com Read more
NJ's Pallone jabs, objects, obstructs as Obamacare fight begins
The Republican trying to shepherd the GOP's Affordable Care Act repeal bill through a key committee got about eight words into his opening statement Wednesday when Democrat Frank Pallone interrupted.
Jonathan Tamari, Inquirer Read more
Democrats seek to protect N.J.'s Gottheimer
Rep. Josh Gottheimer unseated a seven-term incumbent last fall. House Democrats want to make sure he has a chance of sticking around at least that long.
NJ.com Read more
Weinberg strikes Back at Bramnick, and a GOP that Fronted for Trump
In response to Republicans claiming the working man mantle, Senate Majority Leader Loretta Weinberg (D-37) hit back this afternoon, denouncing the GOP as the party that enabled the former star of the Apprentice to become president.
InsiderNJ Read more
GOP Health Plan Draws Fire in NJ
Soon after Republicans in Congress unveiled their long-awaited proposal to replace the Affordable Care Act, healthcare providers and patient advocates joined Democratic officials from New Jersey in harshly criticizing the plan they said would drive up costs for vulnerable patients, reward wealthier residents and the insurance industry, and destroy gains made under the landmark federal law.
Lilo H. Stainton, NJSpotlight Read more
Cory Booker pushes to block updated Trump travel ban
U.S. Sen. Cory Booker and 15 of his colleagues have introduced legislation to block President Donald Trump's updated executive order on immigration.
Jonathan D. Salant, NJ.com Read more
School forged transcripts in Paterson hoops scandal. See the documents
Multiple basketball players at the center of a broadening scandal at Paterson Eastside High entered the school with transcripts that were incomplete, altered or fraudulent, NJ Advance Media has learned.
Matthew Stanmyre and Steve Politi, NJ.com Read more
Wall will pay tax assessor to stay home
Township taxpayers will continue to pay its embattled tax assessor to not come to work in exchange for him submitting a letter of resignation.
Susanne Cervenka, Asbury Park Press Read more
Shore town that fought dunes braces for their construction — all summer long
In the battle between Margate and the State of New Jersey over whether to build dunes along the edge of this Shore town, there was a clear loser: the people in Margate who are opposed to the dunes.
Amy S. Rosenberg, Inquirer Read more
Ramsey gun range vote postponed
The Borough Council will hold off on voting tonight on an ordinance that could block a 60,620-square-foot gun range from coming to town.
Tom Nobile, The Record Read more
Bloomfield officials charged about car charging stations
Bloomfield officials are working with the local Environmental Commission to bring electric car-charging stations to town, the township administrator said.
Matt Kadosh, The Record Read more
Rider delays vote of no confidence in university president until next month
Rider University's faculty union decided Tuesday to delay a vote of no confidence in the university president until next month.
Jonathan Lai, Inquirer Read more
Stockton professor to hold town hall on Obamacare, new GOP health care bill
House Republican lawmakers Monday introduced the first official bill aimed at replacing regulations, programs and services in the Affordable Care Act, or Obamacare.
Press of Atlantic City Read more
Judge lets Rochelle Park Library keep county privileges, for now
Rochelle Park residents will continue to reap the benefits of having their library within the Bergen County Cooperative Library System — at least for now — a judge has ruled.
Melanie Anzidei, The Record Read more
Lincoln Park mayor named to elected officials' HOF
Mayor David Runfeldt has been named to the New Jersey League of Municipalities Elected Officials Hall of Fame. The league also named him to its Mayors Hall of Fame in the fall.
Matt Fagan, The Record Read more
Editorial: CSX derailment is a warning
For the past few years, a determined group of residents has demonstrated against trains carrying volatile crude oil through highly populated Bergen County. And for good reason.
The Record Read more
Officers claim chief isn't 'doing anything for the money he is paid'
Several ranking officers in the police department claim that Police Chief Mark Cavallo is not "doing anything for the money he is paid" and township officials have not investigated or tried to rectify the situation.
Rebecca Everett, NJ.com Read more
Opinion: Why more women in N.J. want to run for office – and why more should
As Women's History Month is underway, we've noticed a remarkable phenomenon: Women across the country are fired up about running for office more than ever before.
NJ.com Read more