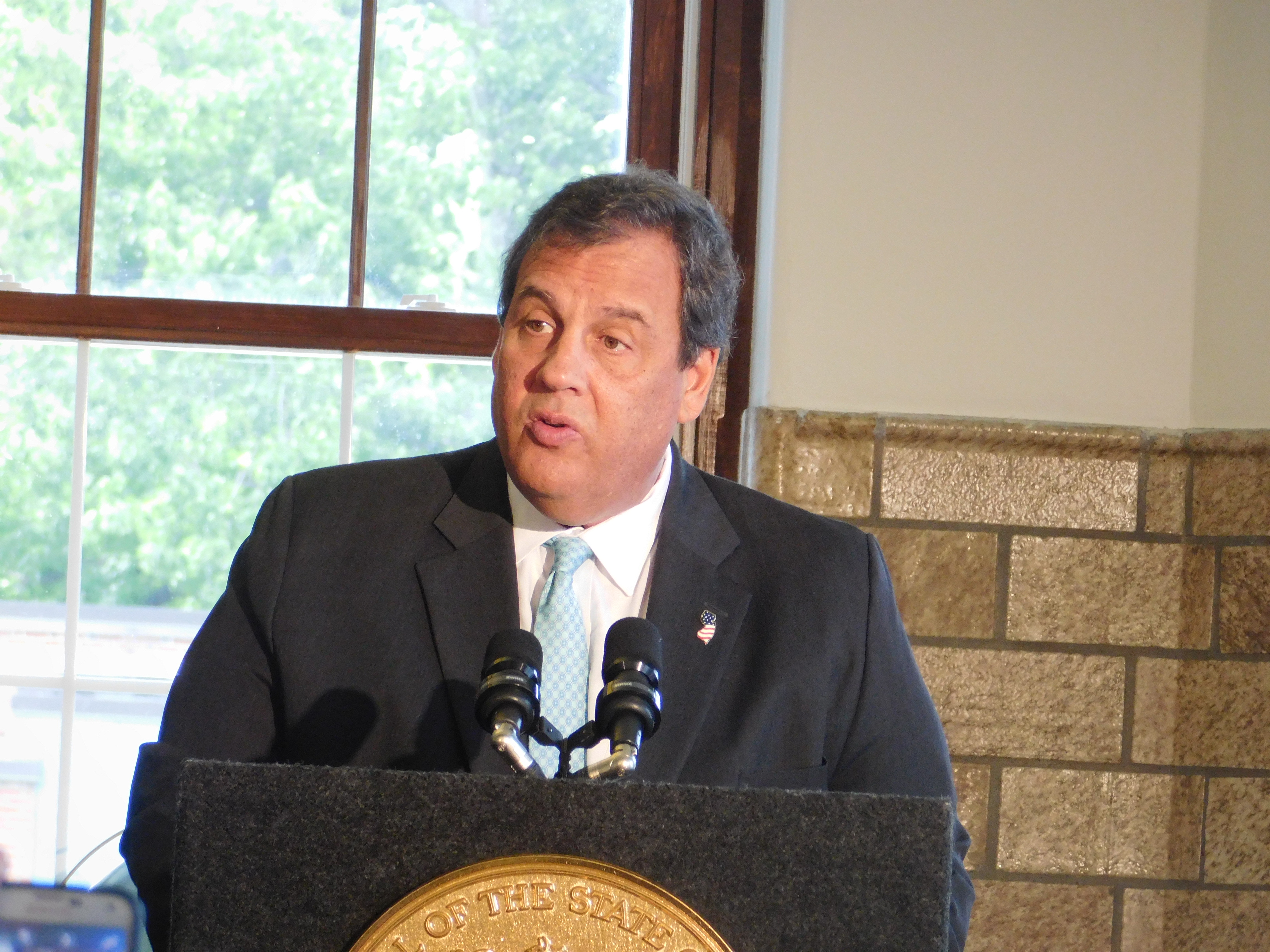 There was good news for state workers and Gov. Chris Christie on Monday, as the state wracked up it's best private-sector job growth in a decade and a half.
The good news didn't extend to state hospitals, who worry that the proposed repeal and replacement of the Affordable Care Act will leave them paying more for charity cases and struggling in the wake of Medicaid cuts. Meanwhile, GOP Rep. Rodney Frelinghuysen, who refuses to meet face-to-face with adult constituents concerned over the GOP agenda, did find time to spend the day hanging out with school children.
Quote of the Day: "I think we should stop the continuing drumbeat that somehow New Jersey has underperformed from a jobs perspective," – Gov. Chris Christie, on a report showing the state added about 61,000 jobs in 2016.
N.J. job growth last year best since 2000
New Jersey added nearly 61,000 jobs last year, the best year for private-sector growth since 2000, according to the U.S. Bureau of Labor Statistics.
Dustin Racioppi, The Record Read more
Offshore Wind Power Remains Becalmed in NJ
The energy potential of offshore wind continues to lure developers to the waters off the Eastern Seaboard.
Tom Johnson, NJ Spotlight Read more
NJ Hospitals Have Deep Concerns Over Medicaid Repeal
The federal expansion of Medicaid under Obamacare has been a runaway success in New Jersey — not only covering 552,000 residents over three years, but firming up the finances of the state's most vulnerable hospitals.
Lindy Washburn, The Record Read more
ACA Expansion Helped NJ Save Millions in Charity Care
New Jersey has saved hundreds of millions of dollars on hospital support since the federal Affordable Care Act took full effect in 2014, according to a state analysis of charity-care payments that fueled concerns among healthcare leaders about Republican efforts to repeal the landmark law.
Lilo Stainton, NJ Spotlight Read more
What happened when I asked Kellyanne Conway about wiretapping
It was not a trick question. The context was clear. And the person who answered was hardly a neophyte.
Mike Kelly, The Record Read more
$34M boost for improvements at N.J. colleges
Gov. Chris Christie signed a law Monday that appropriates $34 million for facility improvements at New Jersey colleges and universities, including the renovation of an academic hall at William Paterson University and the conversion of a vacant warehouse owned by Passaic County Community College into a technology center.
Nicholas Pugliese, The Record Read more
Montclair State awarded grant to enhance teaching program
Montclair State University, located in Montclair, Little Falls and Clifton, has received a three-year grant of $1.1 million from the National Science Foundation Robert Noyce Teacher Scholarship Program to better prepare future elementary school educators for teaching math skills.
Mollie Shauger, The Record Read more
How Long Can NJ Transit Keep Rolling With Flat State Aid?
While overall spending would rise by roughly $1 billion under Gov. Chris Christie's new budget proposal, there's only flat funding to help support operations at New Jersey Transit, an agency that's come under increased scrutiny from lawmakers after recent fare hikes and last year's fatal train crash in Hoboken.
John Reitmeyer, NJ Spotlight Read more
Bill banning child marriages clears Senate, heads to Christie's desk
Child marriages are one step away from being banned in New Jersey.
The state Senate voted, 26-5, on Monday to pass the measure (A3091), which would no longer allow marriages for anyone under 18. The bill now goes to Gov. Chris Christie's desk.
Matt Friedman, Politico Read more
Christie blames U.S. attorneys for getting fired by Trump
Gov. Chris Christie on Monday took aim at U.S. attorneys who were told to quit by President Donald Trump, saying the federal prosecutors were political appointees who knew they were living on borrowed time.
Claude Brodesser-Akner, NJ.com Read more
Justice Department will reportedly investigate rejected Muslim center in Bayonne
The federal Justice Department plans to investigate the now rejected application for a Muslim community center in Bayonne, according to a report in The New York Times.
Caitlin Mota, The Jersey Journal Read more
Gill's Bill Aimed at inhibiting Trump Executive Order on Immigration Fails after Heated Exchange with Singer
The Senate today failed to pass state Senator Nia Gill's (D-34) Bill No. 3005, which aimed at providing that State, county, or municipal law enforcement agencies and State or county correctional facilities are not to comply with federal detention retainers, transfer requests, and information requests regarding a noncitizen's release from custody.
NJInsider Read more
Christie declares storm State of Emergency: What it means
Gov. Chris Christie has declared a State of Emergency, authorizing state Emergency Management to activate and coordinate the preparation, response and recovery efforts for the storm with all county and municipal emergency operations and governmental agencies.
Bob Jordan, Asbury Park Press Read more
Bridgegate sentencing postponed due to approaching blizzard
Bill Baroni and Bridget Anne Kelly will have to wait a little longer to learn their fate.
Ted Sherman, NJ.com Read more
Christie says media can be 'adversaries, but never enemies'
Gov. Chris Christie on Monday said that unlike President Donald Trump, he doesn't view the media as "the enemy" of the public.
Associated Press Read more
'Meet a Muslim' campaign takes to streets of N.J.
On a day when the temperature barely reached freezing, Maarij Ahmed said his heart was warmed by the reaction he was getting standing on a corner in Collingswood with a sign that read: "Meet a Muslim. Ask any question."
Bill Duhart, NJ.com Read more
N.J. governor candidate Jim Johnson speaks in Atlantic City
Democratic gubernatorial candidate Jim Johnson said Monday he would end the state takeover of the city if elected governor.
Christian Hetrick, Press of Atlantic City Read more
Anti-development or anti-Semitism? Jackson council silent on dorm ban
Council members remain tight-lipped on a controversial move to ban dormitories in the town, even as the officials are peppered with criticism from Jewish residents who claim the measure singles them out for bias treatment.
Mike Davis, The Record Read more
Buyer found for PSEG's share in PennEast
Spectra Energy Partners has agreed to purchase PSEG's minority share of the PennEast pipeline, according to an announcement today by the pipeline's board of managers.
Russ Zimmer, Asbury Park Press Read more
Indicted Paterson mayor surrenders to state police
Mayor Jose "Joey" Torres of Paterson turned himself in to the state police Monday on charges that he used municipal employees to do work on city time at a family-owned business location.
Andrew Wyrich and Lisa Marie Segarra, The Record Read more
Frelinghuysen brings astronaut to Florham Park school
U.S. Rep. Rodney Frelinghuysen toured the 11th congressional district Monday morning with NASA astronaut Lee Morin, visiting schools to discuss the importance of STEM education.
Daily Record Read more
Defunct A.C. casino to become 'world class' indoor water park
A local development group says it has a contract to purchase the old Atlantic Club casino hotel and will build a "world class" indoor water park.
Amy S. Rosenberg, Inquirer Read more
A South Jersey doctor's friends want to know what caused him to drive into an N.J. trooper's car, killing them both
In the nearly 100 days since physician Lloyd Rudley and New Jersey State Trooper Frankie Williams died in a head-on collision, friends of Rudley — who has no surviving family — have sought to counter suspicions that he was drunk.
Michael Boren, Inquirer Read more
N.J. Senate confirms Christie aide as Burlington County prosecutor
The New Jersey Senate on Monday confirmed Scott A. Coffina, a high-ranking lawyer in Gov. Christie's office, to be Burlington County's next prosecutor.
Andrew Seidman, Inquirer Read more
Millburn's Betty Levin to be awarded peace prize
Township resident E. Betty Levin will be honored as Peace Action Person of the Year at the New Jersey Peace Action banquet on Sunday, April 2, at The Hilton Hasbrouck Heights.
The Record Read more
Column: N.J. hospitals oppose ACA replacement bill
Twenty-two million Americans and 800,000 New Jersey residents are covered by the Affordable Care Act. There is far too much at stake to rush through a replacement bill that will erode health insurance coverage while evading essential questions like, how much will it cost?
Elizabeth 'Betsy' Ryan Read more