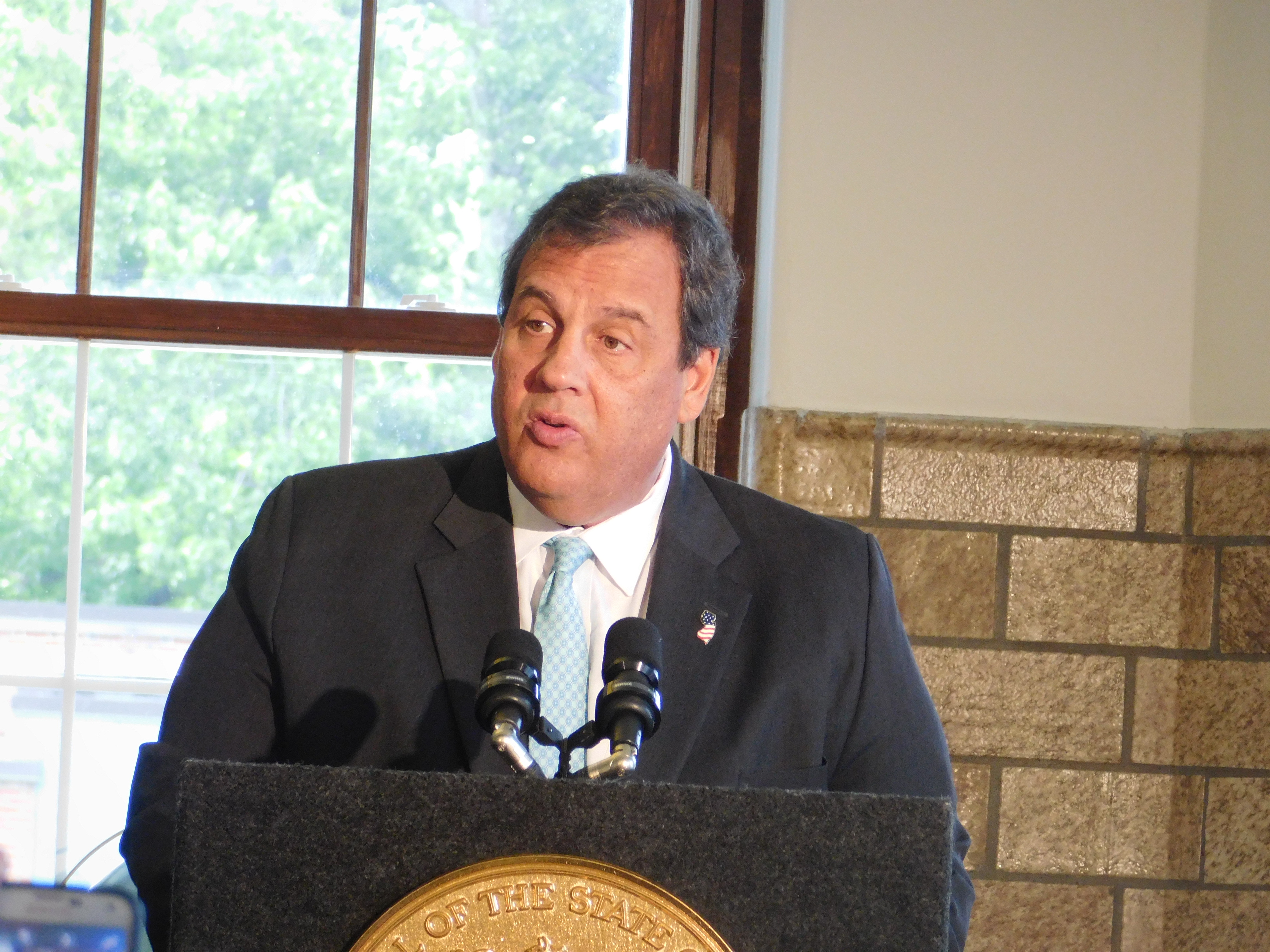 It's Wednesday, and New Jersey government is getting back into gear following Tuesday's snowstorm. There had been some state news coming out of Trenton, including Gov. Chris Christie weighing in on who President Donald Trump should appoint as the new U.S. attorney for New Jersey. Christie also donned his fleece jacket and went back into storm mode during the snowstorm.
Politico reports on Democrats' efforts to change the state Transportation Trust Fund program, including measures sponsored by Senate President Stephen Sweeney that would strip a transparency requirement.
Quote of the Day: "I thought Mexico was going to pay for the wall," – Bob Huff, of Brigantine, after hearing of a proposal to force those insured through the National Flood Insurance Program to pay a surcharge to fund construction of the border wall.
Christie says he has ideas about who Trump should name U.S. attorney for N.J.
Gov. Chris Christie said he has serious thoughts about who should replace Paul Fishman as U.S. attorney for New Jersey, but declined to say who was on his short list of recommendations to President Donald Trump.
Claude Brodesser-Akner, NJ.com Read more
Lawmakers seek changes to TTF program, including transparency rollback
Democratic lawmakers in the Statehouse are considering major changes to New Jersey's infrastructure spending program but are being met with resistance from their Republican colleagues.
Ryan Hutchins, Politico Read more
As Christie unloads on N.J. press, he channels (and chides) Trump
Asked if his complaints about the media might be tied to his dwindling job approval rating, the governor lashed out.
NJ.com Read more
Chris Christie: 'This is a day to stay inside'
Despite lower-than-expected snowfall amounts in parts of the state, Gov. Chris Christie says there's still concern over coastal flooding and high winds, adding, "I want to make sure everybody in New Jersey knows this is a day to stay inside."
Bob Jordan, Asbury Park Press Read more
Christie says Jersey Shore escaped major flooding damage
Gov. Chris Christie says the Jersey Shore didn't suffer "major property damage that we know of'' from flooding caused by today's storm, and that assessments of beach damage will begin tomorrow.
Bob Jordan, Asbury Park Press Read more
What does Christie's state of emergency declaration for the blizzard really mean?
As ominous as it sounds, a state of emergency means more for the police, fire and other public safety officials responding to the event than it does for the average person.
Matt Arco, NJ.com Read more
N.J. Dems passing bill requiring White House hopefuls to release tax returns
Democrats exasperated that Donald Trump got elected president despite not making public his tax returns, as had been the tradition for more than 40 years, have turned to state legislatures hoping to require their release to be listed on the ballot starting in 2020.
Michael Symons, NJ101.5 Read more
Teachers briefly lose vision coverage after district fails to pay bill
Teachers and staff members with Paterson School District say they experienced a lapse in vision coverage after officials failed to pay the bill on time.
Sara Jerde, NJ.com Read more
Addiction docs, top cops to speak at heroin town hall
High-ranking state and federal law enforcement officers, addiction medicine specialists, recovering addicts and others are scheduled to speak at a conference on the opioid epidemic 7 p.m. Thursday at Monmouth University.
Ken Serrano, Asbury Park Press Read more
Sandy victims, not Mexico, may have to pay for Trump's border wall
Bob Huff is in general a supporter of President Trump, but the Brigantine, N.J., resident was not too keen on a proposal floated out of Washington that would slap a surcharge on flood-insurance premiums to help pay for the president's multibillion-dollar border wall.
Amy S. Rosenberg & Jonathan Tamari, Inquirer Read more
'I'm a political prisoner' — NJ Weedman sounds beaten down by latest arrest
You really got to give Ed Forchion credit: He never gives up. But today, he's locked up.
And today he sounds sad, frustrated and incredulous at what seems to me to be a targeted attack, and a manipulation of the law.
Judi Franco, NJ101.5 Read more
Christie proposal to tap into Horizon's reserves unwise
In Gov. Christie's recent budget message, he suggested that Horizon Blue Cross Blue Shield of New Jersey voluntarily "contribute" from its legally required reserves to establish a "permanent fund" to support the state's "most vulnerable population who access Charity Care and Medicaid." He also intimated that if the funds were not voluntarily given, they might be taken by the state. That he would suggest taking these funds — paid by New Jersey policyholders to protect policyholders — for some other purpose, even such a laudable one, is problematic.
Holly Bakke Read more