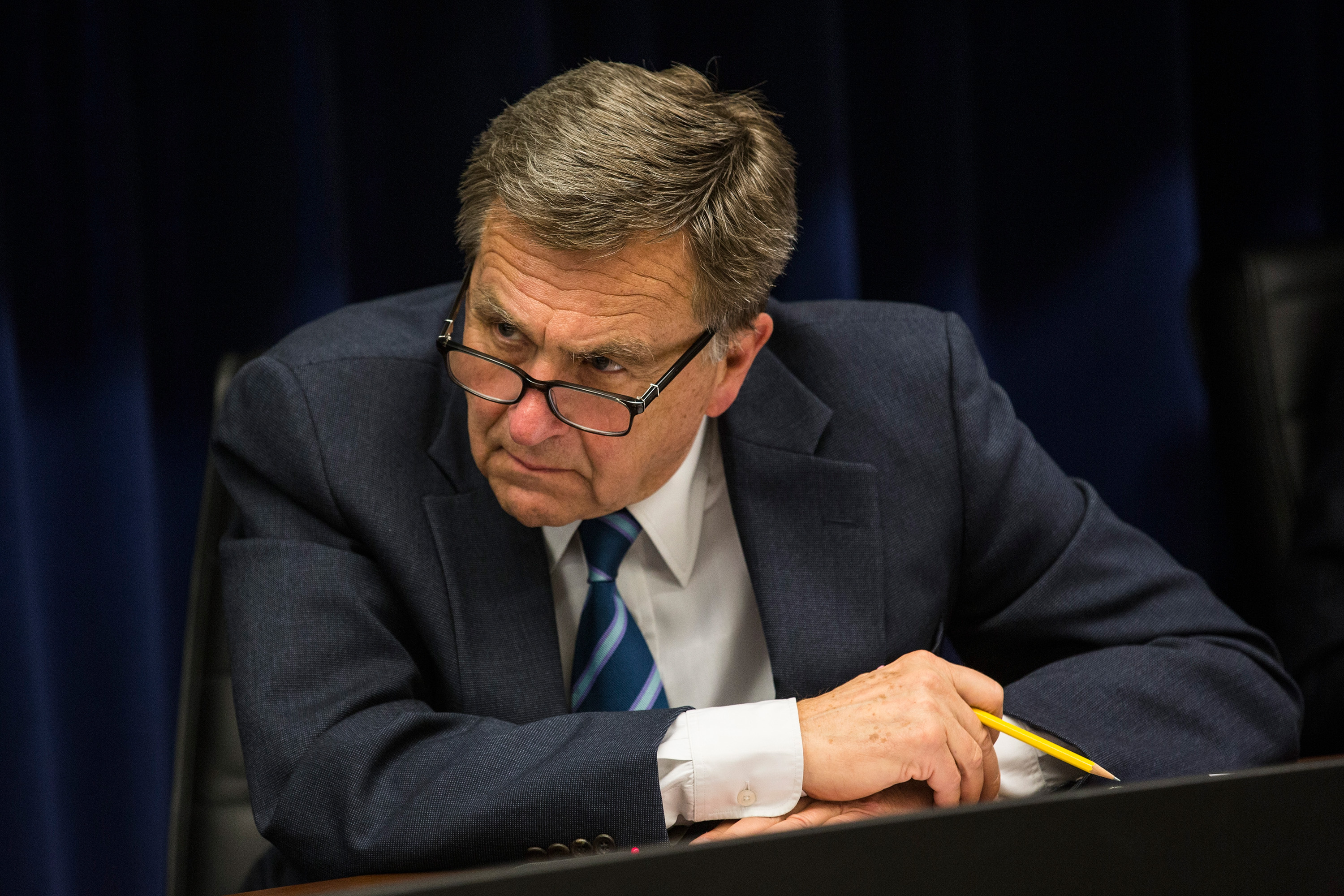 It's Tuesday, and the price of political corruption in New Jersey has been paid as federal Judge Jose L. Linares sentenced David Samson, the politically connected former head of the Port Authority, to a year's confinement in at Samson's posh vacation home for a shakedown scheme that cost a major airline close to $1 million.
Meanwhile, U.S. Rep. Tom MacArthur bucked the GOP trend and held a town hall with constituents in Ocean Township while gubernatorial candidate Kim Guadagno is keeping silent about what her run for governor is costing taxpayers.
As expected, the state's Democratic senators are weighing in on the Trump administration's revised travel ban. And carrying a handgun in New Jersey might get easier under new action by Gov. Chris Christie's administration.
Quote of the Day: "It was corruption and not to be tolerated," – Federal Judge Jose L. Linares, before sentencing politically connected David Samson to a year's confinement at Samson's South Carolina vacation home.
Ex-Port Authority chief Samson gets probation in bribery scheme
The former Port Authority chairman and longtime confidante of Gov. Chris Christie was sentenced to four years probation, including a year of home confinement, today after his conviction on federal bribery charges for abusing his position to pressure United Airlines to provide a route that would make it easier for him to fly to his vacation home in South Carolina.
Todd South and Paul Berger, The Record
Power broker gets a pass
David Samson is not going to prison for the crime of shaking down one of the world's largest airlines.
Charles Stile, The Record Read more
Christie mentor David Samson won't serve a day in jail for 'chairman's flight' bribes
The former head of one of the nation's most powerful transportation agencies and a longtime mentor to Gov. Chris Christie was sentenced Monday to four years of probation after admitting he pressured United Airlines to reinstate a flight route to give him easier access to his weekend home.
Associated Press Read more
Christie mentor David Samson avoids prison time after shaking down United Airlines
Former Port Authority Chairman David Samson, a longtime friend and mentor to New Jersey Gov. Chris Christie, shook down one of the world's largest airlines so he could more easily reach his luxurious South Carolina estate.
Matt Friedman, Politico Read more
David Samson avoids jail in United Airlines bribery scandal
Facing two years in prison for the shakedown of United Airlines in a bizarre scheme to get a more convenient direct flight to his South Carolina getaway home, former Port Authority chairman David Samson found a soft landing Monday.
Ted Sherman, NJ.com Read more
Unfunded Liability of Pension System Near $50 Billion
New actuarial calculations for New Jersey's beleaguered public-employee pension system show an unfunded liability of near $50 billion, a staggering number for a retirement plan that's been set up to cover roughly 780,000 current and retired government workers.
John Reitmeyer, NJSpotlight Read more
People pack Rep. Tom MacArthur's town hall
Rep. Tom MacArthur is holding a town hall meeting tonight in Waretown and it is filled with people who want their concerns heard.
Jean Milke, Asbury Park Press Read more
Navy wife angered by meeting gets apology from S. Jersey congressman
U.S. Rep. Frank LoBiondo, a Republican who represents a large swath of South Jersey, has adamantly resisted holding a town hall meeting, preferring a series of meetings with 12 constituents at a time to avoid what he called the 'YouTube moment.'
Amy S. Rosenberg, Inquirer Read more
Questions linger about funding for Christie Reach NJ ads, with marketing set to expand
Gov. Chris Christie's administration is not saying exactly how it plans to pay for its ongoing — and soon to be expanded — marketing campaign to promote services for opioid addiction treatment, and now two Democratic lawmakers are formally seeking financial details on the advertisements that have prominently featured Christie.
Dustin Racioppi, The Record Read more
Guadagno silent when pressed on taxpayer campaign cost
An opponent to Lt. Gov. Kim Guadagno in the race for the Republican nomination for governor wants her to detail how much is being charged to taxpayers for security and travel costs for her campaign events.
Bob Jordan, Asbury Park Press Read more
Gubernatorial Hopefuls Test Early Campaign Messages on Business Audience
It may be eight months to Election Day, but five of New Jersey's gubernatorial candidates took the opportunity at a business forum in New Brunswick this past Friday to start staking out their territory: Lt. Gov. Kim Guadagno, Assemblyman John Wisniewski, State Sen. Ray Lesniak, Assemblyman Jack Ciattarelli, and former Ambassador Phil Murphy.
NJTV Read more
Joe Piscopo Could Be New Jersey GOP's Best Hope to Succeed Chris Christie
It would be an understatement, and not at all a comment on the New Jersey governor's girth, to say that Chris Christie casts a large shadow over this year's election to select his successor. For eight years he has dominated his state's politics, first as a successful bipartisan "problem-solver" with a knack for making his opponents look bad, and then a scandal-plagued punching bag and early lame duck. Until just over a year ago, his ambitions for higher office obscured his steadily declining status back home, aside from the "Bridgegate" scandal that dogged his presidential campaign. But then his close association with Donald Trump defined his national profile, and when Trump surprisingly won, it was widely assumed Christie was headed to Washington in some capacity.
Ed Kilgore, New York Read more
Booker, Menendez blast Trump over reworked travel ban
New Jersey's two U.S. senators are sharply criticizing President Donald Trump's reworked version of his controversial travel ban.
Associated Press Read more
Trump's travel ban's revised — but lawmakers still want to stop NJ airports from helping with it
President Donald Trump issued a revised travel ban Monday, excluding from the suspension groups of foreigners that got the original January order blocked in the courts. Meanwhile in Trenton, lawmakers picked up their fight against the concept.
Michael Symons, NJ101.5 Read more
It's about to get easier to carry a handgun in New Jersey
New Jersey officials can now consider evidence of "serious threats" that are not directed specifically at a person when they consider applications for handgun carry permits.
Associated Press Read more
Will Congress overrule N.J.'s 'concealed carry' gun law?
To get a permit to carry a concealed weapon in New Jersey, a resident must show "justifiable need."
Jonathan D. Salant, NJ.com Read more
A blueprint for modernizing Medicaid care in N.J.
Medicaid, the taxpayer-funded insurance program that covers one in five New Jersey residents, should be modernized and streamlined to deliver better care more efficiently, according to a non-profit group that released 24 recommendations for improvement Monday at a State House news conference.
Lindy Washburn, The Record Read more
Medicare fraud trial set for doctor tied to Menendez
Many of the Medicare fraud charges against prominent Florida eye doctor Salomon Melgen are complicated, but one is simple — federal prosecutors say he claimed reimbursement for treating both eyes of patients who have one prosthetic.
Associated Press Read more
Head of Paterson teachers union faces tenure charges
The city school district has filed disciplinary charges against the president of the teachers union, accusing him of verbally attacking and intimidating a vice principal last year.
Joe Malinconico, Paterson Press Read more
Support grows on Red Bank council for immigrant protections
When a Red Bank panel announced in January that it would be holding discussions on potentially naming the town a "sanctuary city," Mayor Pasquale Menna wanted nothing to do with it.
Payton Guion, Asbury Park Press Read more
Former Howell official pleads guilty to falsifying records
The public works director who abruptly retired earlier this year has pleaded guilty to falsifying records for actions related to his position, court records show.
Kala Kachmar, Asbury Park Press Read more
Timing of Revolutionary War house's razing was coincidental, DOT says
The morning after their attorney filed a lawsuit seeking to stop the demolition of the Hugg-Harrison-Glover House, a group of historians awoke to find that the house had been razed at dawn.
Rebecca Everett, NJ.com Read more
Ridgefield suing state to recoup funds
The Borough Council will file a lawsuit against the state in an attempt to recoup funds owed to it through a state tax-sharing program.
Cheryl O'Brien, The Record Read more
Garden State Equality headquarters vandalized in Asbury Park
Christian Fuscarino said he was loading a box up with supplies Saturday afternoon when he heard a thud come from outside of the Garden State Equality office on Main Street. Then he noticed the cracked glass below the rainbow flag on the office's exterior.
Austin Bogues, Asbury Park Press Read more
Hundreds honor longtime N.J. political insider Jamie Fox
A list of who's who in New Jersey's political world paid tribute to a respected longtime Democratic strategist, Jamie Fox, who died last month after being a fixture in Garden State politics for four decades.
Matt Arco, NJ.com Read more
Express Scripts lays off dozens of N.J. workers
The nation's largest pharmacy benefit manager is laying off dozens of employees based at its North Jersey facility.
Sara Jerde, NJ.com Read more
Six candidates contend for three spots on Verona council
Six people appear poised to contend for three seats on the Verona Township Council following the Monday, March 6, deadline to enter the race.
Joshua Jongsma, The Record Read more
Bergen County exec names acting director of consumer affairs division
Christina D'Aloia, assistant Bergen County counsel, has been named acting director of the county's consumer affairs division following the suspension of Director Michael R. Bradley, who was arrested two weeks ago in Oakland on drunk-driving charges.
Steve Janoski, The Record Read more
Hackensack race spans school board and city council
Three slates of five-candidates, including five incumbents, are seeking seats on the City Council and four candidates, including two incumbents, are seeking three seats on the city Board of Education in elections this spring.
Rodrigo Torrejon, The Record Read more
Lyndhurst commissioner candidates announced
March 6 was the final day for candidates in Lyndhurst to file for the May 9 commissioners election, with the current sitting commissioners splitting their tickets.
Kaitlyn Kanzler, The Record Read more
To honor son killed in Iraq, mother opens a South Jersey veterans center
Several days before he was killed in Iraq in a roadside bombing, Army Spec. Anthony "Joe" Dixon sent his family a message: 'If something should happen to me, celebrate.'
Melanie Burney, Inquirer Read more
After Jewish center bomb threat, a resolve for more equity in Homeland Security funding
For U.S. Rep. Donald Norcross, D-1st, the effort to keep the Milton and Betty Katz Jewish Community Center safe is personal.
Bill Duhart, NJ.com Read more