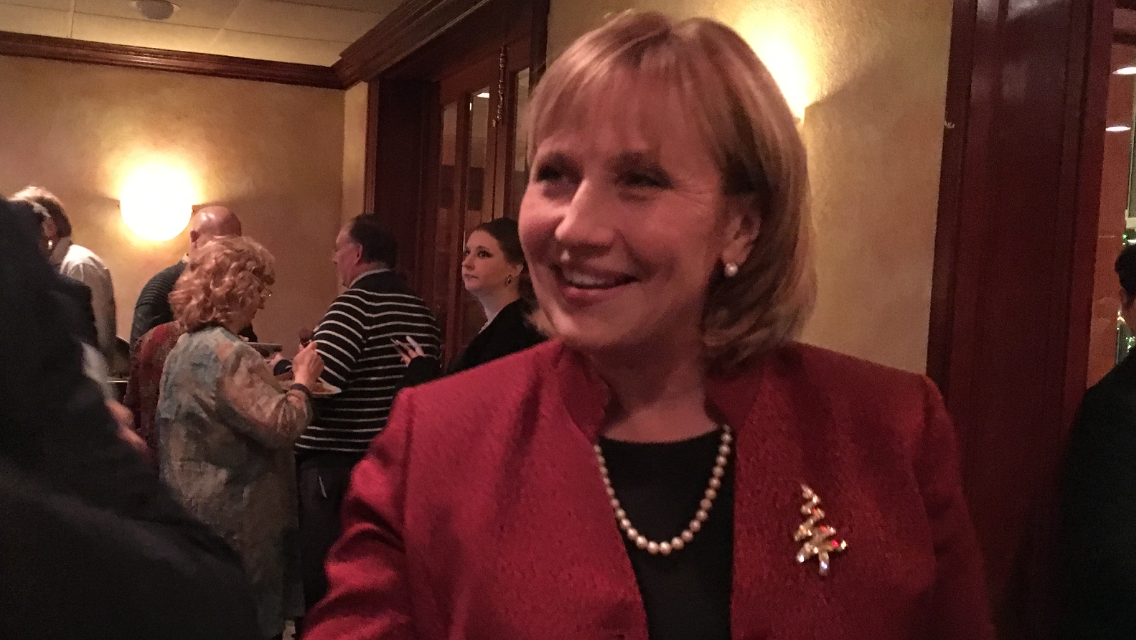 It's Thursday, and the governor's race in New Jersey goes on, with Lt. Gov. Kim Guadagno marking a milestone in her campaign and Assemblyman Jack Ciattarelli stepping back into the race after fighting cancer. Gov. Chris Christie's budget proposal is still generating talk, particularly since it's shrinking a property tax relief program. David Samson, a Christie ally who pleaded guilty to bribery charges, is asking for probation while two others associated with the governor are awaiting sentencing for their convictions in the Bridgegate scandal.
In municipal government, two Roseland councilmen who announced they were resigning after it was revealed they'd exchanged racist and anti-semitic text messages have changed their minds and will keep their seats. And in Atlantic City, Hard Rock International is buying the Trump Taj Mahal casino, which owner Carl Icahn had closed following an extended labor fight.
Quote of the Day: "That he was not motivated by profit, but rather by convenience, does not excuse his conduct, but it helps explain why this case is so different than any other public corruption case," – David Samson's attorneys Michael Chertoff and Justin P. Walder, trying to explain the degrees of criminality involved in public corruption cases.
Guadagno campaign says she has qualified for public financing
A month-and-a-half after launching her campaign for governor, Lt. Gov. Kim Guadagno has reached a key fundraising mark that will allow her campaign to receive public financing.
Matt Friedman, Politico Read more
N.J. governor candidate Ciattarelli says he's cancer-free in attack on his foes
State Assemblyman Jack Ciattarelli, a Republican running for New Jersey governor, has announced he is now cancer-free — and attacked two of his opponents at the same time, saying he's happy they were not the ones who treated him.
Brent Johnson, NJ.com Read more
Three GOP Gubernatorial Candidates Screen in Essex County
Nowhere does an already existing inter-county party rivalry starkly underscore the possibility of a real statewide contest as it does in LD40, where members of the Essex County Republican Executive Committee tonight heard from three of the candidates for governor.
InsiderNJ Read more
Gubernatorial Hopefuls Address Christie's Budget Address
Gov. Chris Christie's final budget, outlined yesterday in an address to the Legislature, drew mixed reactions not just from the lawmakers who will soon be vetting it, but also from the gubernatorial candidates vying to be the one who has to live with it on taking office next January.
Colleen O'Dell, NJSpotlight Read more
Chris Christie budget shrinks property tax relief
Despite rising property tax bills in New Jersey, Gov. Chris Christie's proposed budget for the coming fiscal year calls for 60,000 households to lose enrollment in a state program designed to soften the tax bite for all but the wealthiest homeowners.
Bob Jordan, Asbury Park Press Read more
Big numbers you should know from Christie's final N.J. budget proposal
The Treasury Department expects to collect $35.6 billion in tax revenue. That's 3.6 percent, or $1.2 billion, more than its estimates this year. When the administration has a better handle this spring on how tax collections are shaping up, Christie may revise his estimates for both years.
Samantha Marcus, NJ.com Read more
Christie confidant seeks probation in United Airlines bribery case
David Samson, the disgraced former chairman of the Port Authority of New York and New Jersey who was convicted of a federal bribery charge, is asking a judge for a sentence of probation and community service.
Andrew Seidman, Inquirer Read more
Sentencing for Baroni, Kelly in lane-closing case pushed back
The sentencing for two ex-allies of Republican New Jersey Gov. Chris Christie in the George Washington Bridge lane-closing case has been pushed back two days.
Associated Press Read more
N.J. disciplined record number of doctors in opioid fight
New Jersey last year took action against a record 31 physicians who allegedly over-prescribed painkillers and other narcotics, including physicians who practice in Ridgewood and Prospect Park, state officials announced Wednesday.
Mary Jo Layton, The Record Read more
After House setback, push to examine Trump tax returns moves to Senate
Democrats pushing to see President Donald Trump's tax returns to determine if he has conflicts of interest focused their attention Wednesday on the chairman of a key Senate committee after the House rejected an attempt by Rep. Bill Pascrell Jr. to force the issue on Monday night.
Herb Jackson, The Record Read more
Never mind, councilmen aren't going to resign over racist text scandal
The two councilmen who announced they would step down after a racially-charged text message conversation between them became public have changed their minds.
Jessica Mazzola, NJ.com Read more
Mayor: Photo showing border patrol in New Jersey in a hoax
A photo that purports to show border patrol agents arresting someone in front of a New Jersey business is a digitally altered fake, officials said.
Associated Press Read more
Hard Rock to buy shuttered Trump Taj Mahal
A group of investors led by Hard Rock International is buying the closed Trump Taj Mahal casino.
Press of Atlantic City Read more
Labor union endorses Fulop for mayor
Mayor Steve Fulop's re-election bid received another big endorsement today, with the Amalgamated Transit Union giving their blessing to the mayor this morning.
Terrence T. McDonald, The Jersey Journal Read more
Settlement reached in maternity-leave firing case
An area dermatology practice will pay a former employee to resolve a complaint that she was wrongly fired, authorities said.
Katie Sobko, The Record Read more
Is Jackson's dormitory ordinance anti-Semitic?
Faced with opposition from the township's Orthodox Jewish community, the council has delayed a vote that would prohibit the construction of dormitories in the town.
Mike Davis, Asbury Park Press Read more
Pinelands pipelines: What's coming next?
Pinelands advocates don't have to dig deep to find their next pipeline battle, but their path to victory may be harder to find.
Russ Zimmer, Asbury Park Press Read more
N.J. lawmaker performs C-section on sheep at his zoo, saves two lambs
The owner of Space Farms Zoo and Museum had an unexpected delivery Wednesday.
Rob Jennings, NJ.com Read more
NJ joins price-fix suit against Eatontown drugmaker
New Jersey has joined a lawsuit alleging an Eatontown company and five other generic drug makers conspired to fix prices.
Michael L. Diamond, Asbury Park Press Read more
Northern Highlands implements opioid antidote policy
The nurse and athletic director at Northern Highlands Regional High School will soon be permitted to administer a potentially life-saving opioid antidote in the event that a person overdoses on school grounds.
Sarah Nolan, The Record Read more
Michael L. Sanyour, 86, former Subaru exec and Moorestown mayor
It was a fortuitous encounter in 1970 that led Michael L. Sanyour Jr. to the high point in his business career — leadership of an upstart auto importer called Subaru.
Barbara Boyer, Inquirer Read more
Hasbrouck Heights scratches cat licensing ordinance after cat advocate debate
After months of discussion over a town-wide cat registration in an effort to assess the feral cat population, criticism from residents and several animal rights group volunteers led the Hasbrouck Heights council to nix the idea of mandatory cat licensing. On Feb. 28, the council voted down an ordinance 2-4 that would have required cat owners to register their felines at $12-$15 a year.
Kelly Nicholaides, The Record Read more
Executive: Essex County employees deliver 'Indiana Jones' style
Essex County Executive Joseph N. DiVincenzo Jr. presented his 14th annual State of the County Address on Monday, Feb. 27, at the Essex County Hospital Center in Cedar Grove.
The Record Read more
Hudson County sheriff's daughter sworn in as family court judge
Now two members of the Schillari family have offices in the Hudson County courthouse.
Ron Zeitlinger, The Jersey Journal Read more
County unsure of path at Hackensack Water Works site
Restoration work is in progress at the historic Hackensack Water Works for the first time in years. But unlike the water that used to flow through it, the site's long-term future is still murky.
Matthew Birchenough, The Record Read more
Bloomfield councilman's trial for alleged bribery set for May 16
Bloomfield Councilman Elias Chalet's trial for alleged bribery is set for Tuesday, May 16.
Owen Proctor, The Record Read more
Daily beach fees to rise 60 percent in Berkeley
If you're planning to visit the ocean beach here this summer, prepare to pay more.
Jean Mikle, Asbury Park Press Read more