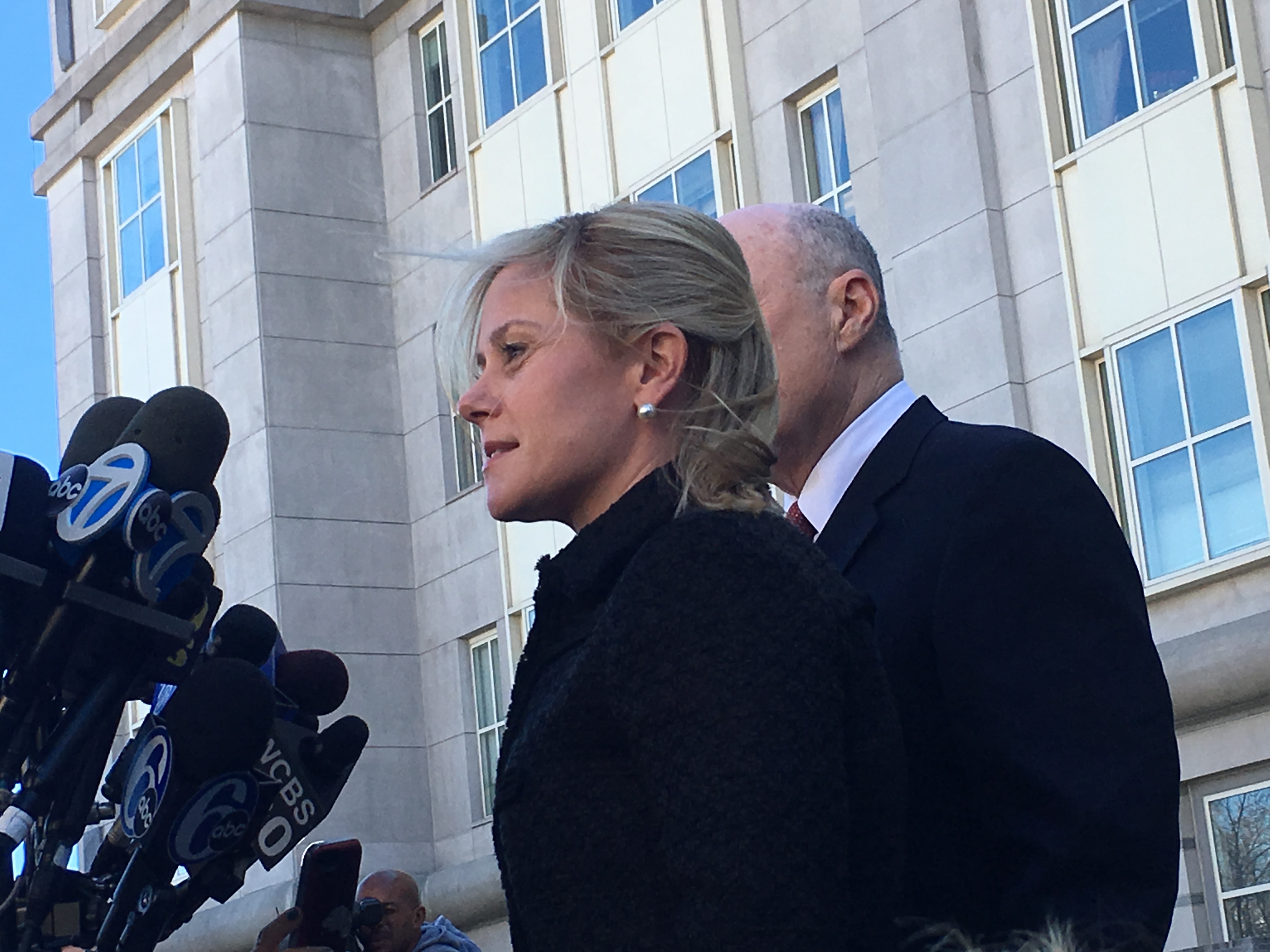 Another chapter in the Bridgegate scandal is closed, but there's no telling if it's the final chapter, or if Gov. Chris Christie's underling Bridget Anne Kelly will make good on her vow not to be a scapegoat for the politically motivated revenge scheme.
What was clear Wednesday, though, was that newspapers across the state were eager to weigh in on the scandal, and the fact the Christie was in Washington, meeting with President Donald Trump, while folks who worked to advance his presidential ambitions were being sentenced to jail.
Trump might want to read the Politico piece on how Christie's support for the Medicaid expansion peeled away New Jersey Republican support for the failed GOP effort to repeal and replace the Affordable Care Act.
And, as the state moves to make changes to its public pension system, there's word that the financially challenged current arrangement had a good year with its investments.
Quote of the Day: "Those are the actions out of the playbook of some dictator of a banana republic," – Assistant U.S. Attorney Lee Cortes, on the Bridgegate scheme to cause traffic jams to punish one of Gov. Chris Christie's political foes.
The elusive costs of Bridgegate
It began with a plan to rearrange the traffic cones near the George Washington Bridge. It ended on Wednesday in the funeral-like silence of a federal courtroom in Newark, with all sides still debating this question:
What exactly did Bridgegate cost us?
Mike Kelly, The Record Read more
Christie escapes to Washington but Bridgegate haunts
Gov. Chris Christie launched his latest political rehabilitation Wednesday as the compassionate and caring crusader, vowing to stomp out the opioid drug epidemic.
But in a federal courtroom in Newark on Wednesday, it was the earlier phase of the Christie legend, the tantrum-prone leader of a take-no-prisoner political operation who stomped on his opponents, that served as backdrop to the sentencing of two former associates.
Charles Stile, The Record Read more
Message to Baroni and Kelly: No one to blame but yourselves
Imagine this fictional phone call:
"Bill, it's David Wildstein."
"David, hello. What's up?"
"I have this great idea to help the boss win big."
Alfred P. Doblin, The Record Read more
Kelly vows she will not be 'scapegoat' in Bridgegate case
Standing in front of the federal courthouse in Newark on Wednesday, Gov. Chris Christie's former deputy chief of staff, Bridget Anne Kelly, vowed she would not be a "scapegoat" in the political scandal known as Bridgegate.
Politico Read more
Defiant Kelly, Baroni pledge to appeal prison sentences in Bridgegate case
Vowing to appeal her case and the 18-month prison sentence handed down by a federal judge on Wednesday, former Gov. Chris Christie senior staffer Bridget Anne Kelly said she refuses to be "the scapegoat" for the George Washington Bridge lane closure scandal.
Ted Sherman and Matt Arco, NJ.com Read more
Former Christie aides get prison time for roles in Bridgegate scandal
Two onetime aides to Gov. Chris Christie were each sentenced to prison Wednesday for their roles in a conspiracy to shut down access lanes to the George Washington Bridge in a brazen and bizarre scheme that used the world's busiest bridge as a means of political payback against a small-town mayor.
Paul Berger, The Record Read more
Bridgegate: What happened in public and was said in private
It started with traffic cones and developed into a full-fledged scandal that garnered international headlines and ended Gov, Chris Christie's hope for the top office in the nation. Here are key developments in the George Washington Bridge lane-closing scandal, based on testimony before a state legislative panel, documents and transcripts from an investigative report commissioned by Christie's office, and federal court documents.
The Record Read more
Editorial: Finally justice, accountability in Bridgegate
While traffic was gridlocked in Fort Lee during the week of Sept. 9, 2013, Bridget Anne Kelly, deputy chief of staff to Gov. Chris Christie, emailed David Wildstein, a senior official at the Port Authority of New York and New Jersey, "Is it wrong that I am smiling?" Wildstein replied, "They're children of [Democratic gubernatorial candidate Barbara] Buono voters."
The Record Read more
EDITORIAL: Has justice been served?
Two former aides to Gov. Chris Christie were sentenced to prison terms Wednesday for their role in creating traffic gridlock on the George Washington Bridge for four days in September 2013.
Asbury Park Press Read more
Christie's stance on Medicaid expansion put N.J. GOP congressmen in a bind
Gov. Chris Christie's decision to expand Medicaid and his stalwart defense of the program's benefits for New Jersey may have helped sink President Donald Trump's plan to repeal and replace Obamacare, as four of the state's five Republican congressmen cited cuts to Medicaid as a reason they could not vote for the bill.
Katie Jennings, Politico Read more
Trump hears from N.J. addicts as Christie takes helm of opioid commission
Two recovering addicts from New Jersey, one the son of a state Supreme Court justice, shared their stories with President Donald Trump on Wednesday as Gov. Chris Christie assumed the leadership of a new national opioid addiction commission.
Herb Jackson, The Record Read more
At White House, Christie says no interest in joining Trump administration
New Jersey Gov. Chris Christie said Wednesday morning that he is not interested in a job in the administration of President Donald Trump because he intends to serve out the remainder of his term as governor.
Louis Nelson, Politico Read more
From Bridgegate to Trump: 7 things Christie said in TV interviews this morning
Gov. Chris Christie on Wednesday morning gave live interviews to three television news shows from the front lawn of the White House — hours before he was slated to appear with President Donald Trump at a roundtable about fighting opioid addiction in America.
Brent Johnson, NJ.com Read more
Christie: Putting Jared Kushner's father in prison is 'ancient history'
Gov. Chris Christie on Wednesday morning denied that he and Jared Kushner, President Donald Trump's son-in-law, have a tense relationship, even though Christie helped put Kushner's father in prison more than a decade ago.
Brent Johnson, NJ.com Read more
Surprise skirmish with ex-Gov. McGreevey over prisoner re-entry funding
Last year, lawmakers added $5 million to New Jersey's budget to support prisoner re-entry programs coordinated by Volunteers of America and the New Jersey Reentry Corporation.
Michael Symons, NJ101.5 Read more
N.J. public pension investments get some better news
After a year that saw New Jersey's public worker pensions lose nearly a percent on their investments, state officials reported the fund posted a 8.62 percent gain since the fiscal year began in July.
Samantha Marcus, NJ.com Read more
Morris sheriff urges cooperation with feds on immigrant issues
A raucous chant of "No human being is illegal" – led by the attorney for Wind of the Spirit immigrant resource group – broke out at the end of a lively, two-hour meeting at the Morris County Library Tuesday night where Morris County Sheriff James M. Gannon vowed to uphold federal law on undocumented immigrants and the founder of the Just Facts think tank cited links between illegal immigration and alleged crime.
Peggy Wright, Daily Record Read more
Pinelands Pipeline Headed Back to Court
The Pinelands Preservation Alliance yesterday filed an appeal in the appellate division challenging the approval of the 22-mile project through the Pinelands.
Tom Johnson, NJSpotlight Read more
JCP&L transmission line hearing at Brookdale
A 230-kilovolt transmission line project, one that some residents feel could fundamentally change the look and health of their communities, is back for a second public hearing today.
Russ Zimmer and David P. Willis, Asbury Park Press Read more
Humane Society to honor Sen. Cory Booker, singer Christina Grimmie at gala
The Humane Society of the United States will honor New Jersey Sen. Cory Booker and slain singer Christina Grimmie at the non-profit's annual Farm Animal Protection gala next month.
Nick Vadala , Inquirer Read more
Camden mayor Redd expected to announce she won't run again
Camden Mayor Dana Redd is expected to announce Wednesday that she won't seek a third term, and will throw her support behind her chosen successor.
Allison Steele, Inquirer Read more
Mayor questions Hackensack board over high school teacher
Mayor John Labrosse and Richard Salkin, the school board attorney, clashed in a heated argument about a teacher who appears to have distributed campaign material on school time, which is a potential violation of school policy.
Rodrigo Torrejon, The Record Read more
Montclair businesses concerned about pricing regs
The Montclair Township Council withdrew an ordinance Tuesday night intended to address pricing discrimination after hearing from several business owners and proprietors who had concerns over the law's language and intent.
Mollie Shauger, The Record Read more
Little Falls adopts ordinance to regulate electronic smoking and vapor devices
Vendors now need a permit from the township before they can sell electronic smoking or vapor devices.
Lindsey Kelleher, The Record Read more