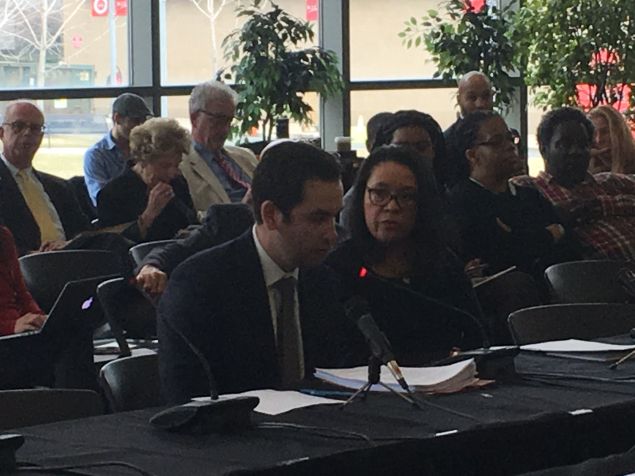 One day after Governor Chris Christie called for state Democrats to hash out a compromise on changing the state's school funding formula within 100 days in his final budget address, Democratic New Jersey State Senate President Steve Sweeney is calling on Jersey City mayor Steve Fulop to consider his recommendations on how to tailor the existing formula.
The city, which has seen an economic renaissance in certain newly wealthy neighborhoods, is often at the center of critics' arguments that the nearly ten year-old school funding formula offers too much funding to once-impoverished districts.
While Fulop—a Democrat and Sweeney's one-time gubernatorial rival—described those accusations as rooted in a selective view of the city that ignores needy schools outside flourishing commuter areas, Sweeney pointed to the city's comparatively low contribution to its schools.
"The SFRA established an equitable formula for determining the 'local fair share' that school districts should be paying, and as mayor of Jersey City, you are undoubtedly aware that Jersey City pays just 36 percent of its fair share of school funding – the fifth-lowest percentage in the state," Sweeney wrote in an open letter.
Sweeney has proposed finding a way to fully fund the existing formula by eliminating so-called "adjustment aid," or the money that districts were offered to cover losses the last time the legislature adjusted the formula in 2008. That step could mean a significant loss for Jersey City.
"It is our responsibility as state legislators to fix these inequities by phasing out adjustment aid, properly funding enrollment growth, and by fully, properly, and fairly funding the State portion of the SFRA formula."
When the two debated during a senate committee last week, Fulop said he is concerned any losses would disproportionately affect poor and minority districts.
"When people say 'Hoboken and Jersey City are doing great'… every town on the waterfront is not exactly the same," Fulop said, adding of changes to the formula that "it is clearly an attack on poorer, primarily African American, Latino and minority districts."
Sweeney took aim at that claim, saying that his estimates show the city gaining overall if his proposed changes succeed.
"Contrary to your assertions at our Senate Select Committee on School Funding Fairness hearing, our proposals will not take away state aid from urban and minority schoolchildren and give it to wealthier suburbs.  In fact, the 31 urban school districts in the Abbott v. Burke litigation – including Newark, Elizabeth, Paterson, Trenton, Camden and your own Jersey City – would gain $365 million in additional state SFRA school aid under our proposal."