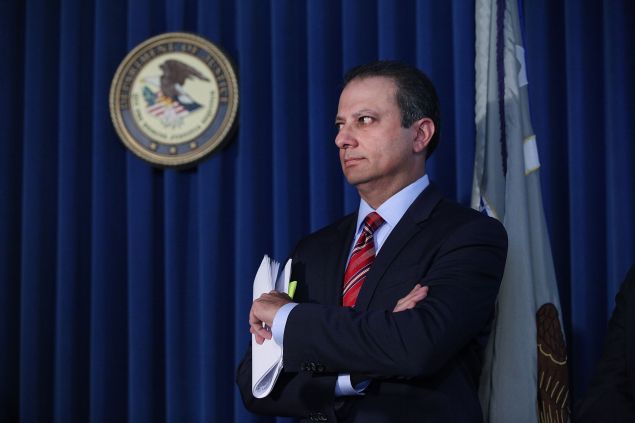 Days after President Donald Trump unceremoniously fired U.S. Attorney Preet Bharara, the corruption-busting Manhattan prosecutor's stopgap successor announced his office was folding its year-long investigation into Mayor Bill de Blasio.
Joon Kim, the acting U.S. Attorney for the Southern District of New York, sent a statement to the press this morning announcing that the office would not file charges against the liberal Democratic mayor or his aides for a potential pay-to-play scheme involving de Blasio's defunct political nonprofit the Campaign for One New York. Manhattan District Attorney Cyrus Vance released an almost simultaneous statement that his office would not arraign anyone in relation to the mayor's failed 2014 fundraising effort for the State Senate Democrats, which the state Board of Elections indicated involved a concerted effort to circumvent contribution limits.
Kim seemed to allude to the Supreme Court's Skilling v. United States decision, which reduced the scope of statutes barring "honest services fraud," which were used to prosecute public officials for corruption.
"We take into account, among other things, the high burden of proof, the clarity of existing law, any recent changes in the law and the particular difficulty in proving criminal intent in corruption schemes where there is no evidence of personal profit," Kim said in the release. "Given the totality of the circumstances here and absent additional evidence, we do not intend to bring federal criminal charges against the Mayor or those acting on his behalf relating to the fundraising efforts in question."
The prosecutor did not allude Bharara, known for his zeal in pursuing corruption cases—which led to the 2015 convictions of ex-Assembly Speaker Sheldon Silver and former State Senate Majority Leader Dean Skelos, and a slew of indictments against top donors and aides to Gov. Andrew Cuomo last fall. Bharara had announced his intention to target "the executive" branch of government in spring 2016.
Kim did indicate questionable dealings on de Blasio's part, including "several circumstances in which Mayor de Blasio and others acting on his behalf solicited donations from individuals who sought official favors from the city, after which the mayor made or directed inquiries to relevant city agencies on behalf of those donors." Similarly, Vance's office said that the de Blasio team's effort to funnel money to upstate Democratic Party county committees—which do not face the same donation ceilings as individual candidates—"appear contrary to the intent and spirit of the laws."
However, both prosecutors argued that there was insufficient evidence to prove a crime, and Kim indicated the office did not want to "unduly influence" the election for municipal offices this fall. Several de Blasio rivals, including GOP Queens Councilman Eric Ulrich and Democratic Bronx Borough President Ruben Diaz Jr., had hinted they would only challenge him in the event of an indictment.
The announcement came moments before the mayor's weekly appearance on WNYC.
"We did things legally, appropriately, ethically," de Blasio said on the radio, echoing comments he has made since the probes began.
Trump indicated last November that he intended to retain Bharara, a former aide to Senate Minority Leader Charles Schumer, in the powerful Southern District post. But then, last Friday, the administration requested resignations from 46 prosecutors appointed by ex-President Barack Obama—Bharara among them.
Bharara refused to step down, and revealed over Twitter on Saturday that the president had dismissed him.