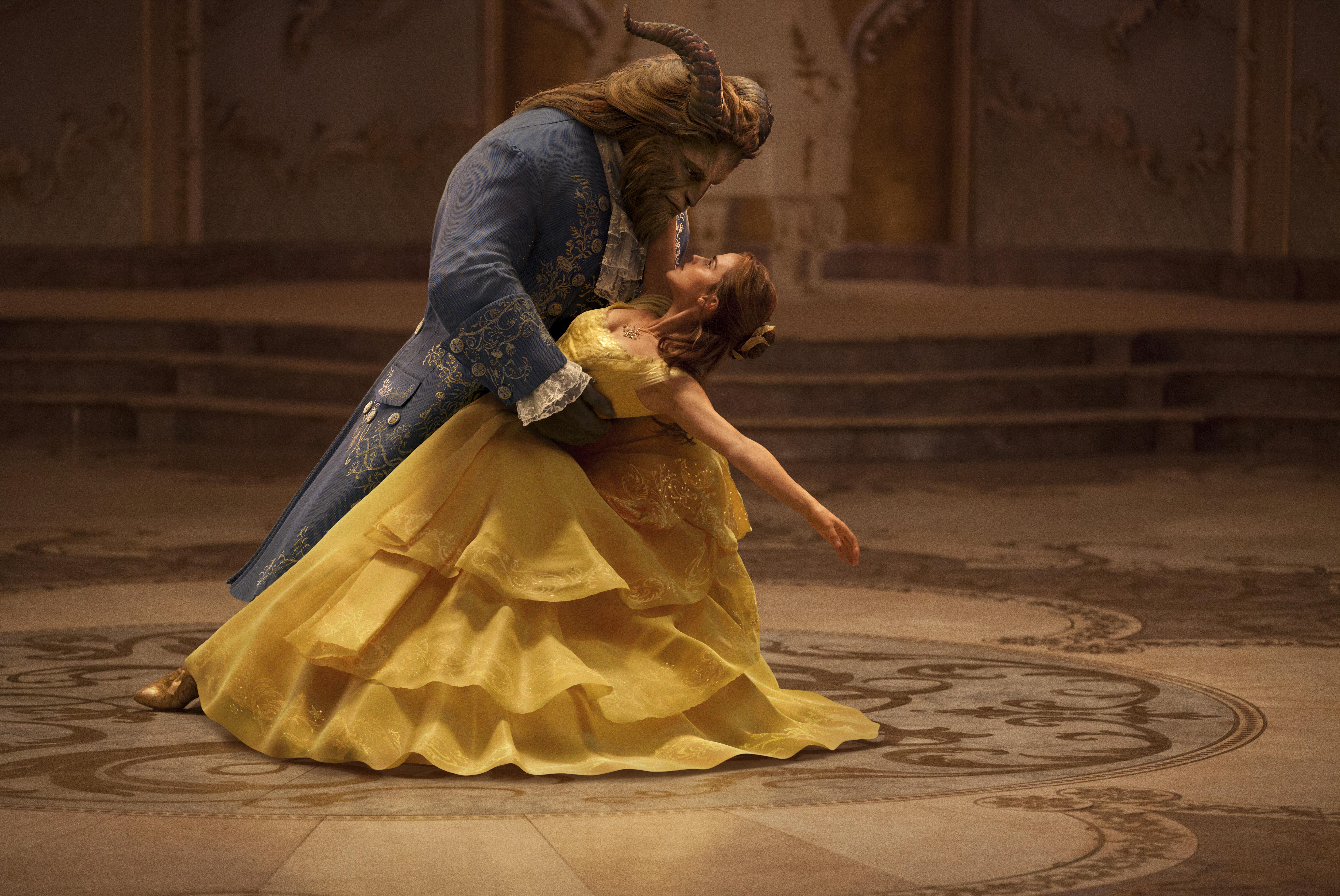 Don't get me wrong, I really enjoyed the new live-action remake of Beauty and the Beast. Emma Watson's not-so-subtle feminist updates to Belle were greatly appreciated, but still not a far leap from a character who was already a strong, independent female with ambitions larger than her small, provincial life. The musical numbers hit their marks, but didn't blow my mind; although Emma Thompson did manage to make me cry the moment she let loose the words "Tale as old as time," but if I'm being real that ultimately had less to do with her cover than the gravitas conveyed the song itself. And Dan Stevens' CGI-enhanced Beast looked real enough but fell short of inspiring the same trauma that the animated Beast bestowed upon me as a child. All in all, the remake was both a competent retelling and a delightful treat for the eyes—basically no one fucked this up and for that I'm thankful.
But while others seemingly can't get enough of watching Hollywood's most recognizable stars dress up as their animated heroes on the big screen to a backdrop of silky, remixes of hit Disney sing-a-longs, I on the other hand find myself filled with dread as Disney prepares to roll out a slew of live-action remakes based on its animated classics for the next several years. The studio allegedly has a whopping 19 remakes inspired by past films in the works—some confirmed, others merely rumored. But no matter how far along they are, I see little to no good coming from any of them.
Remakes and reboots are the fire fueling the film industry today. The Marvel machine has made blockbusters of decades-old comic book material, and television is bursting at the seams with live-action versions of cult novels such as Game of Thrones and Outlander. But the beauty of Disney's hand-drawn animations—which in the case of Beauty and the Beast was compelling enough to earn the film an Academy Award nomination in the category of Best Picture—and its arsenal of unforgettable songs (some of which I've taken the liberty of including below to further my case), make it hard to imagine that the studio's forthcoming remakes will be nail their source material's original magic.
And so I'm asking very nicely: Please, please, Disney, don't ruin all that is sacred and good about my childhood.
Mulan
Mulan's story is perhaps one of the most badass Disney princess stories ever told: a woman who disguises herself as a man in order to join the army in her father's place, gets outed and then booyah! saves the emperor of China from assassination by the Huns. The remake is slated to be released November 2, 2018 and will be directed by Niki Caro (Whale Rider, The Zookeeper's Wife), who is only the fourth woman to be tapped by Disney for a film costing more than $100 million, according to the Verge—which is both a sad and encouraging statistic at the same time. The film's release date may be far off, but already controversy is brewing over recent comments by Caro which sparked worry among fans that her version won't include the original's musical numbers. Um, if it's not a musical, THIS IS NOT A REMAKE. But Caro has since addressed the outrage in an interview with The Los Angeles Times by saying, "I don't know where that's come from…We've never talked about songs, and no decision has been made." The director also promises a "big, girly martial arts epic. It will be extremely muscular and thrilling and entertaining and moving."
Music and casting for this film will be crucial. Finding an actor who has the vocal and emotional range of two-time animated Disney princess Lea Salonga will be a challenge, as will creating a "live-action" (probably CGI) version of Mulan's dragon companion Mushu, who was voiced hilariously by Eddie Murphy in the original. And considering the white-washing that has been plaguing Hollywood lately—Doctor Strange, Ghost in the Shell, Iron Fist—cross our fingers, Disney will do right by its cast.
The Lion King
As my colleague Dana Schwartz already asked: How will this be a "live-action" remake? Yeah, it won't, so let's get our animation types straight. The new Lion King will simply be a digitally animated version of an already masterfully drawn cartoon film, with some of the original cast returning, such as James Earl Jones who will reprise his role as Mustafa, and the addition of Donald Glover taking up the role of Simba. The Lion King was able to make a beautiful transition to the Broadway stage, where actors in elaborate costumes and headdresses have done justice to the original's Elton John songs. But it was traumatizing enough to watch Mustafa die under a heard of wildebeest in cartoon-form, so I can't imagine the horror that's in store for a new generation of Disney kids who will get to watch that play out in high definition, 3-D animation.
Dumbo
For a seemingly adorable, uplifting story about an elephant with abnormally large ears who could fly, this film has rightfully taken a lot of flack over the years for its racist undertones, more specifically its climatic song "When I See An Elephant Fly" and the crows that sing it. A 21st-century update might very well be needed, but with Tim Burton signed on to direct how is this not set to be a straight up horror film? Johnny Depp should play no character in this whatsoever.
https://www.youtube.com/watch?v=X6BJlrMVFG8
Maleficent 2
Fine, just fine. Angelina Jolie was perfectly cast to play the villainous Maleficent, but how much back story do we really need for Sleeping Beauty's villainous fairy? As many sequels as the Goddess Angelina Jolie will give us, that's how much.
The Jungle Book 2
Jon Favreau's mostly GCI, part live-action remake was a big hit with Disney fans old and new, and news of a sequel broke even before the film opened in theaters. But if there's so much original Rudyard Kipling Mowgli material to pull from just make a TV show already and spare me the sequel hull-Baloo. See what I did there?
Cruella
People loved Jolie's take on the evil witch who cursed Sleeping Beauty, so why not delve deep into the the origins of a woman who wanted to make a fur coat out of puppies. Um, I can think of 101 reasons why not. Cruella's character is about one-degree less evil than American Psycho's Patrick Bateman, so it'll be interesting to see the lovely Emma Stone eek out some humanity from her.
Winnie the Pooh
If a life-like CGI elephant with super-sized ears doesn't terrify you, how about an adult Christopher Robin galavanting through the Hundred Acre Wood with a motley crew of anthropomorphized animals: honey-addicted Pooh, anxiety ridden Piglet—Heffalumps and Woozles?! Those are creatures that will absolutely not benefit from CGI enhancement. World War Z and Finding Neverland director Marc Foster is signed on for this project, according to the Hollywood Reporter, but this may be the more appropriate one for Burton to tackle.
Peter Pan
This is my absolute, hands-down favorite animated Disney classic. Yes, Peter Pan also contains its fair share of racist sequences and problematic characters, which must be addressed if Disney is going to remain faithful to its 1953 musical. But I'm going to go out on a limb here and say that the only worthwhile reboot of this story so far—and there have been many—is 1991's Hook, which stayed much closer to J.M. Barrie's original text than Disney's ever did. I'll watch any Peter Pan film that you throw at me, and the soundtrack to the 2003 film starring Jason Isaacs and Jeremy Sumpter earns major kudos, but Barrie's allegorical texts and Dustin Hoffman's exploration of Hook-as-Father make this classic already done and done right.
https://www.youtube.com/watch?v=J6KUsPyQV6w
Tinker Bell
Reese Witherspoon has been cast to play the tiny pixie, that is all.
Aladdin
Guy Ritchie, who is best known for his work on the gritty crime films Lock, Stock and Two Smoking Barrels and Snatch, has signed on to direct his first Disney film. "My stories are really about street hustlers. That's what I know how to do. And Aladdin is a classic street hustler who makes good," the director told Vulture about the project. The original features some of Disney's most beloved songs, and the kind of slapstick humor that only the late Robin Williams was capable of. If Richie can bring some scrappiness to Aladdin IRL, great, but good luck finding another Genie.
Pinocchio
I do not want to see real boy play a fake boy through CGI—that is the stuff of nightmares. And while we're on the subject of bad dreams, so too was the plot line where Pinocchio and his friends get turned into donkeys and were sold as slaves in the original 1940 film.
The Little Mermaid
Because we need to see another film where a woman literally doesn't have a voice for 70 percent of the time she's on screen. No, thanks. But it's hard to feel completely gloomy when Lin-Manuel Miranda and Alan Menken will be writing new songs for the remake—let's just hope they give Ariel a voice.
Prince Charming
Because we need more films about straight, white male heroes, said no one ever.
The Sword in the Stone
While Game of Thrones alum Bryan Cogman is set to write this adaptation, didn't soon-to-be Aladdin director Guy Ritchie just make this film already? I think he did, it's called King Arthur: Legend of the Sword, and it stars my biker boyfriend Charlie Hunnam. Reboots of reboots—that's what makes the world go 'round.
https://www.youtube.com/watch?v=kkNxpPd9gZs
Night on Bald Mountain (Chernabog)
Oh my God, I never want to see this come to pass ever. Fun fact: My parents decieded that Fantasia would be the perfect first Disney film to show me as a wee tot, without watching it first themselves. The "Night on Bald Mountain" sequence, as well as the one with the dinosaurs dying off painfully to Stravinsky's "Rite of Spring," was essentially my introduction to the concept of death.
James and the Giant Peach
Sam Mendes (Skyfall, American Beauty) may have an Oscar under his belt, but no amount of awards is going to get audiences excited for another Roald Dahl remake—unless, of course, we're talking about The Witches.
Snow White
The team from La La Land will write new songs for this done-to-death Grimm's fairy tale, and The Girl on the Train writer Erin Cressida will add her twist on the plot, according to the Hollywood Reporter. This is starting to like a sound very un-kids-friendly musical to me, not that the original source material was ever PG to begin with.
Rose Red
This may be the only remake/reboot-spinoff I'm excited for at all. Snow White's sister, Rose Red, will be getting her own film written by Justin Merz, wherein she goes on a quest with the seven dwarves to wake her sister from the apple-induced slumber. Can we just skip another Snow White and go straight to Red?
Genies
There is no Genie without Robin Williams, RIP.