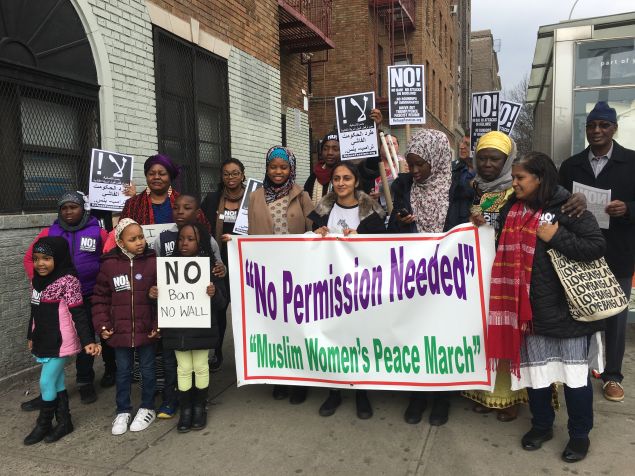 Under the theme "No Permission Needed," Muslim women of all ages demonstrated in the Bronx Saturday afternoon to inaugurate a "Week of Action" intended to educate the populace about their religion—and to rip into President Donald Trump's repeated efforts to bar entry from certain majority-Islamic lands.
The seven days of outreach and activism—capping Women's History Month—aim to provide Muslim women with the opportunity to draw attention to their experiences, highlight their contributions and to organize around their particular needs and concerns in the city and throughout the world. Christina Tasca, executive director of the Muslim Community Network, which is a member of the NYC Muslim Women's Alliance, said that around the time of the election, she and other female activists convened with the goal of building relationships and cooperating on issues affecting all of them.
"We realized that Women's History Month was coming up and so we decided that, you know, there's really no events for Muslim women that are really getting a platform in addition to the fact that there's so much misinformation and misunderstanding about Muslim women," Tasca told the Observer following the rally. "We're very often talked over, we're talked about, but our voices are ignored."
Several of those at the demonstration recalled Trump's campaign trail attacks on Khizr and Ghazala Khan, the parents of an Army captain killed in Iraq. Khizr Khan used his speech at the Democratic National Convention to deliver a scathing critique of the GOP nominee's plan to ban Muslims from entering the country, while his emotional wife stood at his side—after which, Trump claimed that Ghazala Khan did not speak because "she wasn't allowed to have anything to say."
In response, Ghazala Khan revealed that her husband asked her if she wanted to speak, but she said that she "could not"—and blasted Trump for his ignorance about their religion.
Ramatu Ahmed, executive director of the African Life Center, one of the organizers, said that she wanted Trump and other people to "better understand where we come from" as well as "our values as Muslim women." She noted, for example, that some Muslim women wear the hijab and others do not but that "we are all Muslim."
"We want President Trump to know Muslim women," Ahmed said. "We want him to understand Muslim women. If you don't know somebody, if you don't know people, you will not know what their values are and you will not understand how you can live with them. So we are good people, we are Muslim women, we dress as Muslim women, we have our culture, that we are good people."
She also wanted to push back on the stereotype that Muslim women "need permission to do things," and called the theme of "No Permission Needed" a "cautionary note." And she asserted that all Muslims' "human rights [are] being attacked" under the new administration, which has twice sought to curtail refugee resettlement from Syria and to exclude migrants from Somalia, Sudan, Iran, Libya and Yemen.
"We don't need to ask permission, we don't need to get clearance to go to where other people will go," Ahmed said.
She asserted that rampant Islamophobia and xenophobia have created an atmosphere of fear in the Muslim community.
"We don't need permission to do things but with this sentiment of anti-immigrant, people are kind of scared, people are scared to go out," she said.
A Hawaiian judge temporarily suspended Trump's second attempt at a moratorium on visas from the six impacted countries, but the president's aggressive immigration agenda remains otherwise in effect. In January, Trump signed executive orders which subjected any foreign national accused of any crime to detention or deportation.
Assetou Sy, founder and director of the Malian Cultural Center, blasted Trump's politics as bad for the country and said she came out to unite with other Muslims.
"All Muslims, men, women, from north, from south, from west and from anywhere, we're all in one and we cannot be divided," Sy said. "And Trump politics…You cannot divide us, we're all in one and his politics is not good for America."
The dozens of protesters drew applause from passersby as they marched from Grand Concourse and East Burnside Avenue to Joyce Gilmer Park near the Bronx County Courthouse. Many yelled chants such as "Ho, ho! Hey, hey! Muslim women are here to stay!," "From Palestine to Mexico, all these walls have got to go!" and "No ban, no wall! The Trump regime has got to fall!"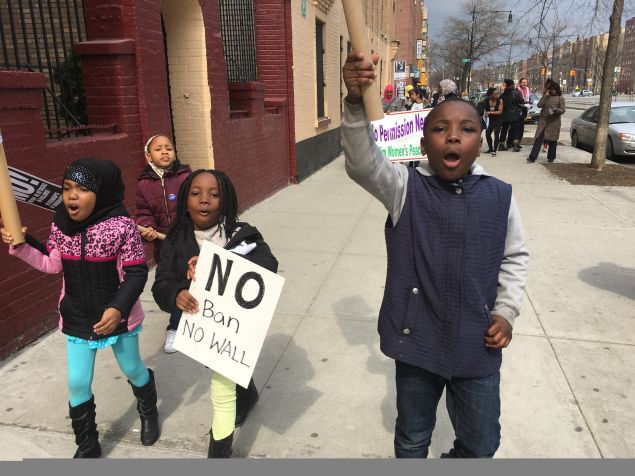 But perhaps the loudest voices during the march were those of the kids in attendance who led the procession.
"I'm fighting for the freedom of Muslim women because they are not here to be feared," nine-year-old Mohamed Kone told the Observer ahead of the rally. "They are here to be freed, they are here to be passionate and protected. What Trump has here is fear. Fear is not American."
Twelve-year-old Leila Camara said participating in the event was essential for her.
"It was very important for me to come here today because I wanna fight for freedom for women and Muslim women around the world because what Trump is doing is very wrong and it's against what we're here for and if Trump just sends away all Muslim women, what would America be for?" Camara told the Observer.
The rally also featured performances by Muslim women who sang, performed spoken word and shared their poetry.