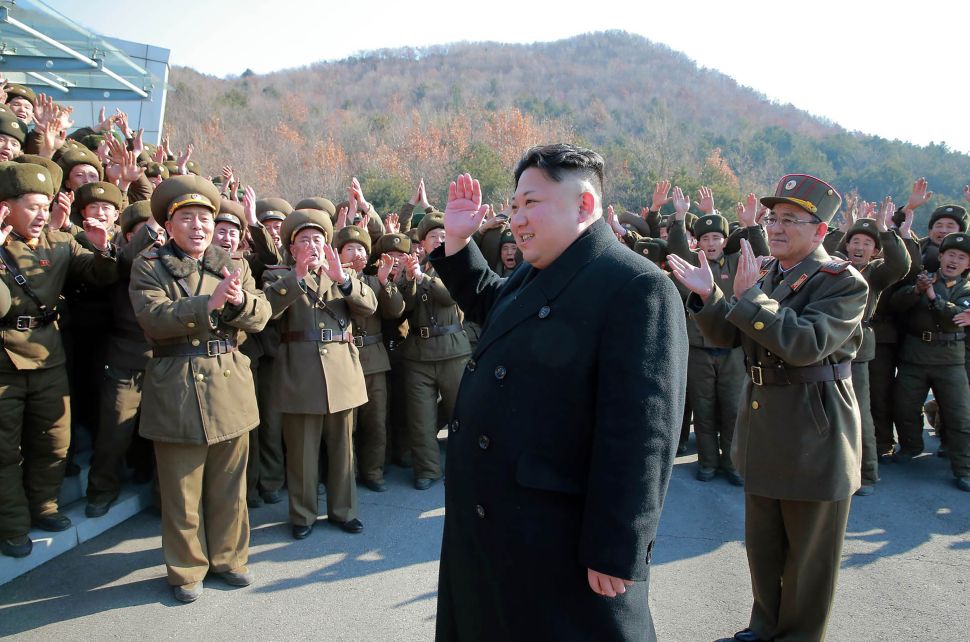 As you read this column, a message pops-up on your screen from Fox News, announcing that a nuclear missile from North Korea is headed toward an American base in the Asian-Pacific region. Your mind is racing. Could the regime hit American forces? How many would be killed or wounded? Can we hit them back and destroy their nuclear capability?
Of course, it hasn't happened by the time you to to the end of the paragraph. But you're still wondering if this nightmare scenario is inevitable and if the Trump administration can do anything about it. Could China be an ally this time—instead of an enemy as it was during the Korean War—and offer a peaceful solution to end the crisis?
The good news is that North Korea is not "an existential threat" to the United States of America according to U.S. diplomat Mark Fitzpatrick, a nuclear proliferation expert who spoke at at a briefing on nuclear threats.
But, should this nightmare scenario emerge, North Korea could inflict terrible harm upon American forces in Asia or the Pacific. Its missiles could hit the 28,000 of American armed forces in South Korea, or perhaps the nearly 50,000 in Japan. There's also the 4,800 U.S. Marines in Guam, or the 10,000 of America's armed forces in Okinawa.
When asked about the biggest nuclear challenges to America, however, Fitzpatrick noted that North Korea and South Asia were ahead of Russia and China, due to the greater intent to use nuclear weapons in the case of the former, or against each other in the case of the latter.
Could we destroy all of North Korea's nukes in an attack? The respected Stratfor team reveals that while America had plenty of tools, it would have no guarantee it could destroy every North Korean nuclear weapon, unless the intelligence was perfect. "Realistically, absent the use of nuclear weapons or the invasion and occupation of North Korea, the United States and its allies are already at a point where they cannot guarantee the complete removal of the threat of a North Korean nuclear attack."
And North Korea has more than just nukes that can do a lot of damage. Its conventional weaponry can bathe Seoul, the South Korean capital, which is not far from the Demilitarized Zone (DMZ).
Maybe China takes over North Korea, or at least bullies the country into submission, but that could make matters worse. Some of those purged by North Korea are considered close to China, as Kim Jong-un possibly fears a pro-China coup. China cutting off coal shipments to North Korea is the latest spat between both countries.
North Korea's sole ally, Russia, is also critical of the country's pro-nuclear policy, which is sure to make Kim Jong-un's supporters feel even more like everyone is out to get them.
Surgical strikes, all-out-bombing, invasion, are all options being considered. Each of those options carry the heavy risk of North Korean retaliation, in which case missiles would hit thousands of troops. The Obama administration tried hacking attacks, like those used effectively against Iran, without success.
If Trump wants a diplomatic success, he needs to learn how the North Koreans operate. As crazy as they seem, they have a history of following a "tit-for-tat" strategy. The missiles that landed near Japan were in response to joint USA-South Korean missile drills. These actions are seen as preparations for an invasion of the North. So, North Korea responded to a test with a test.
On March 8, 2017, China offered a plan where North Korea would halt missile tests in exchange for an end to joint exercises between the USA and South Korea. Such a plan might be the kind of tit-for-tat Trump needs to deescalate the tensions on the Korean Peninsula. "What Mr. Wang [China's Foreign Minister] proposed is not new—North Korea has pitched 'suspension for suspension' many times and the U.S. has baled. However, this is the first time it has been raised under President Trump," reads a piece on The Independent.
America, in fact, also offers a tit-for-tat strategy in dealing with North Korea, perhaps not realizing how its actions are leading to North Korea's bellicose response. By the same token, diplomatic overtures are likely to be met by a mutual response, which could deescalate tension in Northeast Asia.
"As much as hawks both in and outside of the government are loath to admit it, there is no better alternative right now than diplomacy and negotiations to make a deal with North Korea that would bring some semblance of stability to the Korean peninsula," writes Richard Sokolsky, a nonresident senior fellow with the Russia and Eurasia Program. "Expecting a near-term collapse of the North Korean is wishful thinking; the significance of recent defections from the North has been greatly overplayed by South Korea, and there is not one shred of reliable evidence that Kim Jong Un is facing a serious internal threat to his rule. Focusing solely on ratcheting up sanctions on the North is a mug's game."
If negotiations are needed, there's one more factor to fix, according to Sokolsky. "Such contacts would be facilitated by reactivating the only channel of communication between the two countries through Pyongyang's Mission to the UN, which has been shut down since last July."
It's important that such diplomatic signals and maneuvers toward North Korea are sent as clearly as possible. A failure to understand this lesson could lead to another critical misperception, similar to the kind that caused the Korean War to shift from a standoff to a full-scale conflict in 1950.
John A. Tures is a professor of political science at LaGrange College in LaGrange, Ga. He can be reached at jtures@lagrange.edu.