Less than two weeks ago, President Donald Trump set the political world afire with a series of pre-dawn tweets publicly accusing Barack Obama of "wiretapping" Trump Tower during last year's presidential campaign. The White House provided no evidence for this explosive claim, which, if true, meant that our 44th president and our Intelligence Community engaged in conspiratorial high crimes against our current president.
There was no reason to take these Trumpian flights of fancy seriously, despite the immense seriousness of the charges made against Obama, yet the president's hardcore fans accepted this unique tweetstorm hook, line and sinker. Strong denials from a host of top intelligence officials, explaining that President Trump's accusations were preposterous, cut no ice among White House true believers, who castigate any media coverage they dislike as "fake news."
As I explained shortly after this strange scandal broke, while some of Trump's associates seem to have wound up on Western intelligence radar in 2016 due to their frequent calls to top Kremlin officials—senior spies and politicos in Moscow who are very much the targets of Western spy services—the notion was absurd:
The scenario painted by President Trump of his predecessor tasking the IC with wiretapping Trump Tower simply could not have happened without a far-reaching and highly illegal conspiracy involving the White House and several of our spy agencies, above all the National Security Agency. My friends still at NSA, where I served as the technical director of the Agency's biggest operational division, have told me without exception that Trump's accusation is wholly false, a kooky fantasy.
Over the last week-and-a-half, just how kooky the president's fantasy was has become painfully evident. To resolve this touchy matter, the House Intelligence Committee ordered the Department of Justice to hand over evidence of any "wiretapping" by Monday—a deadline that came and went without anything proffered. On Monday afternoon, the DoJ lamely asked Congress for an extension, but there's no reason to think they will find what the White House seeks, no matter how much time they're granted.
The same day, White House spokesman Sean Spicer attempted to talk his way around his principal's untruths, without success. Spicer's explanation that "the President used the word wiretaps in quotes to mean, broadly, surveillance and other activities" was met with guffaws from the press. In other words, when the commander-in-chief explicitly accused his predecessor of "wiretapping" him, he didn't mean that at all. This transparent dodge is troubling for many reasons, not least because wiretapping has a specific legal and intelligence meaning.
In recent days, Trump's public defenders have gone to increasing lengths to make the president's accusations seem plausible, but their theories are laughable to anyone acquainted with 21st century surveillance. In a typical case, we have Andrew Napolitano, the Fox News talking head and former New Jersey superior court judge who has transformed into a self-styled intelligence expert, despite having no idea what he's talking about. There was no evidence of President Obama wiretapping Trump Tower—because he hid it, as Napolitano explained:
Three intelligence sources have informed Fox News that President Obama went outside the 'chain of command' to conduct the surveillance on Trump. Obama didn't use the NSA, he didn't use the CIA, he didn't use the FBI, and he didn't use the Department of Justice.
In Napolitano's telling, it was British intelligence—specifically GCHQ, London's NSA equivalent—that was spying on Team Trump during the election campaign, at Obama's request. There's no evidence for this claim, primarily because it didn't happen. While NSA and GCHQ are the closest of spy partners, and have been since the Second World War, under no circumstances do they spy on each other's nationals to skirt their own countries' surveillance laws and regulations. That is an insidious accusation, for which Napolitano has offered zero evidence.
The Jersey judge, who frequently makes fact-free anti-NSA comments, seems to have no idea how signals intelligence works. He stated on Fox News that NSA collects essentially every phone call everywhere and can download their contents at will, with the click of a button. Even if there were no laws protecting Americans from warrantless SIGINT collection by NSA—there certainly are, and they're followed closely—the Agency would need a workforce in the millions to be able to perform as Napolitano feverishly imagines it does.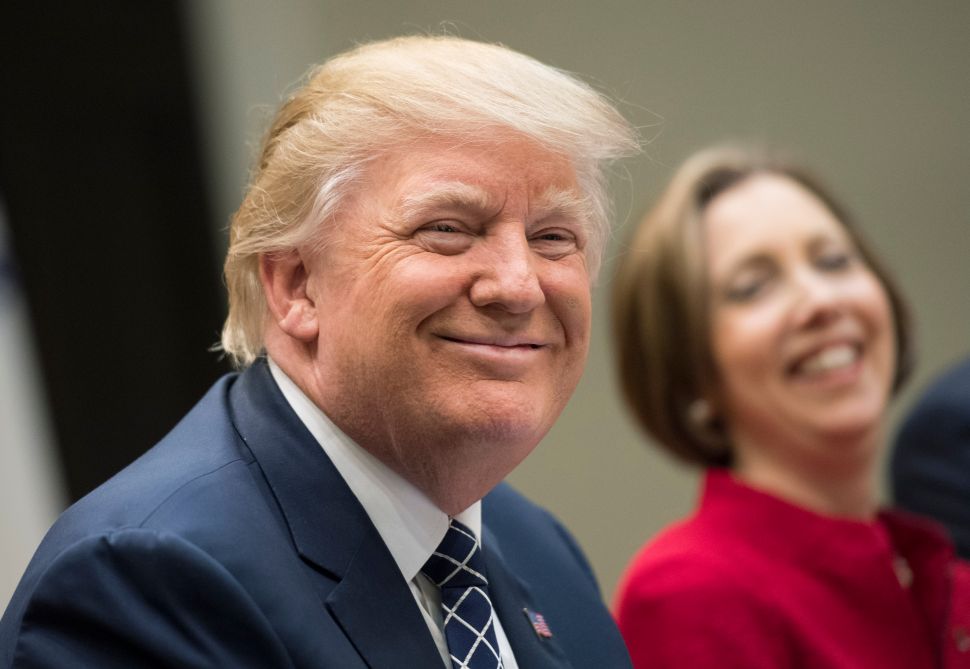 Despite the ridiculousness of Napolitano's assertions, his claims were parroted by the customary pro-Trump outlets and quickly became talking points for White House defenders seeking to breathe new life into the president's threadbare "wiretapping" accusation. Even the comment from a British security official that Napolitano's accusation of GCHQ involvement in the mythical transatlantic "deep state" plot against Trump was "totally untrue and quite frankly absurd," while accurate, should be expected to make little impression on admirers of the president who have already made up their minds, facts be damned.
That said, the White House position, that evidence of Obama's nefarious spy-plot against his successor will be revealed—on Tuesday, Sean Spicer stated the president was "extremely confident" that proof of wiretapping is forthcoming—was dealt a fatal blow today on Capitol Hill. Speaking to the media, Rep. Devin Nunes, a stalwart defender of the president and chairman of the House Intelligence Committee, admitted that the whole story was bogus. "We don't have any evidence that took place," he stated, "I don't think there was an actual tap of Trump Tower." Nunes added that Trump's wiretapping claim was not literally true, and if anybody took Trump at his word here, "Clearly the president was wrong."
Adding to the president's pain, Attorney General Jeff Sessions stated today that certainly he didn't give Trump the far-out idea that Obama had wiretapped him, so it seems likely that the whole sordid tweetstorm was caused by nothing more than far-right online speculation. With Congressional statements today, including from White House allies like Rep. Nunes, the fake issue of President Obama's spying on candidate Trump ought to evaporate like the malevolent mirage it always was.
That won't happen, of course. We can expect Trump's fantasy tweets to live forever in the hot-house of the online far-right, where fervid worries about a mythical "deep state" are rampant, but Americans who value facts over fantasy already know what happened here. A sitting president made public accusations of high crimes against his predecessor, without any evidence for his incendiary claims. This is the stuff of tin-pot dictatorships—not high-functioning democratic republics.
Neither does any of this inspire confidence that when a genuine crisis hits this White House—as will almost certainly happen eventually—President Trump will possess the self-discipline or grasp on reality to function as the effective leader he must be. If the current White House occupant doesn't learn from this self-created debacle, even stormier seas are ahead for his presidency—and our country.
John Schindler is a security expert and former National Security Agency analyst and counterintelligence officer. A specialist in espionage and terrorism, he's also been a Navy officer and a War College professor. He's published four books and is on Twitter at @20committee.