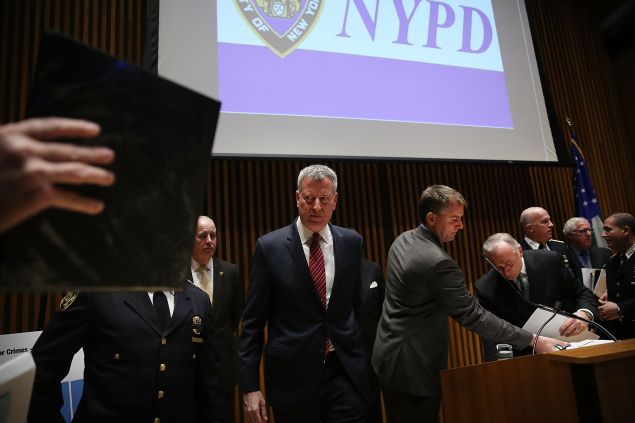 In rolling out a new plan to slash opioid overdose deaths across the five boroughs, Mayor Bill de Blasio pinned fault for the national problem on pharmaceutical giants that downplayed the addictiveness of their products as they pumped prescription painkillers into the American bloodstream.
The mayor and his team debuted a plan to cut the rate of opiate-related fatalities—which broke 1,000 last year—by 35 percent over the next half decade: largely by equipping city agencies with the overdose antidote naloxone and enhancing prevention, intervention and treatment services. The plan marks de Blasio's latest election year proposal to ease a swelling crisis, having already rolled out initiatives to shrink the homeless shelter population and to provide all tenants in housing court access to legal counsel.
The liberal Democrat blamed the plague of heroin and painkiller dependency, which has ravaged diverse sections of the Bronx, Brooklyn and Staten Island just as it has ripped through communities everywhere from Kentucky to California, on pharmaceuticals that spent decades marketing powerful drugs to doctors and consumers.
"We're seeing this now, tragically, all over this country. We are focused on the people in New York City, but it's impossible to ignore the fact that we now have a national problem on our hands. And it is cutting across regions, socioeconomic backgrounds, it is an urban problem, it is a rural problem simultaneously," the mayor said. "It's also become bluntly clear that there's something fueling this crisis that makes it different from some other public health crises. And that unfortunate factor is corporate greed. The pharmaceutical industry for years has encouraged the overuse of addictive painkillers."
De Blasio and his team cited several figures in support of that assertion: that prescription opioid sales quadrupled between 1999 and 2014; that healthcare providers wrote roughly 259 million prescriptions for opioids in 2012; that Purdue Pharma reaped $3.1 billion in profits from sales of OxyContin in 2010 (a figure that has since dropped precipitously); that four-fifths of heroin users began by abusing prescription drugs. They also pointed to the guilty pleas Purdue and three of its executives made to federal charges that they had deliberately misled doctors and regulators about their product's habit-forming potential.
Purdue Pharma also entered settlement agreements with both New York Attorney General Eric Schneiderman and former Kentucky Attorney General Jack Conway, which required the company to pay hundreds of thousands of dollars in fines and to change its business practices.
"The overuse of these drugs was planned by the pharmaceutical industry and the results have been devastating. And now this is a problem being felt in households all over this city and all over this country," de Blasio said, noting his wife Chirlane McCray had met recently with GOP West Virginia Senator Shelley Moore Capito to discus the problem. "We need to look in the face the extent of human greed. So here, you know, a bill of goods was sold to people that these drugs were not dangerous and didn't lead to long term addiction when in fact it was well-known that they did."
"The painkillers that have become all too common are some of the most addictive drugs on the planet. And let's be clear, the pharmaceutical industry has peddled them in the name of profit," he continued.
Conservatives have often blamed the crisis on Medicaid, which subsidized opioid use by low income earners, and on heroin-trafficking Mexican drug cartels.