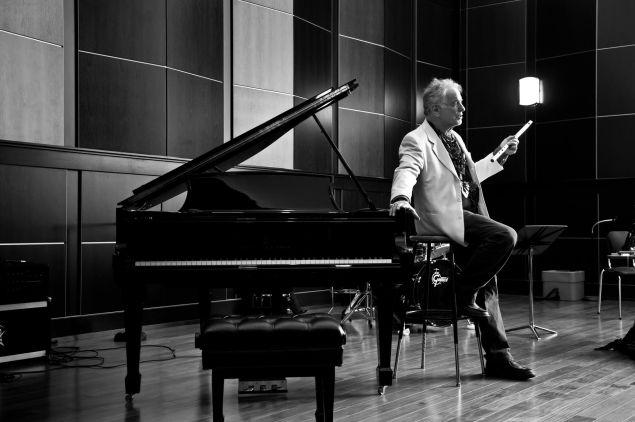 Two of the great living eclectics of American music are being celebrated in concert this week.
Between the two of them, they've done amazing work in virtually every known genre of music that there is: one has spent his whole career writing for the Broadway stage, the other is best known for his movie soundtrack scores.
On Thursday, Highlights in Jazz honors David Amram at Tribeca Performing Arts Center.
Produced by Jack Kleinsinger, this is, by a considerable margin, the longest-running jazz concert series in New York. Kudos to Kleinsinger for mounting this tribute, but the larger truth is that a jazz organization isn't the only one that could celebrate the career of David Amram—he could also be honored by a classical academy or roots music groups.
Featuring re-arranged songbook standards and original compositions for a highly unusual quartet of French horn (played by Amram himself), tenor saxophone, bass, and drums, Amram recorded his first album as a bandleader, Jazz Studio No. 6, in New York in 1957.
His most recent success is Diner in the Sky, produced by Amram for The Amigos, an ensemble of young musicians mostly associated with Jazz at Lincoln Center and the Jonathan Batiste Stay Human band.
The Amigos (who, more recently, changed their group name to "Silver City Bound") are an exceptional live band playing folk music, blues, Americana, country, and various permutations of Pan-American "roots" music.
On the album, Amram took what was a perfect sound for a club or honky tonk (are there any of those in Manhattan?) and made it into a perfect sound for a recording, polished but not slick, bringing out the virtues of the band but without changing them into something fundamentally different from what they were.
[bandcamp width=100% height=120 album=4285549337 size=large bgcol=ffffff linkcol=0687f5 tracklist=false artwork=small]
From making experimental jazz in 1957 to recording bluegrass in 2014 may seem like a stretch, but that's only the beginning of what Amram has achieved.
The majority of his work is most easily described as contemporary classical music, and his No. 1 outlet has been scores for dramatic films, most famously the classic 1962 political thriller The Manchurian Candidate (a novel and film whose concepts have entered the cultural bloodstream—the 2016 Captain America: Civil War was full of references to it).
The diversity of his music is captured in the boxed set, David Amram's Classic American Film Scores, 1956-2016, produced last year in England and now being released in the USA in conjunction with the concert. (All 81 tracks and five hours of music are also available via Apple Music and iTunes.)
The set starts with a jazz variation on the Manchurian Candidate main theme (the "straight" main title recording is also heard) that sounds for all the world like a mash-up of Aaron Copland and bebop trombonist J. J. Johnson.
[youtube https://www.youtube.com/watch?v=3oa98cpw_JY&w=560&h=315]
Like David Amram, John Kander is an American composer of tremendous range and variety, who has worked in a wide spectrum of different styles, although almost exclusivity for one specific medium, the musical theater.
He has composed original stage music that compares with the best of Kurt Weill and Weimar-era Germany (Cabaret, 1966), Grecian rebetiko folkloric music (in the under-appreciated Zorba, 1968), American jazz standards (Chicago, 1976), and South American boleros and musica romantica (Kiss of the Spider Woman, 1993).
To the hundreds of millennial jazz musicians it's almost inconceivable that "All That Jazz" and "Razzle-Dazzle" (from Chicago) weren't actually composed in the Roaring Twenties during the first Jazz Age. Likewise, "Life Is" from Zorba resounds like authentically Athenian pop hit no less than Manos Hadjidakis' "Never on Sunday" or Mikis Theodorakis' equally successful instrumental theme from the 1964 film Zorba.
Friday's concert celebrates the music of Kander and his late professional partner, the gifted lyricist Fred Ebb, on the occasion of the composer's 90th birthday.
Joining the New York Pops Orchestra (conducted by Steven Reineke) will be two first-rate theater singers, Tony Yazbeck (the lead in the marvelous 2014 revival of On the Town) and Caissie Levy (part of the current cast of the still-developing Broadway version of the Disney property Frozen).
In their work, both David Amram (born 1930) and John Kander (born 1927) offer copious evidence that the strength of American music—no less than other aspects of our cultural and political lives—is in its unique combination of consistency and diversity.
Highlights in Jazz presents All-Star Salute to David Amram at Tribeca Performing Arts Center on Thursday, March 9
The New York Pops: Life is a Cabaret – The Songs of Kander and Ebb at Carnegie Hall, Isaac Stern Auditorium on Friday, March 10