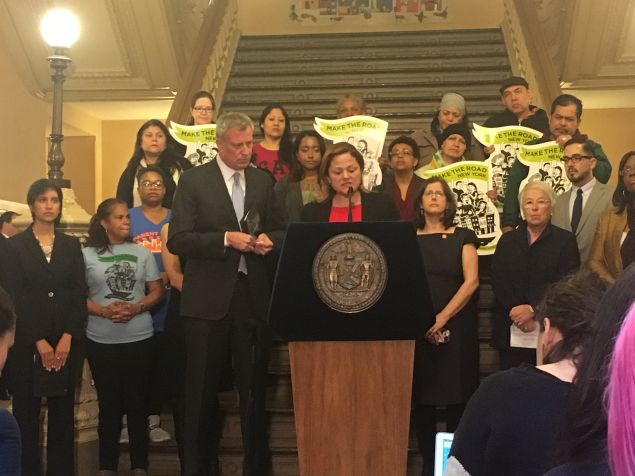 The city unveiled a formal set of protocols to for how schools must react if U.S. Immigration and Customs Enforcement officers arrive on the property—guidelines intended to reassure immigrant New Yorkers anxious over President Donald Trump's aggressive enforcement agenda.
Mayor Bill de Blasio, City Council Speaker Melissa Mark-Viverito, Schools Chancellor Carmen Fariña and Immigrant Affairs Commissioner Nisha Agarwal announced the expanded guidance and support initiative at Tweed Courthouse in Lower Manhattan this afternoon. The updated protocol directs schools to keep ICE agents out of the building unless they possess a valid and pressing warrant for a person on campus, to quickly obtain detailed information about the nature of their requests and paperwork and to promptly call attorneys from the city Department of Education.
De Blasio called the new protocols "a deepening of the policy," outlining a specific process to authenticate an ICE warrant—and an extension of New York's longstanding "sanctuary city" policies, which provide haven to nonviolent undocumented immigrants.
"This adds another layer of defense so that it's quite clear if an agent shows up, the default position is they're not coming in the building," the liberal Democratic mayor said. "Legal staff from the DOE and/or Law Department have to get involved, the principal has to get involved, senior police officials have to get involved before any decision is made on how to proceed."
The mayor asserted that President Donald Trump has undertaken a series of unprecedented actions toward immigrants that have created "an atmosphere of particular fear and a sense that anything could happen"—which he says is why the city needs "these precautions in place." He recalled the detention of incoming passengers from Muslim nations, all of them cleared to enter the country under President Barack Obama, at John F. Kennedy Airport in January after Trump made his first abortive attempt at a travel ban.
He also alluded to Trump's executive order severing federal funds to sanctuary cities, which some fear could impact the NYPD's counter-terrorism operations—though the mayor has vowed any cuts in court.
"We've never seen something like that before where people were detained without any charge in the original travel ban," de Blasio said. "We have never seen an executive order that I know of threatening Homeland Security funding. We haven't seen an individual who the federal government attempted, deported while they were in the middle of medical treatment in this country."
The DOE does not track the immigration status of students and will not release any student information unless required by law. And families also have access to ActionNYC, a secure, taxpayer-funded immigration legal services program.
Fariña reported that attendance has dropped at parent-teacher meetings in the weeks since Trump issued executive orders subjecting any foreign national accused of any crime to deportation.  The city has not seen any decline in attendance, however.
"Where we see more of a reaction is for parent meetings and any places where there's going to be a group of parents," she said. "In particular neighborhoods, there are less parents attending those meetings so we assume that's the fear factor, but not in our schools. Although we monitor every single day, by district and by individual schools."
The Mayor's Office of Immigrant Affairs and NYC Health + Hospitals will also hold a series of Immigrant Health Care Rights forums starting today, in order to inform immigrant communities of their rights and options and to provide access to information and resources. The city will also offer "Know Your Rights" workshops and other services in partnership with the Fordham University Law Immigrant Preparedness Project and Catholic Charities Community Services for students and their families.
"We want young New Yorkers engaged and safe in learning environments and that is the reason why in addition to the guidance that was announced, the city will be launching 'Know Your Rights' workshops to ensure every New Yorker is educated and connected to the help they need," Agarwal said.
City Council Speaker Melissa Mark-Viverito said the new guidance is in line with the Council's ongoing work to support immigrants, saying that she wants all New Yorkers to be able to live "with the dignity they deserve."
"Importantly, it states clearly and unambiguously ICE can't come in without a warrant signed by a judge, period," Mark-Viverito said. "Policies like this not only reflect the city's values of fairness and justice but they also underscore the importance of ensuring that our schools remain safe spaces for our children."
Mark-Viverito has proposed barring ICE officers from all city buildings unless they have a warrant, and publicly posting helpful information for foreign nationals.