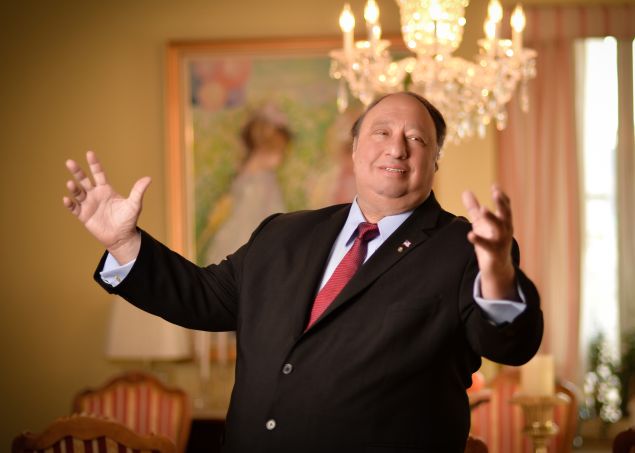 Eccentric supermarket mogul John Catsimatidis—rumored to be weighing a second bid for mayor on the Republican line—today sketched out a plan to establish a "reward fund" for people who share evidence that leads to the arrest of hate crime offenders.
Catsimatidis made the proposal at the Park East Synagogue hours after federal authorities arrested disgraced journalist Juan Thompson in St. Louis for allegedly making bomb threats against Jewish community centers and the Anti-Defamation League as part of a bizarre revenge scheme against his ex-girlfriend. The Gristedes founder and oil magnate said he wanted to work with several of his associates and the city to create "possibly some kind of a reward system from our company, or from other people getting involved" to help hunt down those responsible for the wave of violence, vandalism and intimidation that has engulfed New York and the nation over the past few months.
"Hate crimes, whether it's Christians, Jews, hate crimes, dial 311 or 911. Let's do something about it. Let's be able to have a reward system to help catch these people before they do even worse things," the Manhattan businessman said, in a point he elaborated on in remarks to the Observer after the event. "We gotta create a fund for their own brothers to turn them in, or friends, before it gets more serious."
Catsimatidis equated the need for a crackdown on bias crimes to the controversial "broken windows" theory of policing: the notion that allowing minor crimes creates a fertile environment for more serious offenses.
"First they jump a turnstile, then they break the windows on the train, and so on and so on," he said. ""Hate is hate. And hate is wrong. Hate turns to terrorism, and it turns to more serious things. And us as New Yorkers, as civilized people, should put our foot down and try to bring it to an end."
The billionaire also made some unusual commentary on what he alleged was a surge of violence against Christians in Europe.
"What's going on in Europe with anti-Christianity, I call upon the Jewish people to help with that," he said, in a rambling, off-the-cuff manner familiar to anybody who followed his messy and unsuccessful campaign to capture the GOP nomination for mayor four years ago. "The anti-Christianity that's going on in the world, we should pay attention to. We can't allow Christians to have their heads chopped off. And Washington is silent about it. How can we allow that? But Christians and Jews have always been together, following the rule of law and civilization."
"The Jewish community and the Christian community should work closely together, because what's happening in Europe, in the Christian community, is horrible. Heads were being chopped off, and nobody was saying anything. Do you remember anybody in Washington saying anything why these Christians were getting their heads chopped off?" he continued later.
He appeared to be referring to an incident in France last summer, when Islamist extremists decapitated an elderly priest in a Catholic Church.
Unlike Mayor Bill de Blasio, his potential Democratic opponent this fall, Catsimatidis would not lay blame for the recent rash of anti-Semitic and racist incidents on President Donald Trump. Catsimatidis donated heavily to both Trump and to Hillary Clinton during last year's election season.
"I don't think President Trump has encouraged these events. I think that people are bad people, who are natural haters, are doing these things. And I want the community to put up a fund to capture these people. It's horrible," he told the Observer.
Catsimatidis also gave to de Blasio's now-defunct political nonprofit, the Campaign for One New York, an organization U.S. Attorney Preet Bharara is now probing to determine if the mayor traded city favors for contributions. The businessman has also given considerably to Congresswoman Carolyn Maloney, a Democrat who set up today's event at the synagogue.
If he ran a second time, Catsimatidis would face real estate executive Paul Massey and Harlem Rev. Michel Faulkner in the Republican primary.
Madina Toure contributed reporting to this story.