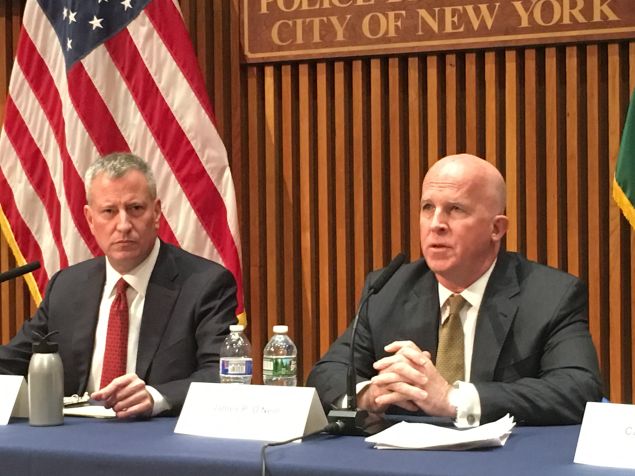 Top NYPD  brass testified today their department could suffer an array of federal funding cuts this year thanks to President Donald Trump and U.S. Attorney General Jeff Sessions.
Earlier this week, Sessions warned that the Department of Justice would deny law enforcement grants to localities that refuse to comply with Immigration and Customs Enforcement orders, and that his office would even look to "claw back" funds already given to such so-called "sanctuary cities"—cities like New York.  Seattle Mayor Ed Murray announced today that his city has filed a lawsuit against the Trump administration over Sessions' order.
Larry Byrne, the NYPD's Deputy Commissioner for Legal Matters, told the City Council's Committee on Public Safety this afternoon that even without the threat to sanctuary cities, the NYPD is still staring down funding cuts from Trump's plan to eliminate certain Department of Homeland Security grants.
"In the president's preliminary budget, there are cuts across the board that potentially affect this funding even if the executive order or the Attorney General's proclamation has never happened, DHS is still having funds cut that would come to us," Byrne said. "So we're facing the risk of loss of funds on multiple fronts."
Brooklyn Councilman Stephen Levin asserted the Trump administration's severing of federal funds specifically designed to ensure the city's safety would put New York City at risk.
"I just wanna make it clear in this order from Sessions here that the potential impact to New York City could be very, very devastating when it comes to counterterrorism funds," he said. "It would make New Yorkers less safe, it would make Americans less safe. We attract people from all over the world to this city."
Levin wondered what the NYPD would do if "you were take Attorney General Sessions at his word" as far as his intention to coerce the city into cooperating with U.S. Immigration and Customs Enforcement. Byrne noted that the executive order does not define "sanctuary city" but said that the executive order states that funds can still be disbursed for law enforcement purposes.
When Levin interjected "but only at the discretion of the Attorney General," Byrne answered that the money is ultimately at the discretion of Homeland Security Secretary Gen. John Kelly. Byrne added that the NYPD gets most of its money from DHS.
"What he [Sessions] said was for sanctuary city—and again, he did not define that—you do not comply with certain federal immigration laws, they would not get Department of Justice grants and the issue is the city, not the agency," he said. "So when we apply in the future, according to what Sessions said, for DOJ grant money as opposed to DHS money, we will have to sign a certification that we are complying with the federal statue and if we are not under his program, we will be disabled from getting DOJ money."
During his testimony, Commissioner James O'Neill said it is "still too early to predict" the impact Trump and Sessions' threat to pull DOJ grants will have on the federal funding the NYPD "regularly receives."
"It is unclear if the executive order would apply to all federal funding, or only to funding from the Department of Justice and Department of Homeland Security," he said. "Additionally, this order states that it may exclude law enforcement. The Law Department is currently reviewing the implications of this executive order."
Still, O'Neill said that he is hopeful that the NYPD will not be deprived of the $110 million in grants that Trump suggested eliminating in his preliminary budget. He also revealed New York is competing with other cities for the paltry $7 million that the federal government has agreed to reimburse it for protecting Trump and his family at Trump Tower between the election and his inauguration.
The city has requested more than three times that much.
Bronx Councilwoman Vanessa Gibson, chairwoman of the Public Safety Committee, said many New Yorkers "are fearful and need to be reassured." She worried that victims of crime and domestic violence "are less likely to not come forward because of their status or the status of a loved one."
Gibson also stressed the need for more precise statistics.
"We need to be the protection and we need to be the comfort that is necessary," Gibson. "And also for me, sharing of accurate data information. I cannot tell you how important that is. I've come across cases where parents are being asked to sign away the rights of their children. They're signing documentation, not understanding what it means."
In contrast with his predecessor, ex-Commissioner Bill Bratton, there were no protests to greet O'Neill at the hearing.