Around 7:30 p.m. Sunday night, Laura Stephen took her dog Ziggy for his routine evening walk in Saratoga Park, located on Halsey Street, near her home in Bedford-Stuyvesant, Brooklyn. When Ziggy stopped to scavenge near some shrubs and trees, Stephen leaned over "to make sure he wasn't into something yucky," she told the Observer.
Suddenly, two unidentified police officers walked into the park, and one, a woman, asked Stephen to put a leash on her dog. Ziggy trotted out of the bushes, and as he came toward Stephen, he saw the cops and turned toward them. But Stephen called him again, and he immediately turned toward her.
The male cop was spooked, however—he pulled his gun and shot Ziggy twice. The dog immediately fell into a snowbank and began bleeding out on the pavement.
"I screamed 'What did you do? What did you do,' " Stephen said, fighting back tears. "I've never seen anyone react so quickly."
Stephen didn't have her cell phone or wallet with her, so she borrowed a passerby's phone to call her son and asked him to bring her those items.
"The whole time the cop said Ziggy was rushing him," Stephen said. "The dog never got within 10 feet of him. He has never, ever, ever been aggressive."
Soon more cops arrived, but none of them offered to help Stephen, so she got down on the ground and rubbed snow on Ziggy's body to try and stop the bleeding. The dog got cold, however, and scooted out to the pavement, so Stephen covered her with his coat instead.
"The whole time no police were helping me," Stephen said. "I don't know what the hell they were doing."
After at least 40 minutes, the cops finally put Ziggy (still alive at this point) into a dog carrier and then the back of a police van. Stephen climbed in with him and continued putting snow on the wound.
Ziggy (who was identified in some media accounts as a pit bull but is actually a mix according to Stephen) finally got to an animal hospital more than an hour after being shot. Doctors tried to save his life with a blood transfusion, but it was too late—his heart had already stopped.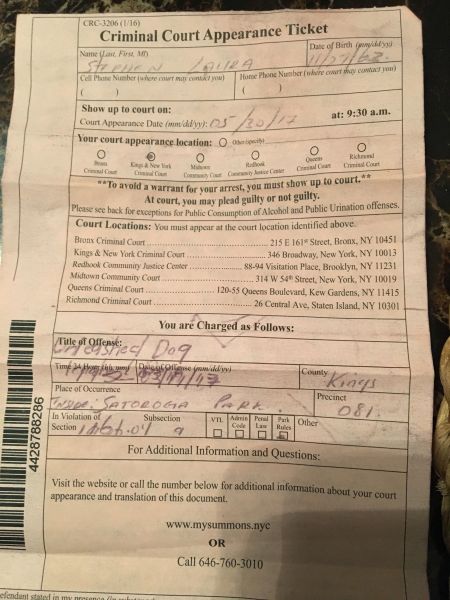 To make matters worse, right after Ziggy died, an NYPD employee came to the hospital and served Stephens with a ticket for having her dog off leash (the same offense the cops had stopped her about in the park).
"It was a summons to cover their asses," Stephen said. "It's disgusting."
The officers were also taken to the hospital—one of them had a cut on his thumb, but police said it was unclear how he was injured.
At the same time all of this was going on, Stephen's son returned with her wallet and phone, but the cops escalated things by throwing him against a tree and arresting him. The boy was taken to the 81st Precinct and charged with disorderly conduct—he was eventually released.
"He just kept screaming 'Mom, I'm here,' " Aaron Dunn, a neighbor of Stephen's who witnessed the shooting's immediate aftermath, told the Observer.
Stephen's neighbors also mobilized to help—Dunn's partner posted in the WhatsApp group used by people who visit the dog park.
"We're a pretty tight-knit community," Dunn said.
According to Dunn, at one point there were 30 to 40 NYPD officers in the park—but many of them were standing around joking instead of answering people's questions.
"There was no sense of urgency, leadership, help or compassion," Dunn said.
What made the incident even stranger was that, according to Stephen's neighbors, Ziggy was not aggressive at all.
"That dog has been off leash around me so many times," Dunn said. "But the cop's defense mechanism was to reach for a gun."
"The dog is a teddy bear," added neighbor Angelina Thompson.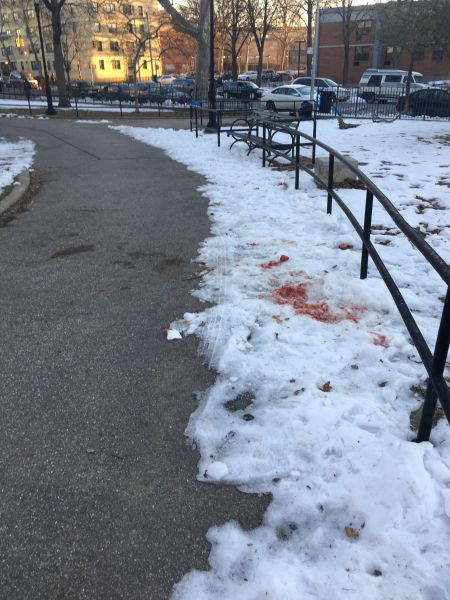 This is not the first time cops have been aggressive, according to neighborhood residents—reactions between police and the community have frayed since a shooting on Halsey Street last August in which a father of eight young children was killed.
"We feel threatened, intimidated and harassed by the cops," Dunn said.
Chris Gerne, another neighbor, said the cops aggressively ticketed residents for minor infractions.
"They're focusing on ticketing dogs rather than drug deals," he said. "They should be making proactive decisions to save the dog's life."
This aggressive response is unnecessary in the Saratoga Park neighborhood, according to residents—most of the residents have families with young children (there's even a playground in the park with swings and a jungle gym). What makes it even more inappropriate is that there's a retirement home right across from the park.
"Senior citizens walk by there all the time," Thompson said.
"But the cops didn't care," Gerne added. "There was a total disregard for decency."
Stephen concluded that the NYPD needs to reconsider the way it controls a neighborhood filled with "summer camps and church ladies."
"What if I had a kid with me and they witnessed my dog getting shot?" she said. "It's disgusting and despicable."
A group of neighbors has started a GoFundMe to help Stephen cover Ziggy's funeral expenses.