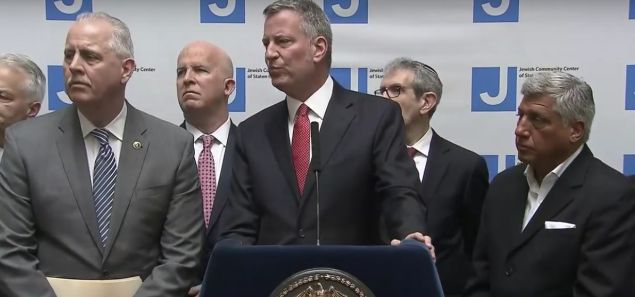 The NYPD's chief of detectives reported that anti-Semitic bomb threats are pouring in at an "unprecedented rate"—five across the city today alone—and share "specific language," leading the department to suspect they are coordinated in some manner.
Chief Robert Boyce made the revelation following a meeting with Mayor Bill de Blasio, NYPD Commissioner James O'Neill and local leaders at the Jewish Community Center of Staten Island—which had evacuate last month after it received one of the explosive intimidations. Boyce told a reporters that, while in that meeting, he received notice of the new threats received today, including an ongoing investigation at the Manhattan headquarters of the Anti-Defamation League.
"These are coming in at an unprecedented rate. And we will handle each one," Boyce vowed.
Last week, the Federal Bureau of Investigation, working in coordination with the NYPD, arrested disgraced leftist journalist Juan Thompson in St. Louis for allegedly making threats against Jewish institutions across the country as part of a purported revenge scheme against an ex-girlfriend. Boyce said that his department had linked Thompson to a scare at the Jewish Museum in January and a warning made to the Anti-Defamation League last month, as well as a pair of potential others.
"Right now it's still an active investigation. There's still phone calls coming in to JCCs around the country," Boyce said. "And we will work with our federal partners to identify that person—or persons, I should say."
The chief of detectives declined to share any information about what leads his team had. But he did divulge that there was some reason to believe that the threats were part of a concerted campaign of terror.
"Because of the amount of them, it appears to be organized right now," he said. "This could be coming from a singular individual, or a group thereof. Right now it's undetermined. But they're coming in quite, quite frequently now, with specific language that I won't get into on each one."
O'Neill revealed that the city had seen a 113 percent spike in bias incidents so far this year compared to 2016—shooting up from 47 to 100. Of the latter number, 55 were cases of violence, vandalism and intimidation directed at Jewish targets.
The same period of 2016 had seen just 19 anti-Semitic incidents.
Boyce and de Blasio had both previously linked the increase in hate crimes to the election of President Donald Trump, and his brand of inflammatory nationalism. The mayor paralleled the present moment, with the rise in intolerant attacks at home and far-right parties abroad, with the ascent of fascism in the 1930s.
But the liberal Democrat declined to blame the president for the problem today.
"This is not a partisan atmosphere or a partisan moment. We are all united in defense of the community," de Blasio said.
Still, he argued Trump's decision to sign a new executive order barring travel from six majority-Muslim nations "does not help at all."
de Blasio asked that anybody aware of a hate crime in progress phone 911, and those with evidence that could lead to the arrest of those guilty to ring 311.
"The most important thing is people need to report what they see, give the benefit of the doubt to reporting too much, not too little. Pick up that phone," he said. "Forces of hatred have been unleashed in our nation, and some people out there feel they have license to act in this fashion. It's absolutely unacceptable here in New York City, and we will use all of our power to address it."
The JCC of Staten Island is located in the borough's Republican heartland, where the president is broadly popular.